When it comes to data secu­ri­ty, it's time to make a move. Phoe­nix Con­tact Cyber Secu­ri­ty in Ber­lin goes into hand-to-hand com­bat with every hacker. A visit with the data con­trol­lers in the capi­tal city.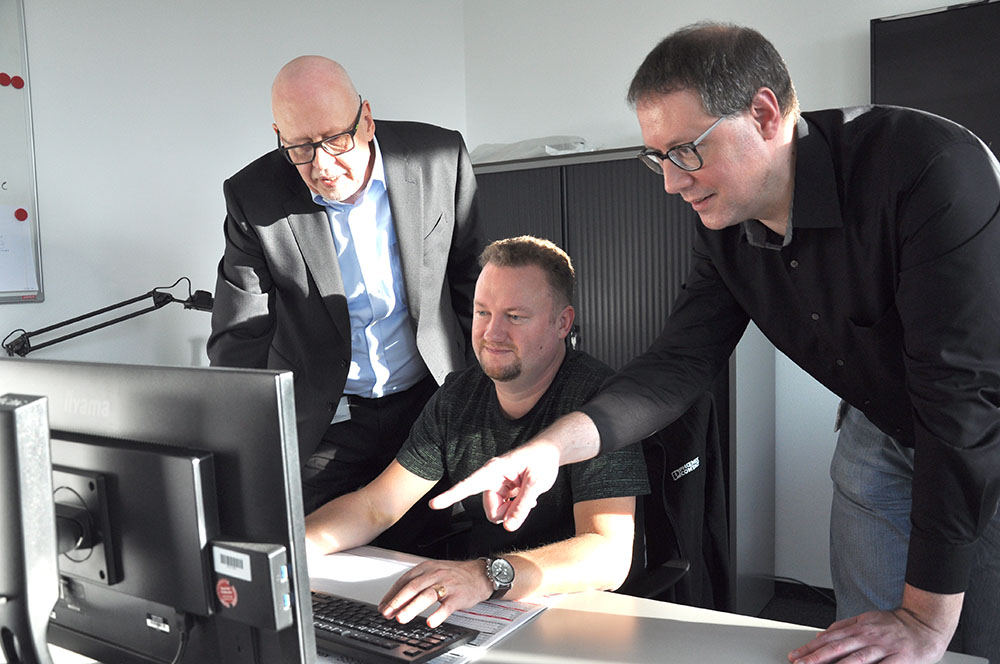 They were a start­up. Young, bold, suc­cess­ful. And somehow they're still a start­up, albeit as part of the Phoe­nix Con­tact Group. Cyber Secu­ri­ty Ber­lin has retai­ned its inde­pen­dence. You noti­ce that imme­dia­te­ly when you knock on their door in Ber­lin-Adlers­hof. Or bet­ter yet, ring the bell. Modern faca­de, cool recep­ti­on. And then it's over for good. Anyo­ne who wants to con­ti­nue from this point will have an escort.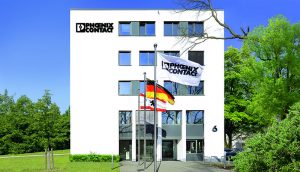 Becau­se things are not so casu­al in Richard-Will­stät­ter-Stra­ße. When it comes to data secu­ri­ty and cybercrime, the­re is no need for it. "Of cour­se we fol­low the latest cyber attacks clo­se­ly," Kili­an Golm tells us in con­ver­sa­ti­on. The latest vic­tim is a com­pa­ny that is its­elf active in the field of data secu­ri­ty. "But there's no gloa­ting," empha­si­zes the Gene­ral Mana­ger of the Ber­lin-based Phoe­nix Con­tact sub­si­dia­ry. "This inci­dent clear­ly shows us how much the thre­at of cybercrime has increa­sed in the mean­ti­me."
With m to the bre­akth­rough
The Ber­lin-based com­pa­ny star­ted out in 2001 as a typi­cal start­up with four employees, loca­ted at the inno­va­ti­on loca­ti­on in Adlers­hof from the very begin­ning. It all star­ted with the idea of making busi­ness tra­velers' data more secu­re. But soon the new­co­mers got their bea­rings and devo­ted their atten­ti­on to com­mu­ni­ca­ti­on in indus­tri­al net­works. "We deve­lo­ped indus­tri­al secu­ri­ty at a time when no one else had it on their radar," says Gene­ral Mana­ger Kili­an Golm. "This has gran­ted us custo­mer rela­ti­ons­hips, some of which still last to this day. Trust is an exis­ten­ti­al fac­tor in the secu­ri­ty busi­ness."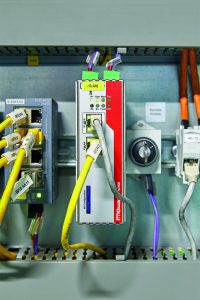 Mar­tin Dick­opp is one of the peop­le who has been with the com­pa­ny almost from the begin­ning: "One of the foun­da­ti­ons of our suc­cess was the deve­lop­ment of the mGuard pro­duc­ts and solu­ti­ons," the secu­ri­ty expert exp­lains. "The­se hard­ware and soft­ware com­pon­ents are prac­ti­cal­ly a mobi­le fire­wall. Hence the m for mobi­le. Howe­ver, the­se do not inter­vene in sys­tems and play an active role, but rather act as an invi­si­ble device in the back­ground to moni­tor secu­ri­ty; in other words, we always act in ste­alth mode."
The idea beca­me a suc­cess sto­ry, the tech­no­lo­gy was regis­te­red for patents, and their for­mer custo­mer, Phoe­nix Con­tact, took over the start­up in 2008. In 2016, the Ber­lin-based com­pa­ny was then ren­a­med Phoe­nix Con­tact Cyber Secu­ri­ty. Today, the Phoe­nix Con­tact sub­si­dia­ry has a good 40 employees. The Ber­lin loca­ti­on deve­lops and impro­ves secu­ri­ty soft­ware, and custo­mer sup­port staff work on inte­gra­ted solu­ti­ons inclu­ding trai­ning, while the mGuard hard­ware is assem­bled in Bad Pyr­mont.
Ever­yo­ne is vul­nera­ble
The "mGuard" net­work secu­ri­ty devices have func­tio­n­a­li­ties that sup­port rou­ter, fire­wall, VPN (Vir­tu­al Pri­va­te Net­work), QoS (Qua­li­ty of Ser­vice), and intrusi­on detec­tion. The scope of ser­vices is com­ple­men­ted by a high­ly scala­b­le device manage­ment soft­ware. "mGuard has more than 1,000 con­fi­gu­ra­ti­on opti­ons, and is the­re­fo­re one of the most com­plex pro­duc­ts in the ent­i­re Phoe­nix Con­tact port­fo­lio," exp­lains Mar­tin Dick­opp with con­fi­dence.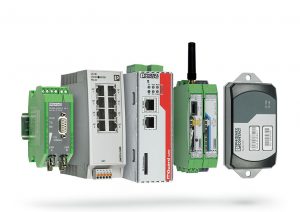 "An abso­lu­te pro­tec­tion," says Dick­opp, "doesn't exist any­way. Ever­yo­ne is vul­nera­ble. But we try to make the level of intrusi­on so high that the effort for an atta­cker beco­mes too much to bother with."
"Cyber­se­cu­ri­ty shouldn't come at the end of a deve­lop­ment cycle — it should come at the begin­ning."


Kili­an Golm
In princip­le, the cyber body­guards dis­tin­guish bet­ween two types of attack. Some are ran­dom, sprea­ding out in every direc­tion and attacking any net­work they encoun­ter. The others are tar­ge­ted cyber attacks. The­se are eit­her sta­ged by pri­va­te hackers who, with spor­ting ambi­ti­on, poun­ce on fire­walls and secu­ri­ty con­cepts to demons­tra­te their own fines­se. Or it may be orga­ni­zed groups with cri­mi­nal inten­ti­ons or even sta­te actors. "In our thre­at ana­ly­ses, which we pre­pa­re for our custo­mers, we look at atta­ckers with dif­fe­rent resour­ces," says Kili­an Golm, describ­ing the ser­vice con­cept of Cyber Secu­ri­ty, which is inte­gra­ted into the com­pre­hen­si­ve secu­ri­ty ser­vice port­fo­lio of the cor­po­ra­te Group.
Rese­arch in twi­light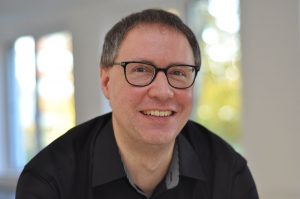 If you want to fight pro­per­ly, you have to know who you're up against. So do gangs­ters and slouch hats come and go on Richard-Will­stät­ter-Stra­ße? Mar­tin Dick­opp has to smi­le: "No, it's not­hing that dra­ma­tic. But it's true, we also attend hacker con­fe­ren­ces, do rese­arch in more dif­fi­cult-to-access parts of the Inter­net, and exchan­ge infor­ma­ti­on in forums and com­mu­nities." Anyo­ne who wants to can have the Ber­lin experts car­ry out a mock attack on their sup­po­sed­ly-secu­re com­pa­ny net­work. "Find the gap" is the mot­to around here.
Who needs the pro­tec­tion of pro­fes­sio­nal data body­guards? "As a mat­ter of fact, every busi­ness does. Our custo­mers ran­ge from small, fami­ly-owned machi­ne buil­ders to lar­ge indus­tri­al com­pa­nies world­wi­de. And of cour­se, our own com­pa­ny. Cybercrime knows no bounda­ries," Golm stres­ses. "Cyber­se­cu­ri­ty is a con­stant pro­cess, not a one-time pro­ce­du­re. You have to think of secu­ri­ty as a sys­tem – secu­ri­ty by design. Today's com­pa­nies and tech­no­lo­gies should con­si­der secu­ri­ty in their pro­duc­ts, as well as in their pro­duc­tion faci­li­ties, from the very start — not see it as the last safe­ty check at the end of its deve­lop­ment and graft it onto the sys­tem."
Indus­tri­al Secu­ri­ty bei Phoe­nix Con­tact
This post is also avail­ab­le in:

Deutsch