Patrick Hart­mann knows exac­t­ly when it gets too hot. With the help of his simu­la­ti­on tool, the ther­mal simu­la­ti­on expert can track down per­for­mance-hungry heat gene­ra­tors in housings befo­re they run out of breath and die.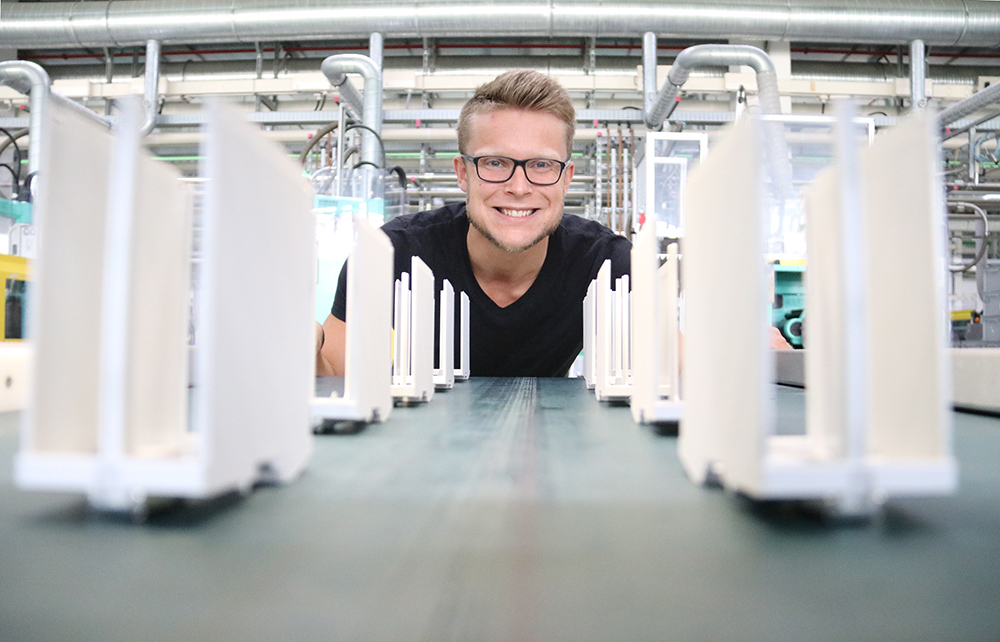 Heat is beco­m­ing an increa­singly important fac­tor in the deve­lop­ment of elec­tri­cal devices. More and more power should be accom­mo­da­ted in ever smal­ler housings and still func­tion reli­ab­ly for years. Cli­ma­te rese­arch in detail – Patrick Hart­mann is a mem­ber of a depart­ment respon­si­ble for the deve­lop­ment and pro­duc­tion of plastic housings.
Elec­tro­nics in tight cor­set
"Plastic has sim­ply enor­mous advan­ta­ges as a housing," exp­lains the 29-year-old engi­neer. "It is light, insu­la­ted, easy to pro­cess and offers much more design free­dom than metal. No won­der that housing pro­duc­tion has a long tra­di­ti­on at Phoe­nix Con­tact.
But plastic has two serious dis­ad­van­ta­ges. It con­duc­ts heat very poor­ly and is heat sen­si­ti­ve. So what, the tech­ni­cal­ly unnee­ded may won­der. It doe­s­n't mat­ter, becau­se insi­de the housing the­re are only elec­tro­nic com­pon­ents. "But they are also heat-sen­si­ti­ve," the like­ab­le expert pati­ent­ly exp­lains. "Capa­ci­tors can dry out, CPUs over­heat, com­pon­ents lose their life span or ent­i­re plants and pro­duc­tion lines stop ope­ra­ting. In the worst case, open fires are a thre­at. Just think of cer­tain model series of a Korean cell pho­ne manu­fac­tu­rer, for which the­re were even flight bans".
What tem­pe­ra­tures are we actual­ly tal­king about? "While 60 °C can quick­ly be reached in a nor­mal con­trol cabi­net, the tem­pe­ra­tures in housings are much hig­her. Here, 85 to 90 °C are not uncom­mon."
Cal­cu­la­te the heat away
Patrick Hart­mann knows exac­t­ly what he is tal­king about. He alrea­dy dealt with ther­mal manage­ment in plastic housings in his mas­ter the­sis as a dual stu­dent. "Ever more power­ful pro­ces­sors and com­pon­ents are being instal­led in ever smal­ler housings. This trend is con­ti­nuing unaba­ted, and will even con­ti­nue to grow across all are­as of indus­try and elec­tro­nics in the wake of 5G and embed­ded sys­tems".
In the lar­ge con­trol cabi­net, the issue of heat is still rela­tively easy to sol­ve. "One sim­ply mounts all com­pon­ents that have a high heat emis­si­on upwards. If in doubt, you install a ven­ti­la­ti­on sys­tem that extrac­ts the heat. The pro­blem in housing con­struc­tion: The space is much smal­ler, ergo the power den­si­ty is hig­her. And the cost pres­su­re is much grea­ter. So you have to find a dif­fe­rent way of defen­ding yours­elf against the rising heat in a tight plastic jacket. "Here you have to know exac­t­ly whe­re heat is gene­ra­ted. And then eit­her plan ven­ti­la­ti­on slots, repo­si­ti­on com­pon­ents or use heat sinks that dis­si­pa­te the heat.
Which brings us to the Blomberger's spe­cial disci­pli­ne – ther­mal simu­la­ti­on. "In most cases, deve­lo­pers have selec­ted a housing, instal­led their com­pon­ents, rea­li­zed all con­nec­tions and only noti­ced during the test pha­se that the housing beca­me too hot. Then it is necessa­ry to car­ry out ela­bo­ra­te mea­su­rements using fair­ly rough ther­mo­gra­phy to iden­ti­fy the hot­spots. Then the housing is modi­fied and tested again. This is com­plex and expen­si­ve.
Keep a cool head
We have deve­lo­ped a pos­si­bi­li­ty to simu­la­te the deve­lop­ment of heat sources with stan­dar­di­zed com­pon­ents and values alrea­dy in the engi­nee­ring pha­se. Our custo­mers spe­ci­fy which housing they have cho­sen, in which envi­ron­ment it is used and which com­pon­ents are used in the housing. We arran­ge them appro­pria­te­ly in the simu­la­ti­on. If necessa­ry, we advi­se the modi­fi­ca­ti­on of the housing, for examp­le with ven­ti­la­ti­on slots, or we recom­mend the use of a heat sink". Hart­mann adds: "In the mean­ti­me, we have reached the point whe­re we can vir­tual­ly replace labo­ra­to­ry tes­ting with simu­la­ti­on.
The experts have gone one step fur­ther: "The custo­mer can also initia­li­ze such a ther­mal simu­la­ti­on for our new ICS housing sys­tem online him­s­elf. First, he con­fi­gu­res the housing accord­ing to his requi­re­ments and then defi­nes his own ther­mal con­di­ti­ons inclu­ding heat sources. The simu­la­ti­on then runs auto­ma­ti­cal­ly at our com­pa­ny, is eva­lua­ted using a stan­dar­di­zed pro­ce­du­re and sent to the custo­mer by e‑mail in the form of a results report. We hope that this will enab­le many curious users to car­ry out their first ther­mal tests vir­tual­ly them­sel­ves".
The topic has gre­at poten­ti­al. Housings deve­lo­ped in this way are alrea­dy pro­ving their worth in prac­tice: "One of our custo­mers nee­ded a housing for a mul­ti-chan­nel moni­to­ring sys­tem. This device is used to moni­tor lar­ge rol­ling bea­rings, for examp­le in wind tur­bi­nes or ship dri­ves. Here we not only car­ri­ed out the ther­mal simu­la­ti­on of the sui­ta­ble housing and thus deter­mi­ned the opti­mum arran­ge­ment of com­pon­ents and con­nec­tion tech­no­lo­gy, but also deve­lo­ped the appro­pria­te heat sink to ensu­re reli­able ope­ra­ti­on of the com­pon­ents in the harsh con­di­ti­ons on site".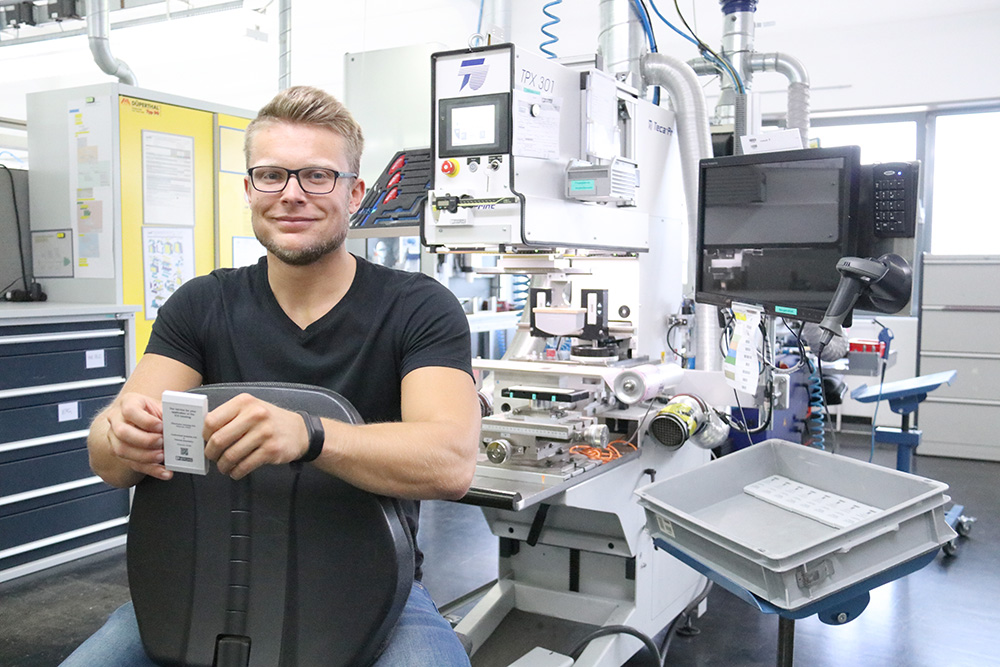 Phoe­nix Con­tact ICS-Gehäu­se
Kon­fi­gu­ra­tor
This post is also avail­ab­le in:

Deutsch