This sto­ry real­ly bub­bles. And his­ses. And fer­ments. Becau­se when it comes to Manu­el Fritsch and his con­trol­lers, the result of his pro­gramming skills is a fine craft beer. Home-bre­wed. And opti­mi­zed with Facebook.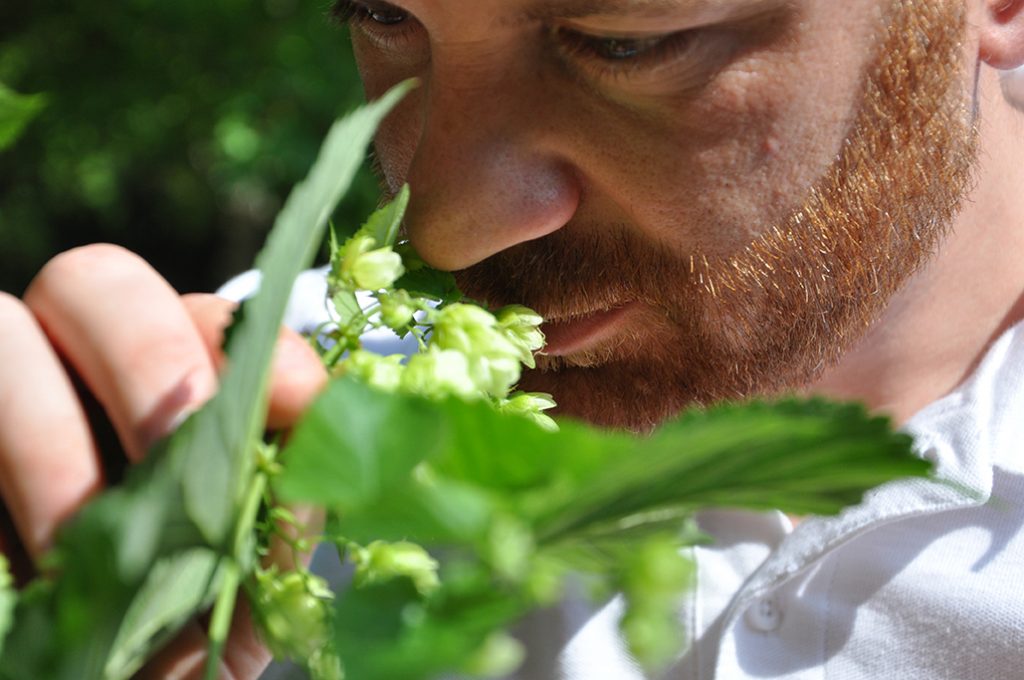 The Ger­man Puri­ty Law is the oldest food law regu­la­ti­on in the world that is still in effect today. In 1516, the Bava­ri­an Duke Wil­helm IV issued the decree that beer could be bre­wed using only hops, malt, yeast, and water. What would the Bava­ri­an have to say if he met Manu­el Fritsch?
Becau­se he brews beer with ingre­dients that most­ly come to him from online shops, pro­grams auto­ma­ted brewing pro­ces­ses on micro­com­pu­ters, and main­tains his own com­mu­ni­ty of more than 5,000 fol­lo­wers on Face­book. Poor Manu­el Fritsch would pro­bab­ly have been accu­sed of witch­craft back then. With hor­ri­ble consequences.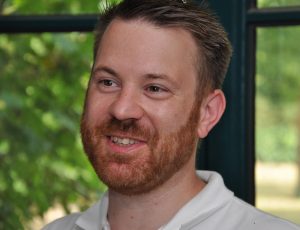 Witch­craft is not so far off when the 36-year-old soft­ware engi­neer takes a seat at his com­pu­ter. It's not just good home-bre­wed beer Manu­el Fritsch has a weak­ness for. He lets on to us that he actual­ly loves to wri­te pro­gramming code. And that is real­ly suspicious!
A back­ground in ATMs
How does a lika­ble and nor­mal-see­ming per­son end up with the stran­ge com­bi­na­ti­on of two such unusu­al occup­a­ti­ons? "I just felt like it," Fritsch replied to the ques­ti­ons in con­ver­sa­ti­on. His desi­re to pro­gram seems almost nor­mal, con­si­de­ring that befo­re the Eas­tern West­pha­li­an star­ted his job at Phoe­nix Con­ta­ct, he worked in other coun­tries for many years on soft­ware pro­jects invol­ving ATMs. "I real­ly did go almost ever­y­whe­re, becau­se the­re are ATMs almost everywhere."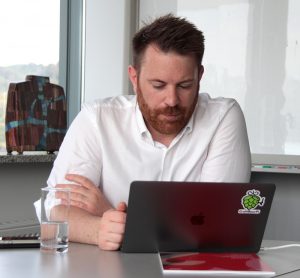 Working with soft­ware was the­re­fo­re alrea­dy necessa­ry for pro­fes­sio­nal rea­sons. A big pinch of inter­na­tio­na­li­ty, ide­as, and exchan­ge wit­hin com­mu­nities were added at zero cost.
Fritsch con­tri­bu­t­ed late­ral thin­king to pro­jects such as "The ATM and Pay­ment Sys­tems of the Future". At Phoe­nix Con­ta­ct, the smart­ly bear­ded man works as a pro­ject mana­ger on a soft­ware rollout.
Beer with YouTube
But why beer? And why brew it yourself? "I lik­ed coo­king and I coo­ked a lot. And gril­ling," Fritsch grins. "I've even been on the Ger­man ver­si­on of the TV show "Come Dine with Me", "Das per­fek­te Din­ner". And brewing beer just sound­ed interesting."
So there's no old beer baron dynas­ty in his fami­ly histo­ry? Or a bre­wer for a best friend? "No, not at all. I just real­ly lik­ed the idea. And back then, I had just star­ted working with a Raspber­ry Pi, and wan­ted to do some­thing use­ful with it." And the necessa­ry exper­ti­se? The almost alche­mistic devo­ti­on to Germany's favo­ri­te drink? "A spe­cia­list book on Ama­zon and a few vide­os on You­Tube, then I just set out and lear­ned more every day," Fritsch says, demys­ti­fy­ing the art of beer brewing.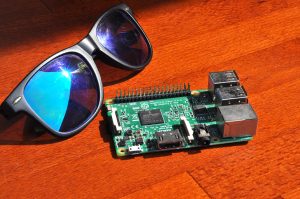 On the tiny com­pu­ter with just a sin­gle prin­ted cir­cuit board, which doesn't even have a housing and cos­ts only a litt­le more than € 30, Fritsch pro­gram­med his first app­li­ca­ti­on, which allo­wed a tem­pe­ra­tu­re sen­sor to be read out and a relay to be swit­ched. "That was all that was nee­ded for me to take the first steps toward con­trol­ling my brew kett­le." As soon as it reached a cer­tain tem­pe­ra­tu­re, the relay swit­ched off the hea­ting. Inci­dent­al­ly, the "brewing cop­per" was a con­ver­ted rice coo­ker. And the pro­gram was finis­hed in just one weekend…
Crea­ti­vi­ty from the community
"I then shared my expe­ri­en­ces with this app­li­ca­ti­on in a beer brewing com­mu­ni­ty. At first, the­re were a lot of nega­ti­ve comments. I just had a dif­fe­rent approach than what they were used to. My goal was to get some­thing working and up and run­ning with no more than 1,000 lines of code." What sounds like a big deal to the lay­man is not real­ly that much in the world of soft­ware deve­lo­pers. Lar­ger soft­ware modu­les quick­ly requi­re several hund­red thousand lines.
"Bes­i­des, I look at things from the view­point of the user in my pro­jects. I'm user inter­face-ori­en­ted, that's just the way I am. Qui­te sim­ply, it has to be easy to ope­ra­te. That was qui­te unusu­al back then." Manu­el Fritsch inte­gra­ted a mixer unit into his set­up; a WLAN modu­le that comes as stan­dard in the
Raspber­ry Pi tur­ned his smart­pho­ne into a con­trol panel.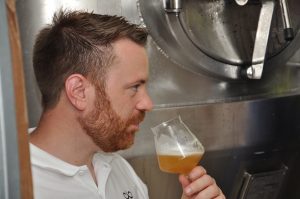 "Bre­wers want to brew beer and do not want to deal with pro­gramming," is how Fritsch descri­bes his approach. He publis­hed his efforts and the pro­gram on the com­mu­ni­ty plat­form, fol­lowing the open source ide­al. Though the reac­tion was sca­thing at first, the mood then tur­ned posi­ti­ve. "The com­mu­ni­ty was real­ly gra­te­ful that someo­ne was offe­ring a func­tio­n­ing con­trol sys­tem that cost around € 100 at the time."
Housing from Ikea
The beer bre­wer hob­by­ist then began to not only refi­ne his beer, but also to install his con­trol­lers ("the first was on a woo­den board," he says) and to stan­dar­di­ze them. "The audi­ence beca­me more and more inter­na­tio­nal. And that's when I had the idea of star­ting my own community."
Manu­el Fritsch cho­se Face­book ("easy-to-use, inter­na­tio­nal, widespread") as his plat­form, and named his group "Craft­Beer­Pi". Through this group, he is in con­ta­ct with beer bre­wers around the world. Anyo­ne who takes a peek over the blue Face­book fence is fasci­na­ted by the com­mit­ment and inven­ti­ve­ness of peop­le who­se pas­si­on is brewing beer themselves.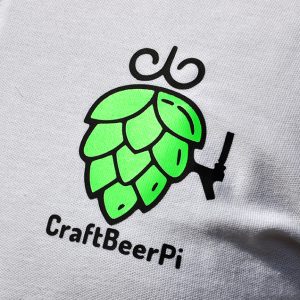 "How crea­ti­ve peop­le are, what kind of solu­ti­ons are deve­lo­ped — you would never think of it on your own." A Nor­we­gi­an user, for examp­le, sup­por­ted him in deve­lo­ping the logo. In the ear­ly days, an "ide­al housing" quick­ly made the rounds: "A phar­ma­cy cabi­net from Ikea. Cheap and avail­ab­le worldwide."
Python ins­tead of machi­ne language
Mean­while, Fritsch is about to launch the fourth ver­si­on of his beer-brewing soft­ware. The­re is also a Craft­Beer­Pi exten­si­on board, a spe­cial­ly deve­lo­ped prin­ted cir­cuit board which is snap­ped onto the Raspber­ry Pi and which offers signi­fi­cant­ly more func­tio­n­a­li­ty and its own con­trol logic. "I have deve­lo­ped an inter­nal soft­ware event bus sys­tem that allows the dif­fe­rent com­pon­ents to com­mu­ni­ca­te with each other as requi­red." It can also be used to moni­tor the fer­men­ta­ti­on pro­cess. All of the pro­gramming is in the high-level lan­guage Python.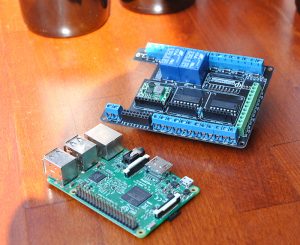 As a result, "Craft­Beer­Pi" has beco­me one of the top three con­trol­lers for hob­by bre­we­ries world­wi­de. In around 76 coun­tries, they ensu­re that water, hops, and yeast are trans­for­med into tas­ty bever­a­ges. At the time of the inter­view, 6,667 instal­la­ti­ons had been set up, and around 200 more are added each mon­th. "This is a boo­m­ing mar­ket," says Fritsch. "The more a beer from a bre­we­ry needs to tas­te the same (in other words, to be more repro­du­ci­ble), the more the pro­duc­tion pro­ces­ses need to be stan­dar­di­zed and the­re­fo­re automated."
Ent­ry into the pro­fes­sio­nal league
Manu­el Fritsch wouldn't be Manu­el Fritsch if he wasn't also open to alter­na­ti­ves. "Natu­ral­ly, the con­trol­lers can also con­trol other things. The­re are instal­la­ti­ons in cheese dai­ries and distil­le­ries." Fritsch only beca­me acquain­ted with the field of indus­tri­al con­trol­lers through his work at
Phoe­nix Con­ta­ct. Once he got his hands on a con­trol­ler with PLCnext Tech­no­lo­gy ("for lay­men, this is the most dif­fi­cult part of it all"), it took him just under four hours to get the brewing pro­cess run­ning on the pro­fes­sio­nal con­trol­ler. "This was pos­si­ble becau­se the con­trol­ler can hand­le high-level lan­guage, thanks to its open architecture."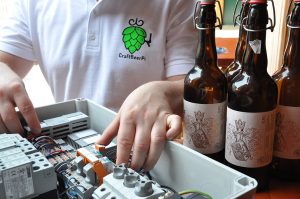 Pro­gramming in machi­ne lan­guage would also be pos­si­ble, but would great­ly limit the cir­cle of deve­lo­pers. "Using machi­ne lan­guage would com­pli­ca­te the con­trol­ler for the microbre­wer. And then the com­mu­ni­ty, with all its crea­ti­vi­ty, would be left out." Which is not an alter­na­ti­ve for Manu­el Fritsch. The soft­ware alche­mist can't prac­ti­ce witch­craft, after all.
Home and microbreweries
In the world of beer bre­wers, a dis­tinc­tion is made bet­ween home or hob­by bre­wers, microbre­we­ries such as Hannover's "Das Freie", and lar­ge bre­we­ries. The bounda­ries are flu­id. But the pro­ces­ses are very simi­lar:
Brewing takes eight to ten hours; the batch bre­wed by hob­by bre­wers is usual­ly no more than 25 liters. The extract obtai­ned from this pro­cess is then dilu­t­ed and fed with hop pel­lets during the wort boi­ling pro­cess. The mix­tu­re is then coo­led and the fer­men­ta­ti­on pro­cess begins. This takes around two weeks, with the tem­pe­ra­tu­re kept as con­stant as pos­si­ble.
In Ger­ma­ny, pre­pa­ring your own beer reci­pes was ban­ned for a long time. Today, each house­hold is allo­wed to pro­du­ce up to 200 liters of beer per year tax-free.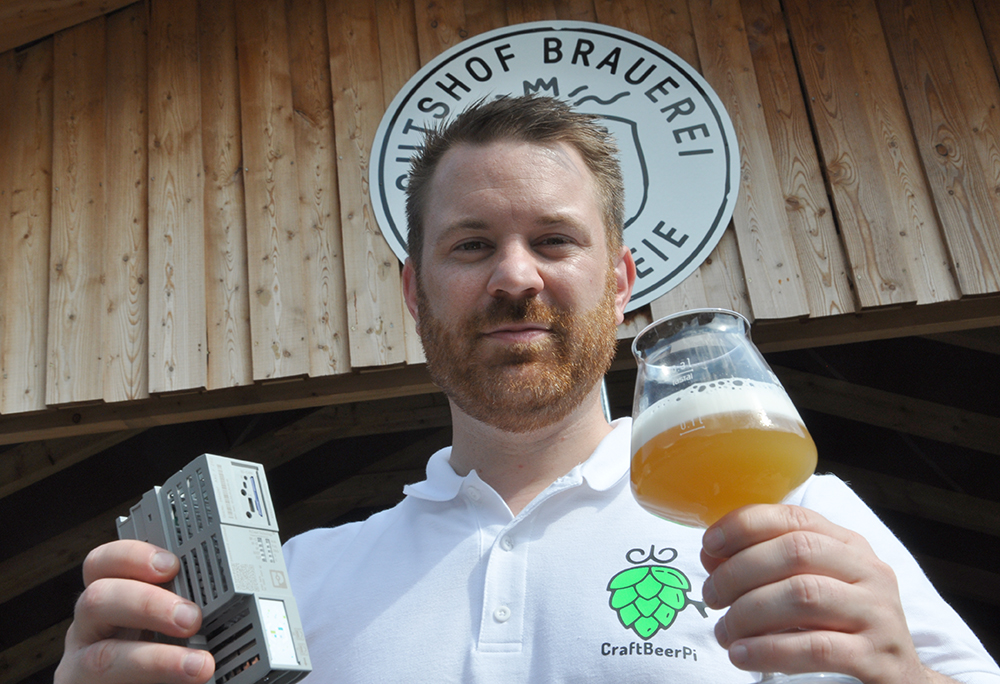 This post is also avail­ab­le in:

Deutsch