MEORGA is a spe­cia­list tra­de fair focu­sing on pro­cess, mea­su­rement, and con­trol tech­no­lo­gy, as well as dis­tri­bu­t­ed con­trol sys­tems. That sounds very dry. But it quick­ly beco­mes clear to anyo­ne who sees Hans-Josef Speicher's eyes light up when he talks about "his" tra­de fair – the­re is a very spe­cial spi­rit here.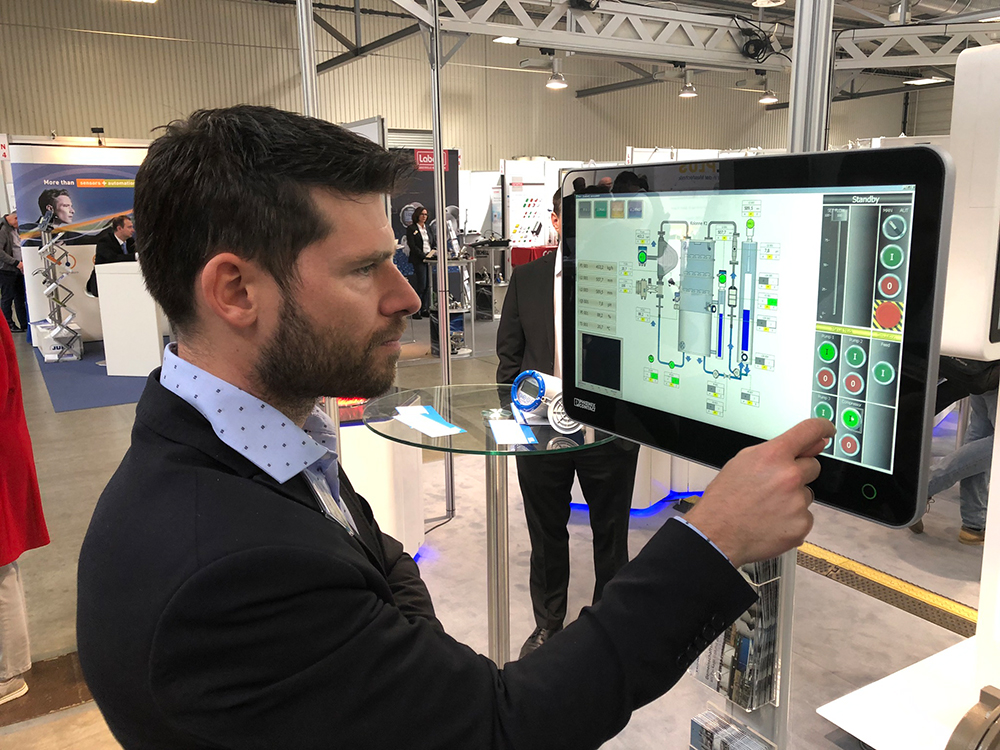 This is also evi­dent as you walk along the various ais­les of the tra­de fair. The tra­de fair is held right at the cen­ter of what is refer­red to as the Midd­le Ger­man Che­mi­cal Tri­ang­le, in Hal­le an der Saa­le.
A strong­hold of the che­mi­stry indus­try. Here, you will find a rare mix of blue-col­lar workers hap­pi­ly rub­bing shoul­ders with white-col­lar workers in their stan­dard busi­ness suits.
"This is per­fec­t­ly nor­mal at MEORGA," exp­lains Ste­phan Sage­biel. The elec­tri­cal engi­neer should know – after all, as the Head of the Indus­try Manage­ment team for Pro­cess Engi­nee­ring at Phoe­nix Con­tact, he has an over­view of what's hap­pe­ning in the pro­cess indus­try and who the big play­ers are. "In order to keep them­sel­ves up to speed, many visi­tors come here direc­t­ly from the fac­to­ry floor."
A tra­de fair for the neigh­bor­hood
MEORGA is eight tra­de fairs in one. "This is one of the rea­sons for our suc­cess. MEORGA is held four times each year at dif­fe­rent loca­ti­ons in clo­se pro­xi­mi­ty to the most important pro­cess engi­nee­ring and pro­cess tech­no­lo­gy cen­ters. In 2019, the loca­ti­ons are Hal­le an der Saa­le, Ham­burg, Lud­wigs­ha­fen, and Lands­hut – in 2020, the loca­ti­ons will be Frank­furt am Main, Lever­ku­sen, Lud­wigs­ha­fen again, and Bochum."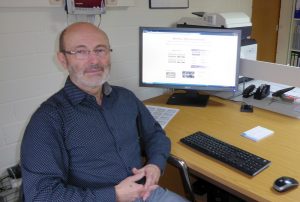 The Head of MEORGA, Hans-Josef Spei­cher, exp­lains the princip­le: "This is the ide­al mee­ting place for exhi­bi­tors and spe­cia­list visi­tors. For tech­ni­ci­ans or fac­to­ry super­in­tendents and their teams, this is an excur­si­on taken during, befo­re, or after their shifts. And mana­gers do not have to make expen­si­ve busi­ness trips. The local tra­de fair just around the cor­ner – that is the con­cept."
Spei­cher knows exac­t­ly what his tar­get group needs. Ori­gi­nal­ly from Saar­land, he began his care­er, after all, as an expert in mea­su­rement and con­trol tech­no­lo­gy. He worked for many years as a lead main­ten­an­ce spe­cia­list in the Ger­man coal power sta­ti­on indus­try. He star­ted his second, no less suc­cess­ful care­er at the ten­der age of 52.
A tra­de fair orga­ni­zer with a prac­ti­cal back­ground
"During my time working in power sta­ti­ons, I mys­elf visi­ted a lar­ge num­ber of spe­cia­list tra­de fairs. At the time, it beca­me clear to me that the­re was a lack of regio­nal tra­de fairs." Hans-Josef Spei­cher used his con­tac­ts, his exper­ti­se, and his ener­gy, rol­led up his slee­ves and orga­ni­zed the first smal­ler events. "We star­ted with a hotel tra­de fair in Saar­land. The­re were seven exhi­bi­tors back then."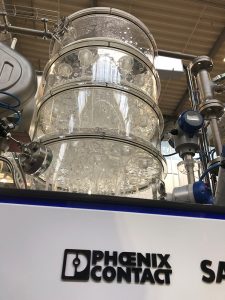 Phoe­nix Con­tact reco­gni­zed the poten­ti­al ear­ly on, and took part in MEORGA star­ting in its second year. With its one-day con­cept at eight loca­ti­ons, MEORGA is appe­aling to exhi­bi­tors: "This con­cept signi­fi­cant­ly redu­ces costs, such as over­night stays at hotels, as well as tra­vel costs", Spei­cher exp­lains.
During a tour of the tra­de fair, it beco­mes clear just how sustainab­le this con­cept has beco­me. "Today, the­re are more than 150 exhi­bi­tors here." It has a fami­ly atmo­s­phe­re. Which of cour­se is rein­forced by the tra­de fair team built around Hans-Josef Spei­cher and his fami­ly.
Peop­le know and appre­cia­te one ano­t­her. Ent­ry is free of char­ge. The MEORGA tra­de fair con­cept ensu­res that booth sizes remain mana­ge­ab­le and that smal­ler manu­fac­tu­rers also have the oppor­tu­ni­ty to make their mark. Along­si­de the exhi­bits, the spe­cia­list pre­sen­ta­ti­ons and talks are a stap­le part of the fair. And are so suc­cess­ful, that you usual­ly have to book a seat in advan­ce. Even stan­ding room is in short sup­ply other­wi­se.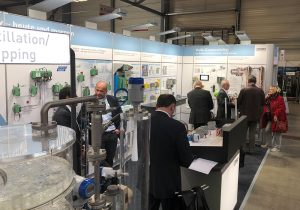 The Phoe­nix Con­tact tra­de fair booth is not swar­med under by mas­ses of visi­tors, but rather is a place for ongo­ing, in-depth tech­ni­cal dis­cus­sions. Ste­phan Sage­biel and his team have their hands full pro­vi­ding the expert visi­tors with the necessa­ry infor­ma­ti­on on Phoe­nix Con­tact solu­ti­ons, whe­ther their col­lar hap­pens to be blue or white.
This post is also avail­ab­le in:

Deutsch