If the slogan fits, then size is a contentious argument. The advertising theme to promote the PRC series of circular connectors not only drew attention to the product in a clever way, but it was so memorable that it has won two prestigious prizes in one go.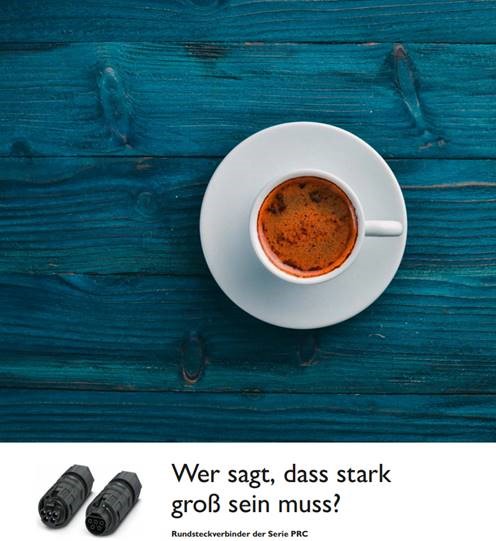 The German WEKA Ad Award is voted for by the public. For the first time, publishing house WEKA Fachmedien invited its readers to vote on the best ads from the electronics, automotive, automation, and ICT sectors. With its publications, the publishing house is actively involved in these specific areas of interest.
The award ceremony was held on November 14 in Munich. And the snappy statement accompanied by the image of the strong, hot drink was so catchy that Phoenix Contact won both the prize for the best visual and the best slogan.
The round connectors are not only one size fits all in connection with espresso. Their real strength lies in the connection from cable to cable in harsh environments, i.e. in building, industrial and outdoor applications, for example in the photovoltaic sector. Thanks to weatherproof materials and a high protection class up to IP69K, the connectors transmit high currents even under demanding environmental conditions.
This post is also available in:

Deutsch