The product range of Phoenix Contact E-Mobility gets a new name: CHARX will stand for charging technology from Phoenix Contact. Instead of the "Product xy from Phoenix Contact E-Mobility", the company will in future use "CHARX".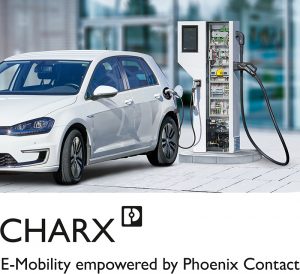 Charging cables and charging sockets are named CHARX connect. Controllers for the charging process are called CHARX control, software for the management of charging stations and parks is called CHARX >em> management>/strong>. The DC power electronics for fast charging stations becomes CHARX power>/strong> and the necessary surge protection in the charging station becomes CHARX >em>protect>/strong>.
In the coming year, the portfolio is to be supplemented by DC power contactors called CHARX contact. With the matching components from the parent company Phoenix Contact, such as energy meters, power supplies, touch panels and industrial connection and communication technology, a complete range for AC and DC charging is created.

This post is also available in:

Deutsch