A driverless transport system connects the automated small parts warehouse at the Blomberg site with workstations in production, thus ensuring optimized material flows.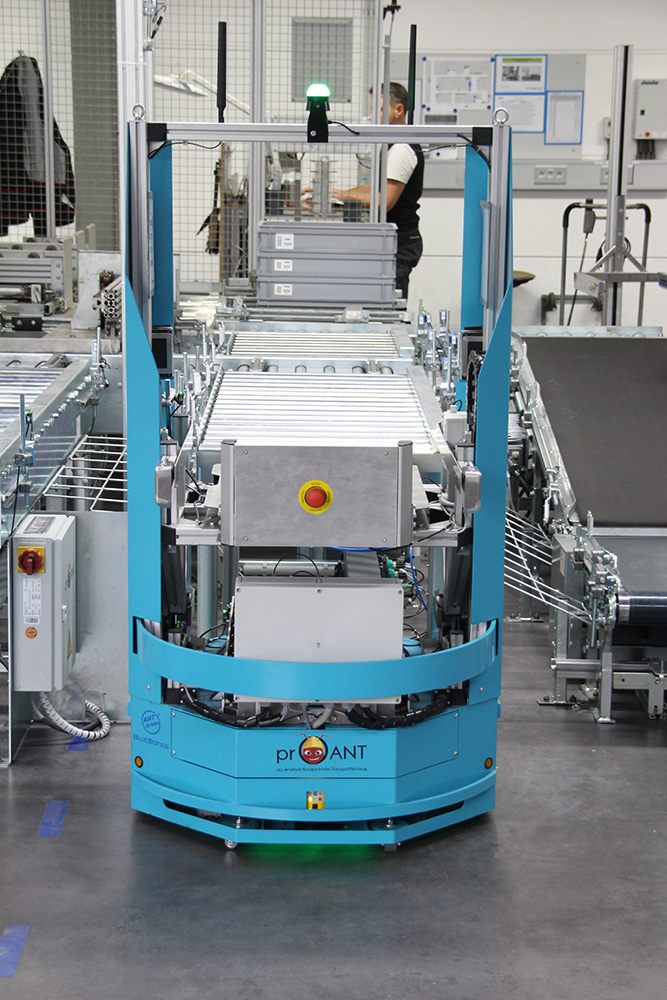 When the robot starts driving, no one at Phoenix Contact has to jump to the side in fright. With the new automated guided vehicle system (AGV), automation has also found its way into moving goods within the site.
"The devices function similarly to domestic vacuum cleaner robots. Only bigger, more resilient and even more ergonomically friendly," explains Björn Eilert, who oversaw the introduction of autonomous driving on the company's premises. The blue sheet metal box shuttles between a state-of-the-art small parts warehouse and a production area.
To ensure that driving does not become an end in itself, the robot is linked to an ultra-modern ordering system that employees can use to order the individual parts they need "just like Amazon. From the automatic small parts warehouse, the material is transported in totes to a transfer point where the ghost driver takes over its load and then delivers it with lightning speed.
Thanks to its safety systems, the new truck naturally keeps an eye on the feet and shins of careless human colleagues. And since the containers with parts are temporarily stored at waist height, no one with a human spine and intervertebral discs has to bend down low at the receiving point and then lift heavily. No wonder the metal unskilled worker is a welcome sight.
Only "Mahlzeit" or hello doesn't come out of the blue colleague's mute tinny shell.
This post is also available in:

Deutsch