A dri­v­er­less trans­port sys­tem con­nec­ts the auto­ma­ted small parts wareh­ouse at the Blom­berg site with work­sta­tions in pro­duc­tion, thus ensu­ring opti­mi­zed mate­ri­al flows.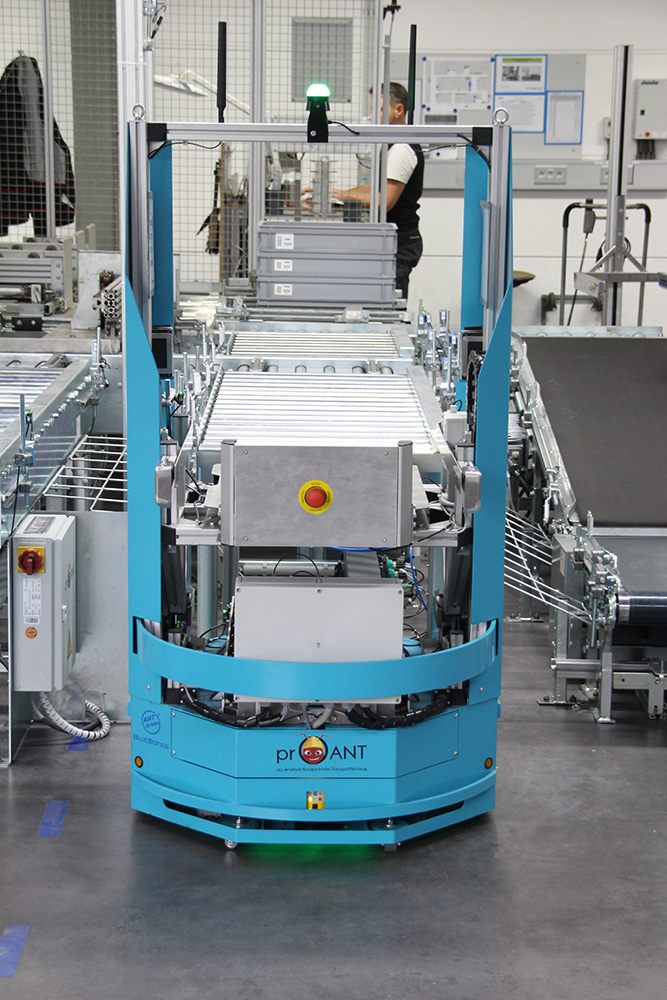 When the robot starts dri­ving, no one at Phoe­nix Con­tact has to jump to the side in fright. With the new auto­ma­ted gui­ded vehi­cle sys­tem (AGV), auto­ma­ti­on has also found its way into moving goods wit­hin the site.
"The devices func­tion simi­lar­ly to domestic vacu­um clea­ner robots. Only big­ger, more resi­li­ent and even more ergo­no­mi­c­al­ly fri­end­ly," exp­lains Björn Eilert, who over­saw the intro­duc­tion of auto­no­mous dri­ving on the company's pre­mi­ses. The blue sheet metal box shut­tles bet­ween a sta­te-of-the-art small parts wareh­ouse and a pro­duc­tion area.
To ensu­re that dri­ving does not beco­me an end in its­elf, the robot is lin­ked to an ultra-modern orde­ring sys­tem that employees can use to order the indi­vi­du­al parts they need "just like Ama­zon. From the auto­ma­tic small parts wareh­ouse, the mate­ri­al is trans­por­ted in totes to a trans­fer point whe­re the ghost dri­ver takes over its load and then deli­vers it with light­ning speed.
Thanks to its safe­ty sys­tems, the new truck natu­ral­ly keeps an eye on the feet and shins of careless human col­leagues. And sin­ce the con­tai­ners with parts are tem­pora­ri­ly stored at waist height, no one with a human spi­ne and inter­ver­te­bral discs has to bend down low at the recei­ving point and then lift hea­vi­ly. No won­der the metal unskil­led worker is a wel­co­me sight.
Only "Mahl­zeit" or hel­lo doe­s­n't come out of the blue colleague's mute tin­ny shell.
This post is also avail­ab­le in:

Deutsch