They belong to Switz­er­land like wat­ches, banks and the Alps – tun­nels. Hard­ly any other coun­try is as adept in the art of per­fo­ra­ting its inner­most parts as the Swiss. In mid-March, ever­ything of note in the field of tun­nel con­struc­tion and ope­ra­ti­on in Switz­er­land met at Phoe­nix Contact's Tun­nel Forum 2021.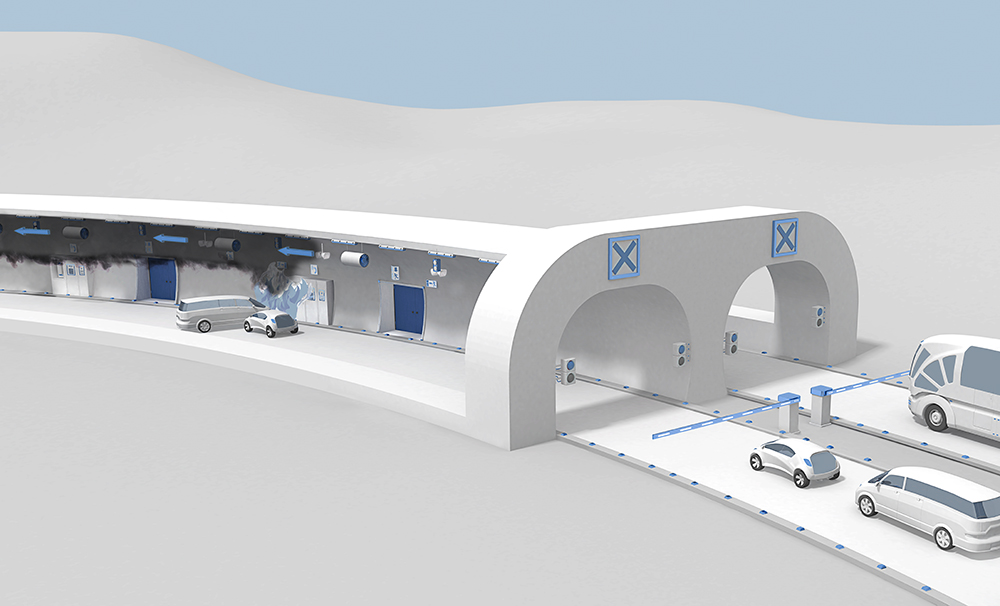 What Davos is to the glo­bal eco­no­my, the Tun­nel Forum is to tun­nel buil­ders. Every two years, Phoe­nix Con­ta­ct Switz­er­land orga­ni­zes this cen­tral infor­ma­ti­on event with nume­rous experts from various disci­pli­nesn. The event has been held in Tagels­wan­gen sin­ce 2012, anno 2021 due to the Coro­na situa­ti­on, howe­ver, spread over two half days and with digi­tal visi­tors only. The two hosts Mar­kus Kolb, Head of Mar­ket Seg­ment Indus­try Manage­ment & Auto­ma­ti­on, and Heinz Frei, Mar­ket Mana­ger Infra­st­ruc­tu­re, as well as the renow­ned spea­kers from the tun­nel indus­try broad­cast their topics via Live­Stream..
The pur­po­se of the Tun­nel Forum 2021 was to inform par­ti­ci­pants about the latest con­cepts and solu­ti­ons for tun­nel sys­tems. The ran­ge of topics cove­r­ed ever­ything from tun­nel ligh­t­ing and ven­ti­la­ti­on to dyna­mic traf­fic gui­d­ance and soft­ware solu­ti­ons for con­trol cen­ters. The more than 80 par­ti­ci­pants were infor­med about pho­to­metric mea­su­re­ments, smart tun­nel ligh­t­ing in every situa­ti­on and time of day, and sui­ta­ble solutions.
On the second day, the focus was on app­li­ca­ti­ons from the area of signa­ling and IT/OT secu­ri­ty of the respec­ti­ve net­works. Here, too, the experts from Phoe­nix Con­ta­ct final­ly pre­sen­ted pre­cise­ly fit­ting solu­ti­ons from the pro­duct port­fo­lio. The event ended with a lively final dis­cus­sion and show­ed that the tun­nel as a cen­tral ele­ment of traf­fic gui­d­ance will con­ti­nue to recei­ve incre­a­sed atten­ti­on in the com­ing deca­des – not only in Switzerland!
Phoe­nix Con­ta­ct Tun­nel
Phoe­nix Con­ta­ct Schweiz – Event Agenda
---
This post is also avail­ab­le in:

Deutsch