Sin­gle Pair Ether­net is a hot pota­to. Trans­mit­ting both data and power with just one cable – this is not only tech­no­lo­gi­cal­ly chal­len­ging, but also opens up com­ple­te­ly new app­li­ca­ti­ons. And of cour­se, the lack of a second cable also plea­ses the con­trol­ling depart­ment. On 22 and 23 Sep­tem­ber the­re will be an inter­na­tio­nal digi­tal con­fe­rence on this topic.

The Tech­no­lo­gy Days, taking place for the first time this year, pro­vi­de par­ti­ci­pants with the oppor­tu­ni­ty to talk to spe­cia­lists and to inform them­sel­ves about the added value of this com­mu­ni­ca­ti­on tech­no­lo­gy. A key­note, dis­cus­sions, and an exhi­bi­ti­on con­sti­tu­te the frame­work of this digi­tal con­fe­rence.
The pro­gram will take place at dif­fe­rent times on both days so that ever­yo­ne around the world who is inte­rested in the Tech­no­lo­gy Days can visit them vir­tual­ly. The con­fe­rence will be held in Eng­lish. If you want to regis­ter for the digi­tal con­fe­rence on Sep­tem­ber 22 and 23, 2020, plea­se fol­low this link www.singlepairethernet.com/TechnologyDays. The pro­gram can be found here as well. The exhi­bi­ti­on will be open for all par­ti­ci­pants until Octo­ber 2, 2020.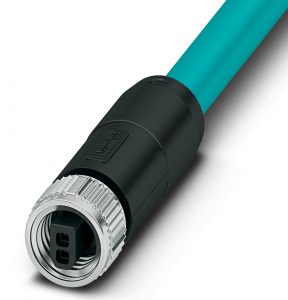 Part­ners of the SPE Sys­tem Alli­an­ce, like Dät­wy­ler, Flu­ke Net­works, Kyland, Micro­chip, Phoe­nix Con­tact, Prys­mi­an Group, R&M, Rosen­ber­ger, Sick, Telegärt­ner and Weid­mül­ler, will point out trends wit­hin SPE tech­no­lo­gy and exp­lain the rele­van­ce for com­pon­ents like swit­ches, semi­con­duc­tors, sen­sors, con­nec­tors, and cables.
The SPE Sys­tem Alli­an­ce is an asso­cia­ti­on of lea­ding tech­no­lo­gy com­pa­nies from dif­fe­rent indus­tries and fields of app­li­ca­ti­on who bund­le and exchan­ge their exper­ti­se regar­ding Sin­gle Pair Ether­net. All part­ners thus pur­sue the com­mon goal of pro­mo­ting the SPE tech­no­lo­gy for the IIoT and every other field of app­li­ca­ti­on.
More infor­ma­ti­on www.singlepairethernet.com
This post is also avail­ab­le in:

Deutsch