Through the tubes at 500 km/h – Swiss pre­cisi­on and Blom­berg inno­va­ti­on are paving the way for the high-speed trans­por­ta­ti­on of the future.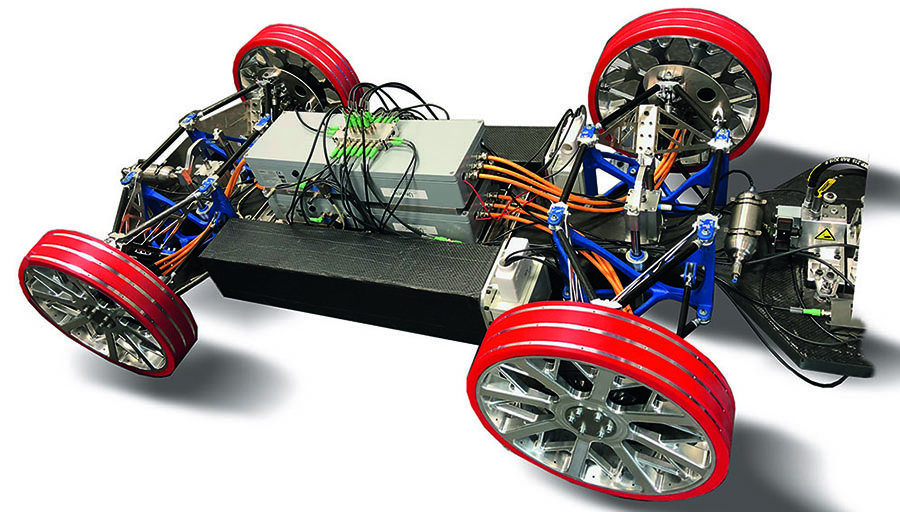 NCIS Zurich. It is not the ban­king district that is in the public eye this time, howe­ver, but the cam­pus of ETH Zurich, the Swiss Federal Insti­tu­te of Tech­no­lo­gy. This is whe­re Swiss­loop – an inno­va­ti­on pro­ject at the high­ly pres­ti­gious inter­na­tio­nal trai­ning and rese­arch cen­ter – is based.
The aim is to deve­lop inno­va­ti­ve tech­no­lo­gies for fast, tube trans­por­ta­ti­on sys­tems with speeds of up to 1,200 km/h, in line with the Hyper­loop visi­on of Tes­la foun­der Elon Musk. The rese­arch on this and the modi­fi­ca­ti­ons are car­ri­ed out glo­bal­ly by dif­fe­rent teams. Once a year, a major com­pe­ti­ti­on – the Hyper­loop Pod Com­pe­ti­ti­on – is held at Musk's com­pa­ny, SpaceX, in Los Ange­les, whe­re atten­de­es demons­tra­te what their vehi­cles can do. Of the ori­gi­nal (appro­xi­ma­te) 1,000 teams who ent­e­red the com­pe­ti­ti­on in 2018, only 18 remained.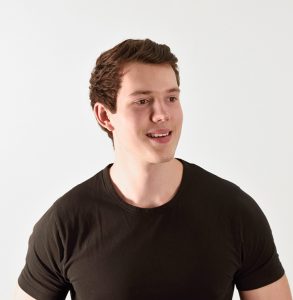 Fol­lowing on from finis­hing third in 2017, the Swiss­loop team again set their sights on clai­ming one of the top spots in the 2018 com­pe­ti­ti­on. Howe­ver, a pro­blem with the motor con­trol­ler in the vacu­um tube thwar­ted the team's expec­ted leap onto the podi­um at the last second.
Han­no Kap­pen, still an Electri­cal Engi­neer stu­dent at ETH Zurich in 2018, was one of the 20 or so mem­bers of the stu­dent team that made up the 2018 deve­lo­p­ment group.
Acce­le­ra­ti­on like a super-sports car
"The pro­ject vehi­cle, refer­red to as the pod, has to acce­le­ra­te to the hig­hest pos­si­ble speed wit­hin a few seconds in the test tube of Musk's com­pa­ny, SpaceX, and come to a stop in time," exp­lains Kap­pen. The race bet­ween the dri­v­er­less pods is held in the USA in a SpaceX-deve­lo­ped "hypertu­be", a par­ti­al­ly evacua­ted tube that is 1.25 kilo­me­ters long and has a dia­me­ter of 1.8 meters. The vehi­cles are pro­pel­led along an I‑rail that is ancho­red into the floor and which runs through the ent­i­re length of the tube. The requi­re­ment pro­fi­le is remi­nis­cent of drags­ter races: the win­ner is whoever reaches the hig­hest maxi­mum speed in the avail­ab­le distance – and at the same time mana­ges not to crash at the end of the track.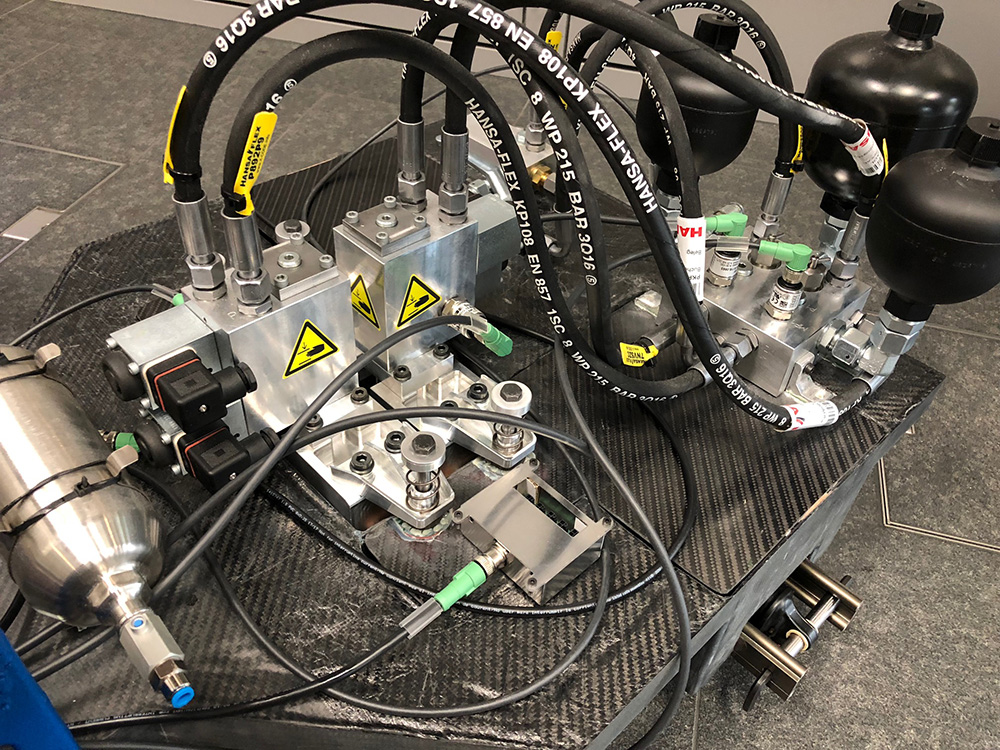 The dri­ve ener­gy must be gene­ra­ted (without a com­bus­ti­on engi­ne) on board the pod. The vehi­cle desi­gned by Swiss­loop was powe­red with 250 kWh, sup­plied by bat­te­ries. The pro­pul­si­on is gene­ra­ted by one 110 kW hub motor in each of the four wheels, which are coated with a spe­cial PU foam that enab­les high acce­le­ra­ti­on and bra­king for­ces to be trans­mit­ted. The "Muji­n­ga" gene­ra­tes a total out­put of 540 PS.
The goal for the Swiss­loop team in 2018 was to reach a speed of around 500 km/h. This deman­ds an average acce­le­ra­ti­on of around 12 m/s2 – a magnitu­de that is nor­mal­ly only achie­ved by super-sports
cars.
High-tech down to the last detail
"Teams from dif­fe­rent disci­pli­nes have to work in very clo­se coope­ra­ti­on in order to be able to achie­ve such speeds," Han­no Kap­pen tells us. Experts from the fiel­ds of machi­ne buil­ding, vehi­cle tech­no­lo­gy, electri­cal engi­nee­ring / elec­tro­nics, as well as hydrau­lics and pneu­ma­tics worked tog­e­ther on the pod.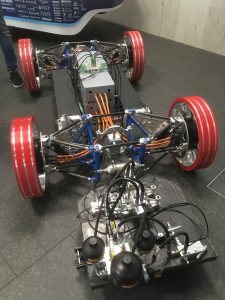 The ent­i­re vehi­cle is desi­gned to be ultra­light in con­struc­tion. The chas­sis and a wide ran­ge of other
com­pon­ents are made of light con­struc­tion mate­ri­als such as car­bon fiber and alu­mi­num. The weight of every com­po­nent was eva­lua­ted and every trick attemp­ted in order to save just a few grams in one part or ano­t­her. This approach is the only way pos­si­ble to be able to keep the total weight wit­hin the
ran­ge of 300 kg des­pi­te the enor­mous power.
E‑racer at For­mu­la 1 level
"The­re were par­ti­cu­lar chal­len­ges in the area of the sen­sor tech­no­lo­gy, con­trol­lers, and actua­tors," exp­lains Kap­pen. Due to the high speeds, the­se com­pon­ents had to ope­ra­te at the limits of their capa­bi­li­ties. At 500 km/h, even the sligh­test uneven­ness in the rail cau­ses con­si­derable impact for­ces on the wheels and the ent­i­re mecha­nism, which then have to be com­pen­sa­ted for at light­ning speed.
The axles, sus­pen­si­on, and absor­bers must satisfy For­mu­la 1 deman­ds. The vehi­cle does not have stee­ring. Direc­tio­n­al chan­ges have to be per­for­med through minu­te read­jus­t­ments to the indi­vi­du­al wheel dri­ves. Con­ta­ct with the I‑rail is par­ti­cu­lar­ly sen­si­ti­ve becau­se this is done using small rol­lers, and not only on the side, but also ver­ti­cal­ly from below. The­se rol­lers are pres­sed onto the rail by spring and absor­ber links, and report posi­tio­nal devia­ti­ons to the con­trol­ler via sensors.
This then has to react in the mil­li­se­cond ran­ge becau­se the tole­ran­ces for rail devia­ti­on are extre­me­ly tight. Fur­ther­mo­re, the ver­ti­cal rol­lers also have to app­ly con­trol­led pres­su­re for­ces to con­trol the ver­ti­cal incli­na­ti­on ang­le of the vehi­cle – such as during acce­le­ra­ting or braking.
Team­work with the industry
"Without the sup­port of a lar­ge num­ber of com­pa­nies, we would never have been able to com­ple­te this pro­ject," admits Han­no Kap­pen. This was not only true for the lar­ge num­ber of pod com­pon­ents, but also for the advice on the design and ope­ra­ti­on. Only advan­ced tech­no­lo­gy was uti­li­zed. His group, made up of four e‑technology stu­dents, were given the task of over­co­m­ing all of the chal­len­ges faced in the field of ener­gy sup­ply and con­trol. The­se inclu­ded bat­te­ry manage­ment, various elec­tro­nic sub­sys­tems for sen­sors and actua­tors, and the deve­lo­p­ment of the lin­kage net­work via which the flow of data and com­man­ds bet­ween the con­trol­ler and the nume­rous peri­pheral units had to be managed.
Neural pathways in green
"It was of gre­at value for our e‑technology group to be able to call upon Phoe­nix Con­ta­ct, which is known world­wi­de for its high qua­li­ty, as a part­ner for the electri­cal net­wor­king," says Kap­pen. Fur­ther­mo­re, Phoe­nix Con­ta­ct also enga­ged in inten­si­ve con­sul­ting and sup­port. "From this, it beca­me appa­rent that the M12 cir­cu­lar con­nec­tor was best sui­ted for our app­li­ca­ti­on." The team mem­bers were also able to assem­ble the mul­ti-posi­ti­on cables them­sel­ves whe­re needed.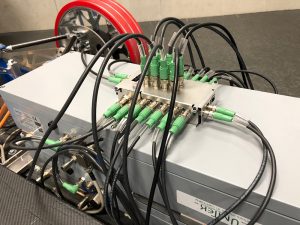 For this, Phoe­nix Con­ta­ct also prompt­ly deli­ve­r­ed the sui­ta­ble cable mate­ri­al. Due to the green end caps, the­se "neural pathways" are clear to see, in par­ti­cu­lar in the cen­tral net­work con­trol­ler PCB deve­lo­ped by Kap­pen, which has a total of 20 mul­ti-posi­ti­on com­mu­ni­ca­ti­on con­nec­tions. "I was par­ti­cu­lar­ly impres­sed at how the com­pa­ny was able to pro­vi­de fast, non-bureau­cra­tic, and abo­ve all very pro­fes­sio­nal assi­s­tance through its local Swiss branch," says Han­no Kap­pen, sum­ma­ri­zing his expe­ri­en­ces. Today, he lives and works in Los Angeles.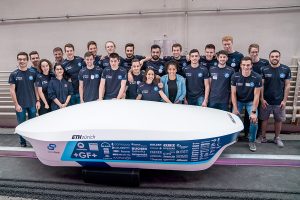 Natu­ral­ly, the team from the Swiss Federal Insti­tu­te of Tech­no­lo­gy in Zurich do not want to give in after the igno­mi­ny of the tech­ni­cal knock­out of 2018, and have long sin­ce been working on impro­ve­ments and the next attempt. The­re is also a deeper aim, becau­se as a land of tun­nels, Switz­er­land is also plan­ning its own ver­si­on of the evacua­ted high-speed tube, and will need sui­ta­ble vehicles.
hyper­loop-on
Swiss­loop
Phoe­nix Con­ta­ct Switzerland
This post is also avail­ab­le in:

Deutsch