Anyo­ne ent­e­ring the Phoe­nix Con­ta­ct E‑Mobility pro­duc­tion area will immedia­te note the atmo­s­phe­re of con­cen­tra­ted acti­vi­ty. Each hand­le has to fit, and every litt­le com­po­nent must be set exact­ly in the right place. The­re is no room for boo­m­ing full auto­ma­ti­on; only for expe­ri­en­ced pro­fes­sio­nals with a love of precision.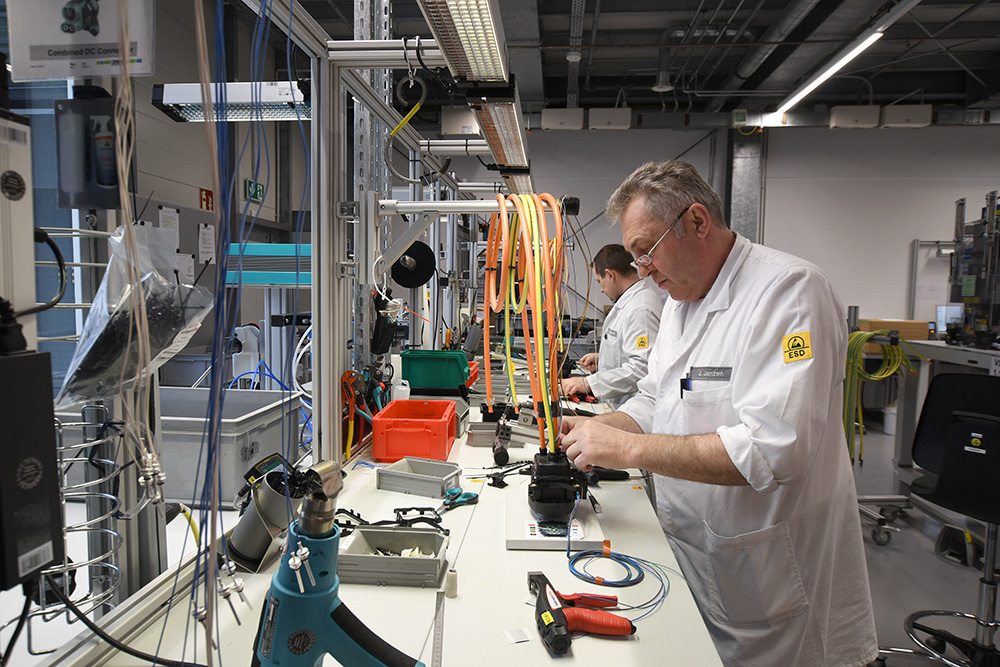 Bodo Fin­ken likes to meet his visi­tors direct­ly at the door to "his" pro­duc­tion faci­li­ty. Becau­se you can't just walk in here. Tho­se who work for or sup­ply the auto­mo­ti­ve indus­try are very reluc­tant to show their cards – dis­cre­ti­on is key in this indus­try. But with the Head of Pro­duc­tion at your side, this hurd­le is quick­ly overcome.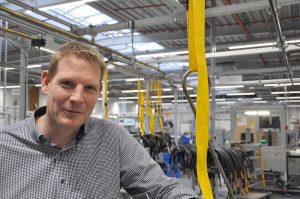 And then the­re is the fact that it is qui­te dif­fe­rent from a "nor­mal" pro­duc­tion faci­li­ty. While other machi­ne parks ratt­le and rum­ble, click and clack, some­ti­mes loud­ly, rare­ly quiet­ly, the­re is a con­cen­tra­ted calm near-silence in Schie­der. All around, employees dres­sed in white coats devo­te them­sel­ves almost devout­ly to the assem­bly of various char­ging con­nec­tors, cables, and vehi­cle char­ging sockets – the inlets. Sur­roun­ded by working mate­ri­al, most­ly at work­sta­tions. Every hand­le fits, every tool is exact­ly whe­re the hand that's loo­king for it expects it to be.
Hum­ble beginnings
"We star­ted out in 2013 as a spin-off with 23 employees from the Busi­ness Area DC, that is to say the con­nec­tor divi­si­on. A major cus­to­mer from the auto­mo­ti­ve indus­try had asked the Exe­cu­ti­ve Board whe­ther Phoe­nix Con­ta­ct could also enter the field of e‑mobility. At that time, we had just one lar­ge bus char­ging con­nec­tor for the Chi­ne­se mar­ket. But becau­se the num­ber of inqui­ries for this field were incre­a­sing, we estab­lis­hed the spin-off on Janu­a­ry 1, 2013."
The num­ber of employees was still very mana­ge­ab­le, with 14 peop­le in admi­nis­tra­ti­on, logistics, and sales, along with nine pro­duc­tion experts. The pre­mi­ses in the for­mer fur­ni­tu­re fac­to­ry in Schie­der were just as modest. "Here, this room we're in right now, this was all we had," says Bodo Fin­ken as he ges­tu­res around the room. "The very first con­nec­tors were manu­fac­tu­red in Blom­berg as pre-seri­es. The col­leagues who worked the­re were also our first employees here in Schieder."
Today's pre-seri­es faci­li­ty loo­ks very simi­lar to the pro­duc­tion faci­li­ty that we star­ted back then. "We, with our nine experts, initi­al­ly pro­du­ced batch quan­ti­ties of one on a total of 12 simp­le, com­ple­te­ly empty assem­bly tables – one meter wide, eigh­ty cen­ti­me­ters deep, along with a few hand tools and rol­ler con­tai­ners with parts – depen­ding on the item ver­si­on or com­po­nent. A few shel­ves, ple­nty of plastic boxes with mate­ri­al – that's how we star­ted our pro­duc­tion logistics system.
We were abso­lute­ly deligh­ted whenever a cus­to­mer orde­red a con­nec­tor. And then we built the con­nec­tor. And then ano­t­her one for the next cus­to­mer. Until they star­ted orde­ring five of them at a time. I remem­ber how hec­tic things got the first time a cus­to­mer orde­red 10 con­nec­tors. Back then, every employee was able to build each type of con­nec­tor blindfolded."
Treache­rous exhibits
But this idyl­lic sce­ne did not last long. A real run on the con­nec­tors from Schie­der began in the the very begin­ning. "We were the first to pro­vi­de solu­ti­ons for both AC and DC char­ging for the Ame­ri­can, Euro­pean, and Asi­an mar­kets. It is not for no rea­son that the CCS type 2 con­nec­tor is still known as the Phoe­nix Con­ta­ct con­nec­tor throughout the world." very first year. This was due to Phoe­nix Con­ta­ct offe­ring a broad pro­duct port­fo­lio from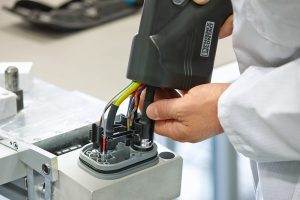 Demand grew expo­nen­ti­al­ly. And it pre­sen­ted the young team, which was actual­ly extre­me­ly accom­plis­hed, with some qui­te unusu­al chal­len­ges. "Set­ting up a pro­duc­tion line is part of our dai­ly rou­ti­ne at Phoe­nix Con­ta­ct. The big chal­len­ge here, though was that the­re were no tem­pla­tes, no blue­prints. Not for the pro­ducts, not for the tools not for pro­duc­tion. After all, who else had alrea­dy star­ted working in the field of e‑mobility back then? Becau­se of this,we first had to find sup­pliers for tools, machi­nes, and cables. If we hadn't had Phoe­nix Con­ta­ct on our busi­ness card, 99 out of 100 sup­pliers would almost cer­tain­ly have tur­ned us away without a thought."
Fin­ken recalls, "Repre­sen­ta­ti­ves from of the lar­gest sup­pliers in the field of cable pre­pa­ra­ti­on sat right here and insis­ted on refer­ring to their stan­dard cata­log. At the time, they were com­ple­te­ly dis­in­te­res­ted in the low volu­mes." Sin­ce then,Phoenix Con­ta­ct has found e‑mobility part­ners with simi­lar set­ups, and who are just as enga­ged in dri­ving elec­tro­mo­bi­li­ty forward.
The next step
After one and a half years, the orders began to incre­a­se to hund­reds of con­nec­tors per order. "We were now at a point whe­re we had arri­ved in a small-sca­le-pro­duc­tion world, with new deman­ds on the orga­niz­a­ti­on of our work. Our char­ging con­nec­tors and char­ging sockets were high-qua­li­ty, safe, and tes­ted pro­ducts, but not yet sui­ta­ble for true seri­es production."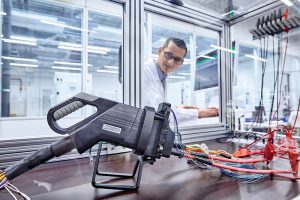 A steep lear­ning cur­ve for the small team. Even today, deve­lo­pers, engi­neers, and pro­duc­tion staff still come tog­e­ther in joint mee­tings to tweak the sys­tem to incre­a­se out­put. "Nobo­dy is bet­ter than anyo­ne else in the­se mee­tings; we use plain lan­guage so that we can achie­ve impro­ve­ments tog­e­ther." An exchan­ge bet­ween equals – in Bodo Finken's opi­ni­on, this is a decisi­ve key to today's suc­cess. "As always, we are in a situa­ti­on whe­re we do clas­sic fun­da­men­tal rese­arch here fol­lo­wed right immedia­te­ly by buil­ding a pro­to­ty­pe in a work­shop right next door. Spea­king with col­leagues the­re is like taking part in a lec­tu­re on electri­cal engi­nee­ring. It is fasci­na­ting when you think that our col­leagues are alrea­dy working on pro­ducts that will not reach us for several years."
Deve­lo­p­ments that also led to fun­da­men­tal rese­arch in pro­duc­tion. What began back then with a few sket­ches on paper has now tur­ned into intel­li­gent worker assi­s­tance sys­tems. What seems so obvious today is the result of years of fiddling around. "The work­sta­tions are desi­gned main­ly by tho­se who use them," Bodo Fin­ken exp­lains on a short tour of the vast­ly incre­a­sed pro­duc­tion facility.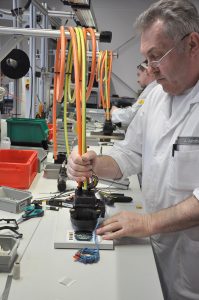 "But cable pre­pa­ra­ti­on is and will remain skil­led work. Thanks to the clo­se feed­back – from deve­lo­p­ment all the way to pro­duc­tion at the indi­vi­du­al work­sta­tions and employees – we have been able to signi­fi­cant­ly opti­mi­ze a num­ber of pro­ces­ses and products."
Team spi­rit
You need very spe­cial employees to do this. "It takes mon­ths of trai­ning here befo­re a col­league can assem­ble their first con­nec­tor. We have extre­me­ly expe­ri­en­ced pro­fes­sio­nals from all kinds of tra­des working in production,from auto­mo­ti­ve mecha­tro­nics tech­ni­ci­ans to car­pen­ters. Their tech­ni­cal under­stan­ding is a part of the pro­duc­tion. Some­ti­mes col­leagues sit the­re on their own accord until late in the evening and work on sug­ges­ti­ons for impro­ve­ment that can then help us to move forward."
Not without pri­de, Fin­ken exp­lains that "What dis­tin­guis­hes ever­yo­ne here is the will to impro­ve them­sel­ves, their con­stant desi­re to learn. A High Power Char­ging con­nec­tor con­sists of more than 150 indi­vi­du­al parts. They have to know them like the back of their hand first of all. And in pro­duc­tion, the­re is also a cer­tain amount of phy­si­cal resi­li­en­ce necessa­ry to hand­le the hea­vy cables.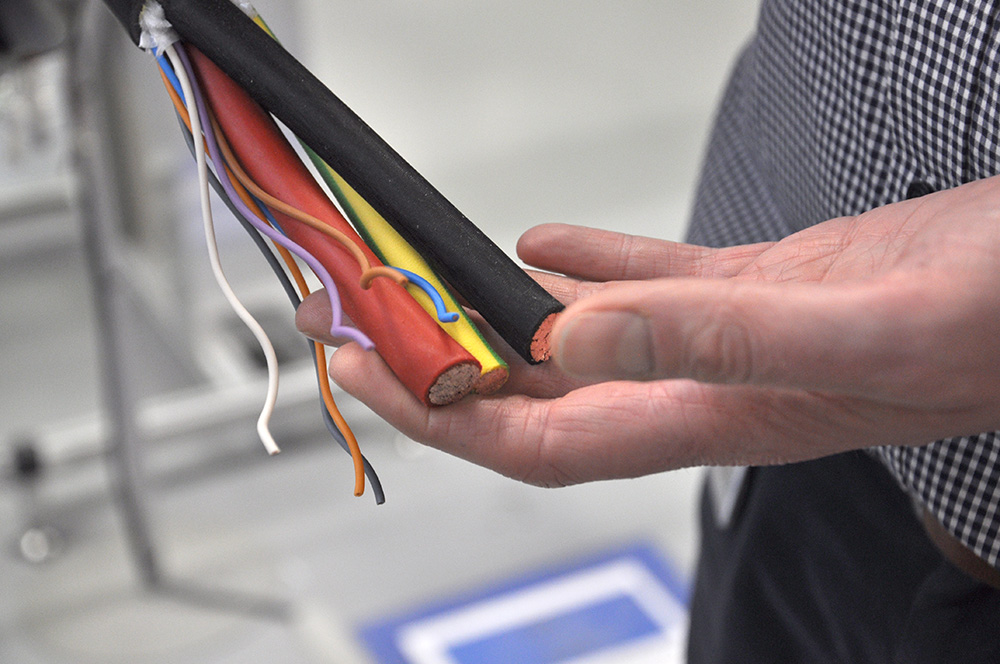 At the time of the spin-off, the decisi­on-makers – the Exe­cu­ti­ve Board – were still con­cer­ned about the poten­ti­al of this new fami­ly of items and the who­le sub­ject of e‑mobility. Our Exe­cu­ti­ve Board has demons­tra­ted entre­pre­neu­ri­al fore­sight and cou­ra­ge by sup­por­ting this sub­si­dia­ry. Today, we bene­fit from a mix­tu­re of having a strong com­pa­ny behind us and orga­niz­a­tio­nal inde­pen­dence – and the­re­fo­re, tech­no­lo­gi­cal speed. This dis­tin­guis­hes us from com­pe­ti­tors on the mar­ket who are many times big­ger than us. Short paths, an inno­va­ti­ve com­pa­ny struc­tu­re, well-known sup­pliers wit­hin our own group – who else can print out a sam­ple of a High Power Char­ging con­nec­tor overnight?
We have long sin­ce cea­sed to be regar­ded as the new­co­mers from the sticks; we are now a sup­plier and con­ta­ct point for all of the big play­ers in the indus­try on an equal foo­ting, both on the auto­mo­ti­ve side and in the field of char­ging infra­st­ruc­tu­re. But cable pre­pa­ra­ti­on is, and will remain, and des­pi­te all the aids and fix­tures, a manu­fac­to­ry pro­duc­tion pro­cess with a gre­at deal of pre­cise skil­led work."
www.phoenixcontact.com/emobility
This post is also avail­ab­le in:

Deutsch