von Ame­lie Niehaus
For the eighth time alrea­dy a team of PHOENIX CONTACT took part in the WAVE Tro­phy. This time through West and South Ger­ma­ny. The WAVE is the big­gest eMo­bi­li­ty ral­lye of the who­le world.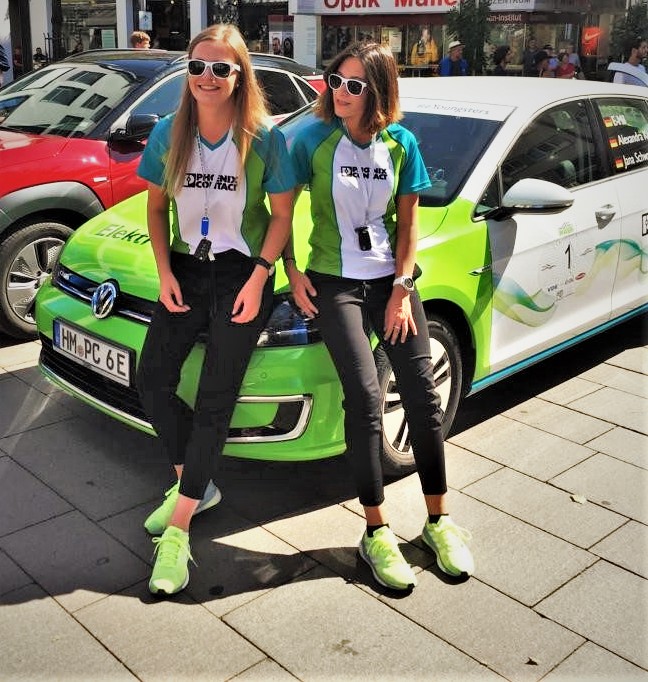 Facts about the

WAVE

Trophy
WAVE is an acro­nym that stands for "World Advan­ced Vehi­cle Expe­di­ti­on". Sin­ce nine years the WAVE takes place. Some­ti­mes two or three times a year.
Lou­is Pal­mer is a swiss lands­man and figu­rehead of this ral­lye. He was the first human who roun­ded the ent­i­re earth by dri­ving a solar- powe­red car. You could say that he is an ace in eMo­bi­li­ty who is pri­ced with several awards. Even the United Nati­ons appealed to him he should keep stan­ding up for eMo­bi­li­ty. And that's why he came with the idea of the WAVE with the aim to bring peop­le clo­ser to eMo­bi­li­ty and its advan­ta­ges. The very first WAVE took place in 2011. That ral­lye star­ted in Paris and ended two weeks later in Prag. At that time with some pro­to­ty­pes and a lot of adven­tur­ous spi­rit. The cars have chan­ged by time and also peop­le beca­me more and more fasci­na­ted by eMo­bi­li­ty and how fast it deve­lo­ped with the years.
PHOENIX

CONTACT

and

WAVE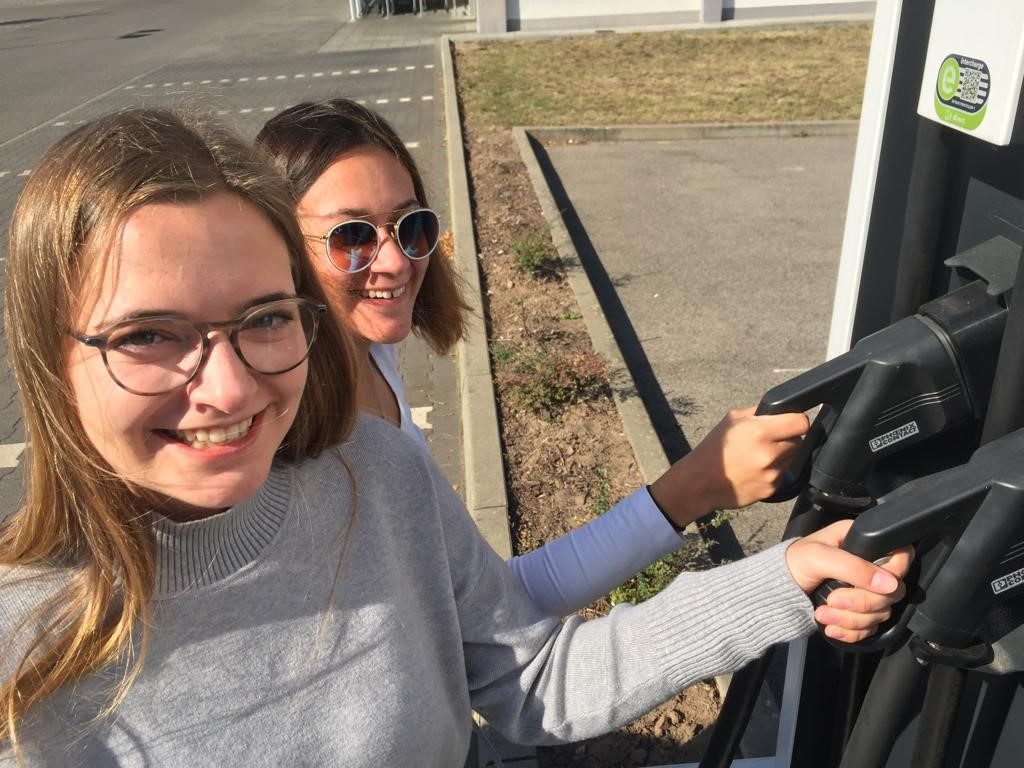 Like alrea­dy men­tio­ned for PHOENIX CONTACT it was not the first time taking place in this exci­ting ral­lye. This time it was up to Jana Schwar­ze and Alex­an­dra Kerps to bring home the tro­phy. The­se two 21 years young ladies who make and appren­ti­ce­ship to beco­me indus­tri­al clerks app­lied for this ral­lye to join as the team of PHOENIX CONTACT. Until they were cho­sen as the new team, they knew not­hing about eMo­bi­li­ty. And now they are kind of litt­le experts regar­ding to eMo­bi­li­ty. As their car with which they dro­ve the ral­lye they got a Volks­wa­gen eGolf with 136 HP. His name is E‑Mil- tiny hint to eMo­bi­li­ty of cour­se. That's at least how Jana and Alex descri­bed their emis­si­on-free team member.
WAVE

High­lights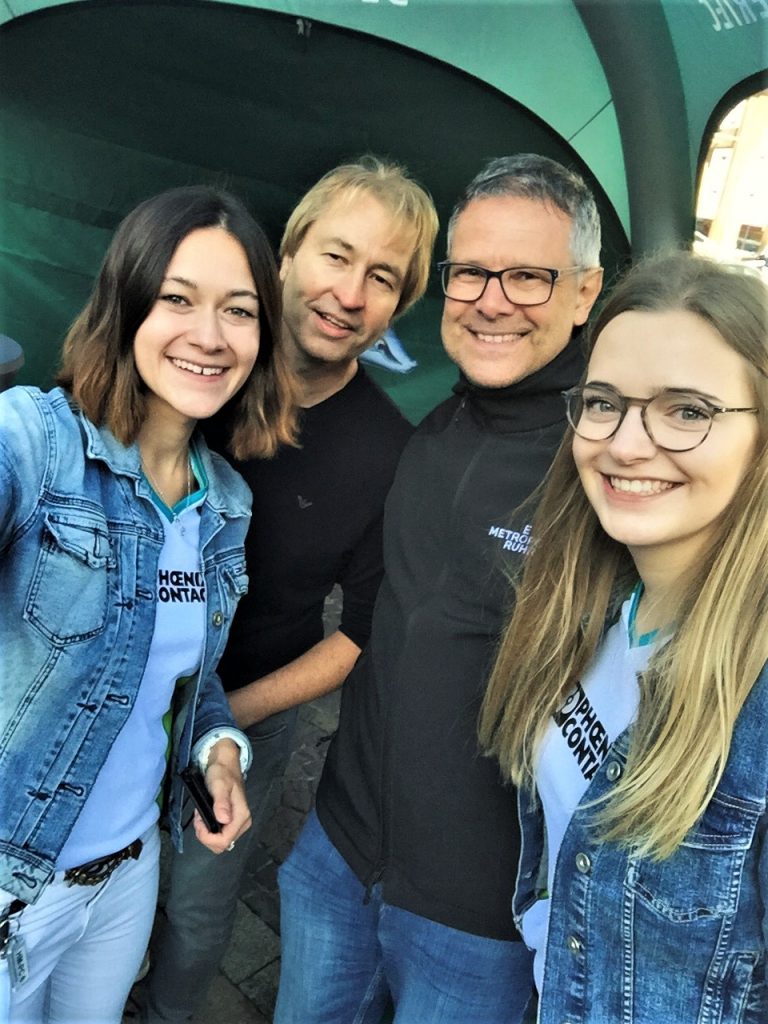 The­re were so many inte­res­ting adven­tures that our two girls expe­ri­en­ced during the WAVE. We want you to get to know some of the best expe­ri­en­ces they have had. First of all they were impres­sed by the fact that even if they atten­ded a RALLYE they got to expe­ri­ence soo much team spi­rit during it. They kept tog­e­ther and hel­ped each other even without asking for help.
Of cour­se all the teams had various cars and it was inte­res­ting to see how dif­fe­rent tho­se were. Even if E‑Mil is our litt­le "spee­dy" we have to admit that the­re were some cars who were so much fas­ter. Jana and Alex got a chan­ce to sit in the Jagu­ar iPace who was dri­ven by the for­mer Formel1 star Heinz-Harald Frent­zen who also atten­ded the ral­lye. Ano­t­her inte­res­ting car was the Tes­la. It is such an impres­si­ve and futu­ris­tic car. Alex and Jana repor­ted­ly said that the fee­ling and silence while dri­ving with an electric car was so much more fun and a com­ple­te­ly dif­fe­rent way of dri­ving. You feel so much more rela­xed and are able to enjoy the land­s­cape even more. Espe­cial­ly for the fact that they didn't use high­ways to get to every desti­na­ti­on they could soak up the beau­ty of the dif­fe­rent landscapes.
What they also didn't expect to see was that they could "feed" E‑Mil via char­ging sta­ti­ons made by Phoe­nix Con­ta­ct! It was nice to see that you can find them ever­y­whe­re in Ger­ma­ny whe­re you would not even expect to find them. Ano­t­her inte­res­ting fact about the WAVE is that at some of the many desti­na­ti­ons our girls got to meet youn­ger child­ren to show them how an electric car works – and tho­se were so fasci­na­ted when making a test dri­ve they didn't want to get out of E‑Mil :D. But for Jana and Alex it was nice to see that even tho­se litt­le humans are inte­res­ted in alter­na­ti­ve means of transport.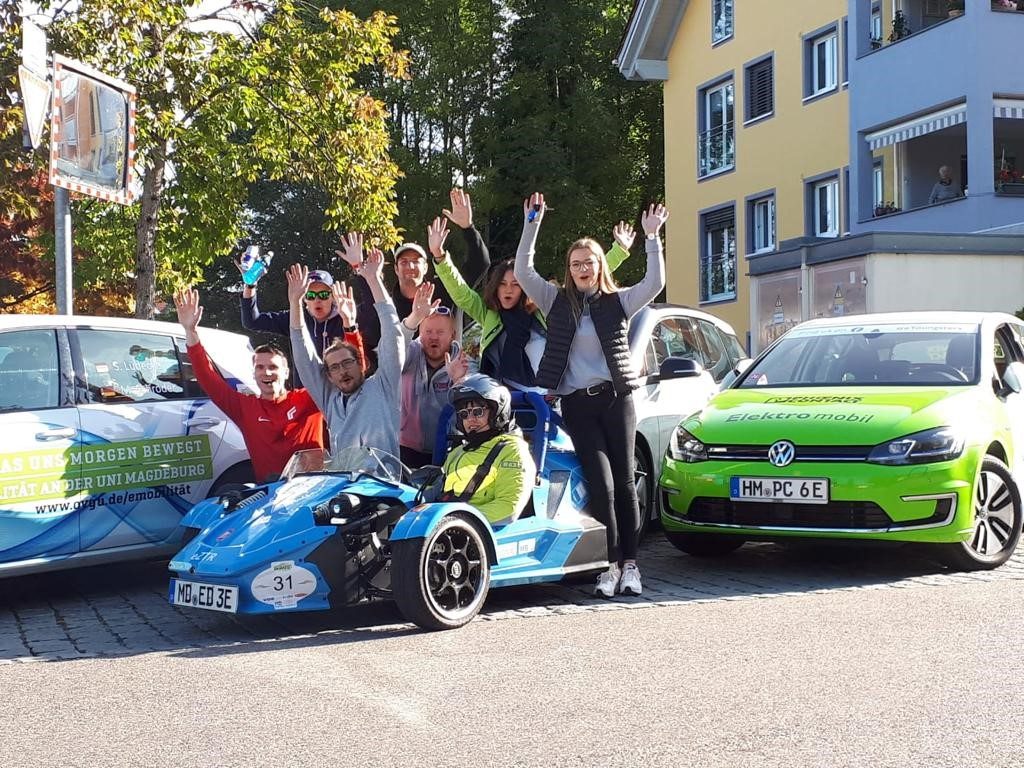 Hap­py Runners-Up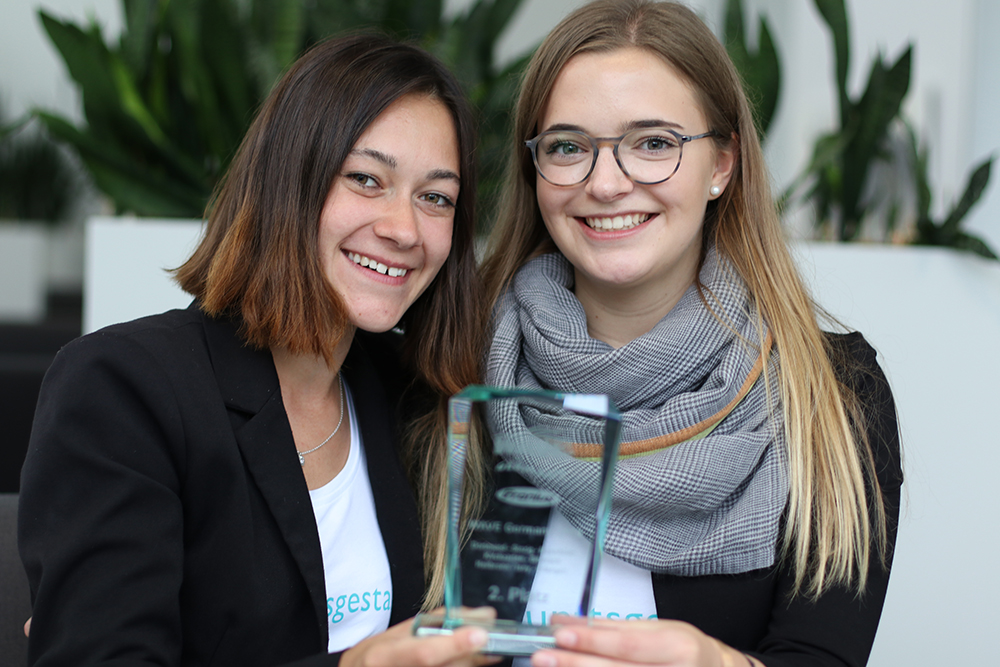 As you can alrea­dy tell by this head­line our eYoungs­ters and E‑Mil couldn't win the who­le ral­lye…. But even though they didn't win the tro­phy they were not sad about it. The two young ladies were so hap­py they could dri­ve this ral­lye and gain awe­so­me expe­ri­en­ces. But we have to tell you that they won one of the sta­ges and which is even more important: Jana and Alex were hono­red for the best blog and won the tro­phy for Team spi­rit – well deser­ved! They've done ever­ything the right way!
Let's get rid of some "old" pre­ju­di­ces towards EMobility
One of the most important rea­sons why the WAVE exists is that the par­ti­ci­pants should figu­re out whe­ther dri­ving an electric car is sui­ta­ble for an ever­y­day use or not. If you would now ask Jana and Alex they would defi­ni­te­ly say: Yes! E‑Mil has enough ran­ge of bat­te­ry to bring ever­yo­ne safe to work and back home again. Sta­tis­tics say that peop­le dri­ve on average 50 kilo­me­ters to get to work. Which is doable with almost every electric car. And at work you have the oppor­tu­ni­ty to rel­oad the bat­te­ry of your envi­ron­ment-friend­ly car. Becau­se some peop­le are worried that the­re are not enough char­ging sta­ti­ons we can tell you: No. That is abso­lute­ly not true! You can rel­oad the bat­te­ry of your electric car with every socket that you can find. You just have to have the right cable and plug for that.
In most cases you will get tho­se when buy­ing your car. And some com­pa­nies like Ikea or Kauf­land even offer their cus­to­mers to rech­ar­ge the bat­te­ry for free! At home you can rech­ar­ge your car whe­re­ver you want to. If you have an "usu­al" socket or a high vol­ta­ge socket – your car is fine with both! So are you now con­vin­ced to buy an electric car next time? We think so ????.
Find more infor­ma­ti­on on Face­book and Insta­gram.
This post is also avail­ab­le in:

Deutsch