The Nether­lands is a nati­on on, some­ti­mes in and some­ti­mes even under water. Also in the metro­po­lis at Ams­tel and Ij water plays an important role as an obsta­cle, but also as a traf­fic rou­te.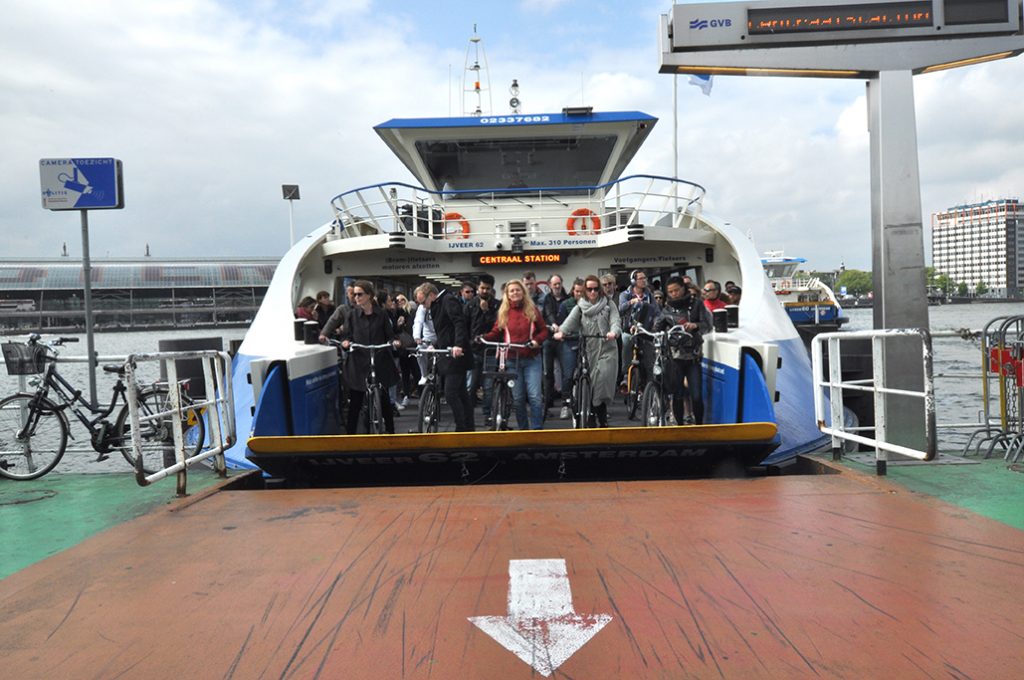 We, on the other hand, head off to the water­front, to the Water­p­lein Oost ter­mi­nal, whe­re fer­ries are a part of urban mobi­li­ty. In the midst of a crowd of bicy­cles and pede­stri­ans, we board the floa­ting vehi­cle.
And wit­hout any ticket stress. Of cour­se we bought a day ticket. Which is sur­pri­sin­gly inex­pen­si­ve. Becau­se if you com­pa­re the pri­ce for a day ticket of the Ams­ter­dam trans­port asso­cia­ti­on GVB with the exor­bi­tant par­king gara­ge fees usu­al the­re, then the invest­ment is rela­ti­vi­zed imme­dia­te­ly.
Car­ry­ing pas­sen­gers neat­ly sepa­ra­ted into Voetgan­gers (pede­stri­ans) and Brum­fiet­se (mopeds), the fer­ry crosses the Ij, the river on which Ams­ter­dam is built. The fer­ry voya­ge lasts just a few minu­tes, and then the bow door opens and crowds of cyc­lists and pede­stri­ans stream onto ter­ra fir­ma.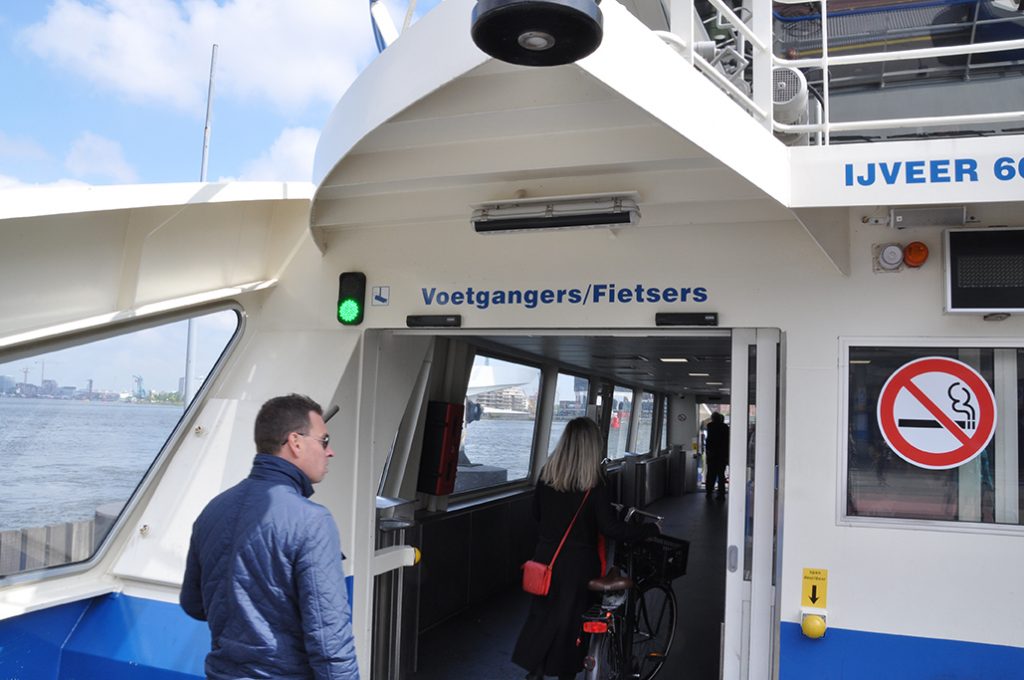 Get the motor­boats out of here!
We are on the loo­kout for char­ging sta­ti­ons for canal boats. Two-cylin­der engi­nes have been ban­ned sin­ce 2017, and as of 2025, all com­bus­ti­on engi­nes will be ban­ned on the water­ways of Ams­ter­dam. This is a drastic step becau­se more than 20,000 boats use the­se canals. A lar­ge num­ber of the­se, howe­ver, are alrea­dy powe­red by elec­tri­ci­ty alo­ne.
In addi­ti­on to inner-city ship­ping, Ams­ter­dam is also a major crui­se ship port whe­re mari­ti­me crui­se ships and river crui­sers dock.
Fac­ts Port of Ams­ter­dam
Inner-city fer­ry lines: 7
Pas­sen­ger boats in Ams­ter­dam: 110 canal boats (tou­rism)
Pas­sen­gers: more than 3.8 million/year
Fixed house­boats: 2.500
House­boat inha­bi­tants: 5.500
Crui­se ships Sea: 140 annu­al­ly
Crui­se ships River: 1700 annu­al­ly
This post is also avail­ab­le in:

Deutsch