Most peop­le think of mobi­li­ty as being hori­zon­tal. Howe­ver, ver­ti­cal moti­on is also a tech­no­lo­gi­cal chal­len­ge. In the Swa­bi­an town of Rott­weil in Ger­ma­ny, this has even resul­ted in the con­struc­tion of an archi­tec­tu­ral high­light.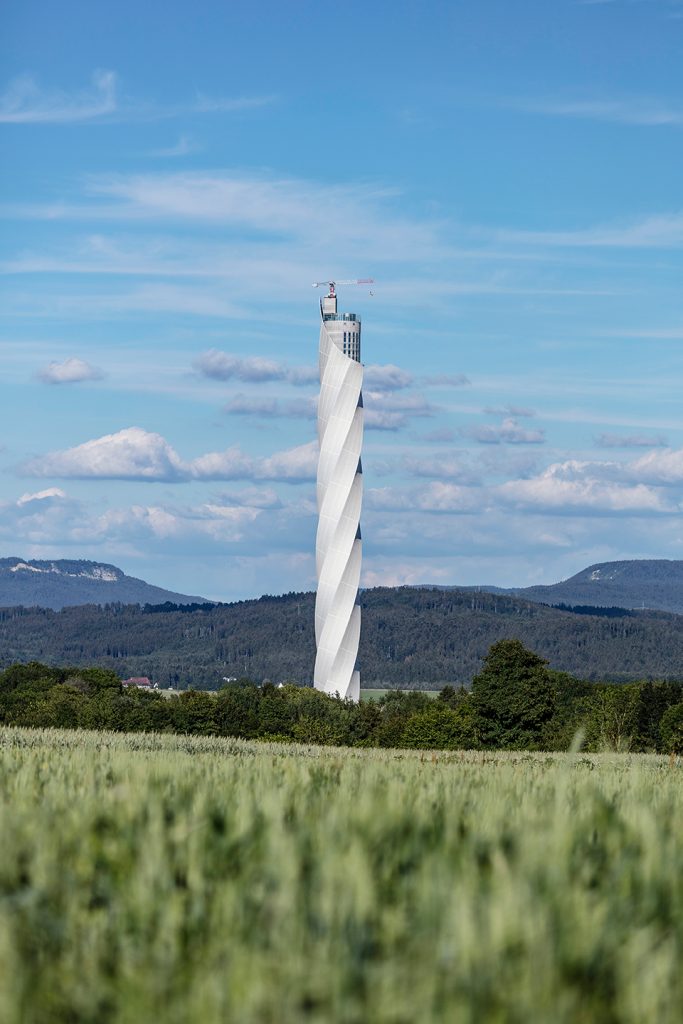 Rott­weil calls its­elf the "City of Towers". The small town bet­ween the Black Forest and the Swa­bi­an Alb moun­tains was built by the Romans, who first brought their tech­no­lo­gy which was high­ly advan­ced at the time, to the wilds of Ger­ma­nia around 2,000 years ago.
The medi­eval back­drop loo­king over the Neckar River has hard­ly chan­ged sin­ce the 16th cen­tu­ry. Now, howe­ver, Rott­weil has beco­me even richer with the addi­ti­on of a very spe­cial attrac­tion. The ele­va­tor divi­si­on of thys­sen­krupp, thys­sen­krupp Ele­va­tor, has built a uni­que test tower here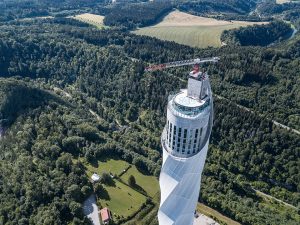 Thys­sen Krupp is the glo­bal mar­ket lea­der in the field of ele­va­tor sys­tems. With sales of € 7.5 bil­li­on
in the 2017/2018 finan­ci­al year and custo­mers in 150 coun­tries, the com­pa­ny has estab­lished its­elf
as one of the lea­ding ele­va­tor manu­fac­tu­rers in the world sin­ce its mar­ket launch 40 years ago.
Befo­re con­struc­tion of the test tower could begin, the­re was a com­pre­hen­si­ve search for a sui­ta­ble loca­ti­on becau­se the giant requi­res par­ti­cu­lar­ly solid ground. At the same time, howe­ver, it had to be clo­se to the Neu­hau­sen pro­duc­tion faci­li­ty. Ano­t­her restric­tion was that it was not to be built too clo­se to Stutt­gart Air­port.
Ulti­mate­ly, Rott­weil pro­ved to be ide­al, not least becau­se of the sur­roun­ding uni­ver­si­ties and high con­cen­tra­ti­on of spe­cia­lists.
240-ton­ne pen­du­lum coun­ters the wind
First, the 30 meter deep foun­da­ti­on pit was con­struc­ted. The race to the ski­es began in March. The test tower grew sky­wards by 3.60 meters per day. This was only pos­si­ble thanks to the inno­va­ti­ve slip­forming con­struc­tion method. The proud buil­ders cele­bra­ted the top­ping-out cere­mo­ny just a few mon­ths later, in July 2015.
The inte­rior con­struc­tion with inter­me­dia­te mez­za­ni­ne cei­lings and a 240-ton­ne pen­du­lum, as well as the inno­va­ti­ve exte­rior siding, were com­ple­ted by 2017. The pen­du­lum is a vibra­ti­on absor­ber that actively balan­ces the forces of the wind that pulls on the tower. This con­cre­te weight hangs from a 9‑meter long cable. It can be actively moved via two line­ar motors, thus com­pen­sa­ting for and redu­cing the struc­tu­ral move­ments cau­sed by the wind.

This func­tion is sup­por­ted by the eye-catching outer siding of the test tower, which is made of semi-trans­pa­rent, Tef­lon-coated poly­te­tra­fluo­roethy­le­ne (PTFE) glass fiber web­bing that spi­rals upward. The web­bing, which covers more than 17,000 squa­re meters, is moun­ted on a steel sub­st­ruc­tu­re. The white outer shell not only ser­ves to insu­la­te the tower, but also to absorb addi­tio­nal wind forces that are dis­si­pa­ted by the spi­ral.
The ele­va­tors insi­de are cou­pled to a power reco­very sys­tem, which works more effec­tively the more the ele­va­tor cars are loa­ded. Up to 30 per­cent of the ener­gy used is reco­ve­r­ed in this way.
Into the abyss wit­hout cables
Ele­va­tors are tested at speeds of up to 18 meters per second. An ele­va­ti­on of 90 meters is nee­ded just to reach this maxi­mum speed. Among other things, thys­sen­krupp Ele­va­tor is tes­ting the occup­an­cy of one ele­va­tor shaft with two cars, and is deve­lo­ping a cable-free ele­va­tor sys­tem that is simi­lar to a mag­lev train and enab­les the cabins to speed through the ele­va­tor shaft.
The­re are 12 ele­va­tor shafts avail­ab­le for use in the test tower. Nine of the­se are used for tes­ting con­ven­tio­nal ele­va­tor tech­no­lo­gy, while the other three are being used to deve­lop the cable-free sys­tem. Phoe­nix Con­tact has been working tog­e­ther with thys­sen­krupp Ele­va­tor for a long time. Among other pro­duc­ts, ter­mi­nal blocks, pre­as­sem­bled con­trol cabi­nets, indus­tri­al PCs, and fiber optic cables inclu­ding con­nec­tion tech­no­lo­gy are used in the sys­tems.
The necessa­ry nar­row­ness of the instal­led tech­no­lo­gy, the high mecha­ni­cal loads, the hig­hest safe­ty stan­dards for the ele­va­tors – the fac­ts sur­roun­ding the test tower of Rott­weil alo­ne demons­tra­te that ver­ti­cal mobi­li­ty is also faced with fasci­na­ting chal­len­ges.
Some Fac­ts about the Tower of Rott­weil
10,000 squa­re meters of land – that would be enough for 50 ten­nis courts
30,000 squa­re metres of exca­va­ted earth – 60 mil­li­on water bot­t­les weigh the same amount
2,500 tons of steel used in the con­struc­tion
15,000 cubic metres of con­cre­te were used
The tower weighs 40,000 tons – the equi­va­lent of 8,000 Afri­can ele­phants.

10 mon­ths was the active con­struc­tion pha­se
100 engi­neers plan­ned and super­vi­sed the con­struc­tion of the
The tower grew 3.60 metres per day, three times as fast as bam­boo in per­fect sur­roun­dings.

Germany's hig­hest visi­tor plat­form is 232 metres above the ground
220 meters high we enter a 157 squa­re meter con­fe­rence room.
If the second, smal­ler con­fe­rence room is boo­ked, you must be 216 meters high.
Test­turm thys­sen krupp
The con­struc­tion in time lap­se
thys­sen krupp Ele­va­tor
This post is also avail­ab­le in:

Deutsch