When one of Europe's most inno­va­ti­ve plan­ning and con­sul­ting firms in the real esta­te sec­tor con­structs its own buil­ding, the extra­or­di­na­ry beco­mes the stan­dard: At OWP12, inno­va­ti­on begins far below the floor slab. The new Drees & Som­mer office buil­ding is fasci­na­ting down to the last detail. And makes it unmistaka­b­ly clear: In the future, buil­ding will be very different!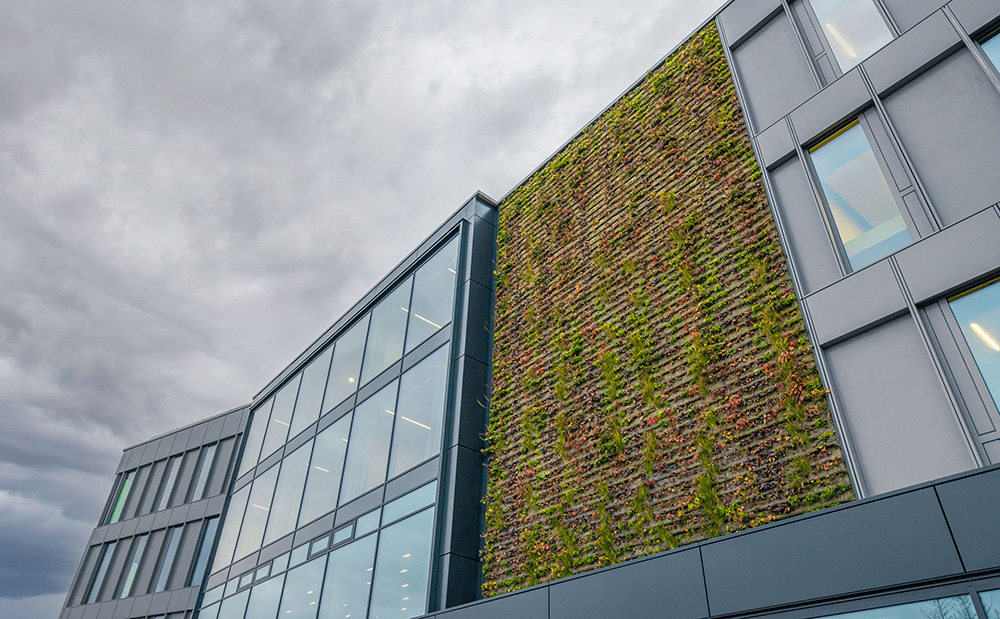 The most pho­to­gra­phed com­po­nent of OWP12 is in the cen­tral part of the faca­de. A ver­ti­cal flower mea­dow is just still exo­tic, alt­hough many plan­ners and decisi­on-makers want that to chan­ge signi­fi­cant­ly in the com­ing years. OWP is short for "Obe­re Wald­plät­ze" and descri­bes a street in the Stutt­gar­ter Vier­tel Vai­hin­gen.
But befo­re the autumn-colo­red natu­ral faça­de can be admi­red in its­elf, a par­king space has to be found. More than 4,000 employees work for the inter­na­tio­nal con­sul­ting firm for the con­struc­tion and real esta­te sec­tor, 1,100 of them on site at the com­pa­ny head­quar­ters alo­ne. The way to the first mee­ting leads past the con­struc­tion site.
Prac­ti­ce what you preach
Stef­fen Szeidl is one of three board mem­bers of Drees & Som­mer and exp­lains why we are facing a game chan­ger in the con­struc­tion indus­try: "We have grown stron­gly in recent years. Three years ago, the­re­fo­re, the decisi­on was made to con­struct ano­t­her buil­ding on the Drees & Som­mer cam­pus. Even befo­re Coro­na, we had equip­ped our exis­ting office land­s­capes with sta­te-of-the-art media tech­no­lo­gy and crea­ted the con­di­ti­ons for hybrid working bet­ween home office and office.
The new buil­ding now offers ever­ything that the home office can­not or can­not always pro­vi­de: Spaces for con­cen­tra­ti­on, com­mu­ni­ca­ti­on and coope­ra­ti­on in the indi­vi­du­al teams. And with this new buil­ding, we natu­ral­ly want to set the best examp­le for our cus­to­mers as well, crea­ting a sus­tainab­le and digi­tal blue­print for office buil­dings of the future. Prac­ti­ce what you preach."
With an amu­sed sigh, the com­pa­ny boss exp­lains: "As a con­sul­ting firm spe­cia­li­zing in con­struc­tion and real esta­te, the deman­ds on our own pro­ject are natu­ral­ly par­ti­cu­lar­ly high. Not only from our experts in civil and indus­tri­al engi­nee­ring. In the same way, we employ experts from various disci­pli­nes such as che­mi­stry, design, psy­cho­lo­gy or eco­lo­gy. And recon­ci­ling the requi­re­ments of so many disci­pli­nes in our buil­ding was not always easy, so we are all the more proud of the result."
The way to the lighthouse
Drees & Sommer's new heart starts out as a Plus­Ener­gy buil­ding, i.e. it is inten­ded to gene­ra­te more ener­gy than it con­su­mes. Tho­mas Ber­ner, the pro­ject mana­ger for OWP12, joins the con­ver­sa­ti­on. He exp­lains why the inno­va­ti­on starts under the very first lay­er of con­cre­te: "We star­ted with the issue of sus­taina­bi­li­ty. Very quick­ly it was clear that we wan­ted to use geo­ther­mal ener­gy. 22 bore­holes are loca­ted under the buil­ding and sup­ply OWP12 with heat. In addi­ti­on, the­re is an inno­va­ti­ve pho­to­vol­taic faça­de on the south and west sides. The the­me of ener­gy genera­ti­on con­ti­nues through the roof. With this, howe­ver, it was clear that we could not crea­te enough green roof space. That's how the idea for our Eye Cat­cher came about – the green faça­de immedia­te­ly cat­ches the eye."
The expe­ri­en­ced civil engi­neer descri­bes what the han­ging gar­dens of Vai­hin­gen are all about: "We did­n't want mos­ses and brown plants, but a flowe­ring, invi­go­ra­ting ensem­ble in all sea­sons. On the north side, that's not so easy, espe­cial­ly on such a lar­ge area over several floo­rs. But with a care­ful­ly craf­ted plan­ting plan, the wall grows and thri­ves beau­ti­ful­ly. The green curtain pro­vi­des a tem­pe­ra­tu­re del­ta of around 4 to 5 degrees, war­mer in win­ter, coo­ler in sum­mer." Ber­ner descri­bes, not without pri­de, that Stutt­gart requi­res green faca­des on com­mer­cial buil­dings in new deve­lo­p­ment plans, but that the­re has been litt­le expe­ri­ence with them. "That's whe­re we are real pioneers. Tog­e­ther with the com­pa­nies invol­ved, we have imple­men­ted new developments."
Thick is dumb
Wal­king around the buil­ding, we reach the south side. The­re is only a litt­le more than 20 meters bet­ween the buil­ding and the noi­se, becau­se this is whe­re the A 831 six-lane high­way runs along. Tho­mas Ber­ner points to the next inno­va­ti­on. "This is a real world pre­mie­re. The faca­de here con­sists of modu­les. Sui­ta­ble for high-rise buil­dings. Dura­ble. With per­fect sound insu­la­ti­on. And equip­ped with solar cells." Tog­e­ther with the com­pa­nies FKN and Evo­nik deve­lo­ped the­se vacu­um-insu­la­ted panels with supe­ri­or pro­per­ties. The experts have desi­gned the ele­ments in such a way that vacu­um insu­la­ti­on loses its sup­po­sed sen­si­ti­vi­ty. "We expect the panels to last at least 40 years."
Com­pa­ny boss Szeidl adds that the modu­les are crad­le-to-crad­le capa­ble, i.e. they can be bro­ken down into their com­pon­ents and the mate­ri­als can be reu­sed. Unaf­ford­a­ble high-tech gim­mick? Stef­fen Szeidl vigo­rous­ly denies this: "The faca­de has a depth of just nine cen­ti­me­ters, inclu­ding pho­to­vol­taics of only 21 cen­ti­me­ters, ins­tead of 35 to 40 cen­ti­me­ters as with a stan­dard faca­de. That crea­tes several squa­re meters more usable space. And that also makes the­se ele­ments, which are about 20 per­cent more expen­si­ve, abso­lute­ly com­pe­ti­ti­ve in terms of cost."
By the way: The sound insu­la­ti­on of the thin faca­de has been tes­ted by the Insti­tu­te for Win­dow Tech­no­lo­gy Rosen­heim and cer­ti­fied as exem­pla­ry. Szeidl comments: "The modu­les were regis­tered and pre­sen­ted as a patent. Buil­ding aut­ho­ri­ty appro­val has been avail­ab­le sin­ce last year as a faca­de sui­ta­ble for high-rise buildings."
House with bend and edge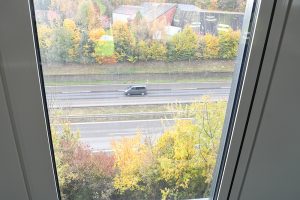 Not only is the pro­xi­mi­ty to the high­way a chal­len­ge, but so is the cut of the pro­per­ty its­elf. Szeidl descri­bes it as bana­na-like. OWP12 also fol­lows this shape in its floor plan. This results in three buil­ding ele­ments. The midd­le sec­tion with the green faca­de repres­ents the joint that con­nects the other two buil­ding sec­tions and around which the buil­ding rotates.
In order to keep cos­ts in check, the plan­ners used a spe­cial trick, as Stef­fen Szeidl exp­lains: "When it comes to con­struc­tion, peop­le always say that we only build one-offs. But that's non­sen­se. If you look at auto­mo­ti­ve con­struc­tion, for examp­le, the­re are an extre­me­ly lar­ge num­ber of vari­ants pos­si­ble, but they are all assem­bled from a mana­ge­ab­le num­ber of pos­si­ble com­pon­ents. So we divi­ded the buil­ding into smal­ler units in terms of plan­ning and loo­ked to see whe­re we could have the same func­tio­n­a­li­ties. How can we modu­la­ri­ze as ear­ly as the plan­ning sta­ge? It's not about the cheap squa­re box. For that, we used a digi­tal plan­ning metho­do­lo­gy that can trans­la­te any indi­vi­du­al archi­tec­tu­ral design and all tech­ni­cal buil­ding con­cepts into modules."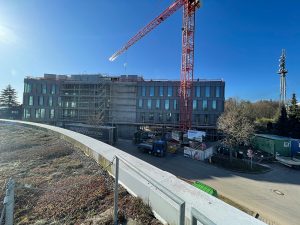 The com­pa­ny boss adds: "An obvious­ly revo­lu­tio­na­ry idea, becau­se if you look at new buil­dings all over Euro­pe, we have about 80 per­cent indi­vi­du­al pie­ces, and only 20 per­cent are stan­dar­di­zed. We have to turn that around if we want to build fas­ter, che­a­per and more effi­ci­ent­ly. You can see with our buil­ding that stan­dar­di­zed modu­les are reu­sed on every floor. So we end up with a pro­per­ty that is inno­va­ti­ve and unusu­al, but on par with stan­dard solu­ti­ons in terms of lifecy­cle costs."
Small thought – cle­ver­ly done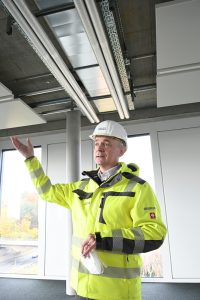 The idea of the modu­le takes on a who­le new dimen­si­on in OWP12, espe­cial­ly in the inte­rior fit­tings. Ber­ner begins by describ­ing the stan­dard: "First the plan­ners draw up the requi­re­ments, then each indi­vi­du­al tra­de goes out to ten­der, and as a rule the che­a­pest one is awar­ded the con­tract. In the stan­dard, you have the shell, into which then comes hea­ting, ven­ti­la­ti­on, coo­ling, sani­ta­ti­on – each with its own instal­la­ti­on team, each with its own plan­ning. So there's a fair amount of tin­ke­ring and assemb­ling on site."
We mean­der past work­men and mate­ri­als into the inte­rior of OWP12 and work our way up to the fourth floor. "Up here, we are almost com­ple­te­ly finis­hed," says Tho­mas Ber­ner, describ­ing the situa­ti­on on site. The dry­wall is in place, the car­pet has been laid, and the inte­rior work is almost finis­hed. Except for the cei­ling, becau­se the instal­la­ti­ons the­re are not yet cove­r­ed. "Yes, it's finis­hed, too," the expert notes of the asto­nis­hed loo­ks. "We set our­sel­ves the goal of achie­ving a hig­her qua­li­ty that would remain visi­ble after­wards. So no sus­pen­ded cei­lings. We also want to show our visi­tors the­se solu­ti­ons later."
Howe­ver, the Stutt­gart-based com­pa­ny wan­ted to break up this rigid prac­ti­ce and imple­ment a much more agi­le form of buil­ding plan­ning and con­struc­tion. Tog­e­ther with the Swa­bi­an Würth Group, Drees & Som­mer deve­lo­ped ano­t­her revo­lu­tio­na­ry concept.
Tho­mas Ber­ner descri­bes the pro­cess: "We wan­ted to achie­ve the hig­hest pos­si­ble level of pre­fa­b­ri­ca­ti­on. Tog­e­ther with Würth, we deve­lo­ped TGA modu­les. The­se are five-meter-long modu­les that con­tain ele­ments of the tech­ni­cal buil­ding equip­ment, such as hea­ting, air con­di­tio­ning and electri­cal engi­nee­ring. The modu­les can be manu­fac­tu­red in the hall, regard­less of the wea­ther or loca­ti­on. They are then deli­ve­r­ed to the con­struc­tion site by truck just in time and assem­bled here. And only one team is nee­ded. This redu­ces the workload of the fit­ters and at the same time incre­a­ses qua­li­ty, as the indi­vi­du­al modu­les can be pro­du­ced with mil­li­me­ter pre­cisi­on. We are also much fas­ter, com­ple­ting in half a week what would other­wi­se take two weeks. On the third floor, for examp­le, it took four hours to com­ple­te a 400-squa­re-meter unit. Hea­ting, ven­ti­la­ti­on, plum­bing, ref­ri­gera­ti­on and electri­cal wiring, ful­ly insu­la­ted and with all val­ves moun­ted so that the strings can be pul­led sepa­r­ate­ly." You can clear­ly see the old hand's enthusiasm.
Late, but successful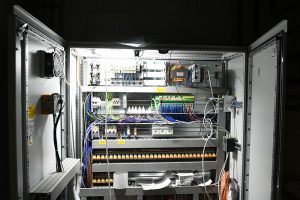 So it's all sunshi­ne and roses when it comes to the new buil­ding? Stef­fen Szeidl admits: "Nevertheless, we almost made a cru­cial mista­ke. We did­n't get Phoe­nix Con­ta­ct on board until rela­tively late." The expert descri­bes the usu­al prac­ti­ce: "The I&C, i.e. the buil­ding auto­ma­ti­on, usual­ly gets the con­tract last in the con­struc­tion pro­cess and then has to put up with what the other tra­des have defi­ned in their ten­der. In this way, buil­ding auto­ma­ti­on, which actual­ly stands for effi­ci­ent inte­gra­ti­on of the tra­des, often remains a patch­work. Far too late, it has to knit a cohe­rent over­all con­cept out of many preli­mi­na­ry ser­vices pro­vi­ded by other tra­des, trap­ped in the most diver­se inter­faces, dif­fe­rent func­tio­n­a­li­ties and gre­at time and cost pressure."
Howe­ver, sin­ce Phoe­nix Con­ta­ct and Drees & Som­mer were in clo­se con­ta­ct in other pro­jects, the topic of OWP12 came up at some point. Just in time, as Szeidl empha­si­zes today: "I am very glad that Phoe­nix Con­ta­ct joi­ned us in the late plan­ning pha­se. Becau­se the East West­pha­li­ans brought the topic of IoT-based buil­ding auto­ma­ti­on into their con­cept of smart buil­ding design as a decisi­ve impul­se in this phase.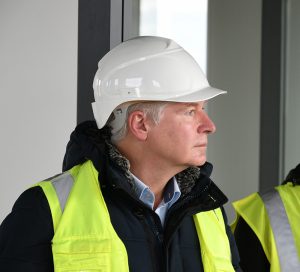 Bern­hard Till­manns, Direc­tor Indus­try Manage­ment Buil­ding Tech­no­lo­gy respon­si­ble for the topic at Phoe­nix Con­ta­ct, adds: "We recom­men­ded the com­pa­ny BIT as our sys­tem part­ner for the pro­ject. BIT comes from a data cen­ter con­struc­tion back­ground, with exper­ti­se in uti­li­ty engi­nee­ring. The­se experts also brought IT exper­ti­se, data mode­ling and IT secu­ri­ty to the con­struc­tion pha­se, skills that are necessa­ry in the con­struc­tion of an inno­va­ti­ve buil­ding manage­ment sys­tem. It was very important to us to chan­ge the mind­set here. Only if this exper­ti­se is inte­gra­ted ear­ly on can a buil­ding also deve­lop com­ple­te­ly new capa­bi­li­ties later in operation."
Hard­ware is just the shell
Stef­fen Szeidl adds: "Plan­ning, con­struc­tion manage­ment, com­ple­ti­on date and ope­ra­ti­on – the­se are often sepa­ra­te ways of thin­king and dif­fe­rent tasks. With OWP12, on the other hand, we had ever­ything in one hand. And we want to take advan­ta­ge of this oppor­tu­ni­ty. We no lon­ger just talk about hard­ware that I can touch. Is the door moun­ted cor­rect­ly? Have the cables for fire pro­tec­tion been pul­led out?
In the past, the soft­ware share in a buil­ding was very mana­ge­ab­le. In our pro­jects 'The Ship' in Colo­gne, 'Ham­mer­brook­lyn' in Ham­burg or the 'Cube' in Ber­lin, we have the­re­fo­re worked with our cus­to­mers to anchor a digi­tiz­a­ti­on stra­te­gy that enab­les new busi­ness models. If I rent out my offices by the hour, for examp­le, and this is done via an app through which the cus­to­mers book and also recei­ve the invoice, then this has to work. And if the soft­ware does­n't work, along with all the tech­ni­cal func­tio­n­a­li­ties behind it, then the who­le busi­ness idea I have for the buil­ding could be over­tur­ned. So it's no lon­ger just important that the hard­ware gets done. The focus is also on the soft­ware, which enab­les new busi­ness models."
In OWP12, a spe­cial­ly deve­lo­ped app is used to make all room and office space boo­kings, among other things. Drees & Som­mer has been working without fixed work­sta­tions for several years. In addi­ti­on to this tool, the­re is access con­trol with the app. The cafe­te­ria also works with record­ing and bil­ling in the app.
Tho­mas Ber­ner tells us that deve­lo­ping your own app is now as much a part of a modern office buil­ding as ven­ti­la­ti­on or hea­ting. "It's no lon­ger just a mat­ter of the phy­si­cal buil­ding being rea­dy on time. Addi­tio­nal time has to be sche­du­led so that the necessa­ry soft­ware can also be tes­ted in ope­ra­ti­on. This is chan­ging the way we think about con­struc­tion.
And if we only work on one soft­ware plat­form, i.e. avoid sub­sys­tems from a who­le host of indi­vi­du­al tra­des, then we are in a much bet­ter posi­ti­on to deal with cri­sis situa­tions, for examp­le. At any point whe­re I need that as an ope­ra­tor, I can later deter­mi­ne whe­re I need swit­ches, for examp­le, becau­se the struc­tures allow that. And that's whe­re the Ema­ly­tics func­tio­n­a­li­ty from Phoe­nix Con­ta­ct scores decisively."
Stef­fen Szeidl agrees with him: "In the future, we have to think about buil­ding auto­ma­ti­on much ear­lier, alrea­dy in the plan­ning sta­ge and much more fun­da­ment­al­ly. This is the only right way, and we will also be repo­si­tio­ning it intern­al­ly in future pro­jects. The adap­t­ati­on pos­si­bi­li­ties of Ema­ly­tics into the future are sim­ply con­vin­cing. And with the Phoe­nix Con­ta­ct sys­tem, we are com­ple­te­ly fle­xi­ble and can real­lo­ca­te uses without having to lay com­ple­te­ly new cable rou­tes. We can use soft­ware pro­gramming to chan­ge things without anyo­ne even noti­cing, without any struc­tu­ral mea­su­res. This is what buil­ding of the future must look like."
Drees & Som­mer
You­Tube: The green faca­de of OWP12
You­Tube: Pre­fa­b­ri­ca­ti­on TGA modules
Phoe­nix Con­ta­ct Buil­ding Auto­ma­ti­on
White­pa­per zum The­ma Smart Buil­ding Design
This post is also avail­ab­le in:

Deutsch