Light from the Lüne­burg Heath is con­que­ring city cen­ters world­wi­de. Por­trait of an inno­va­ti­ve ligh­t­ing manu­fac­tu­rer with an exci­ting ver­ti­cal ran­ge of manu­fac­tu­re and bright future prospects.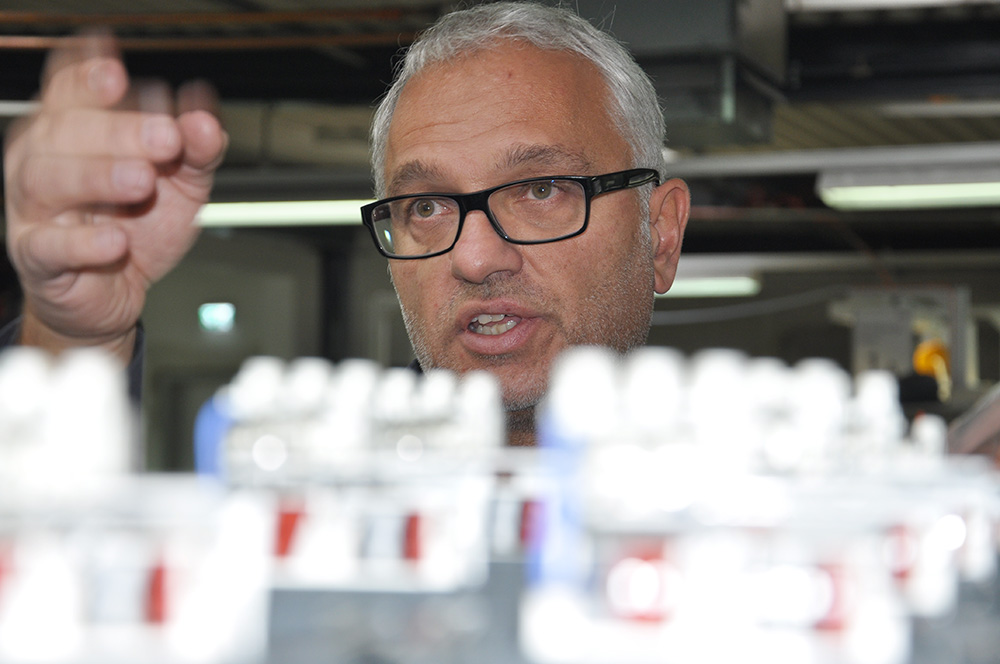 Our ver­ti­cal ran­ge of manu­fac­tu­re is 120 per­cent", Peter Oetjens has to laugh hims­elf when he sees the ama­zed loo­ks of his guests as he walks through the pro­duc­tion area. The extent of in-house pro­duc­tion is impres­si­ve, as can be seen at the latest when loo­king at the alu­mi­num found­ry and the lamp housings being pro­du­ced here.
But the WE-EF Leuch­ten GmbH from Bispin­gen in Lower Sax­o­ny can also do the fine gait. When it comes to the out­door lights of this inno­va­ti­ve com­pa­ny, only LED tech­no­lo­gy is used. "LED is not just light," says Peter Oetjens, head of electri­cal engi­nee­ring deve­lo­p­ment at WE-EF. "Thanks to their intel­li­gent elec­tro­nics, LEDs can be used today in a more tar­ge­ted and ver­sa­ti­le way than any con­ven­tio­nal light source".
Favo­ri­te of archi­tects and ligh­t­ing designers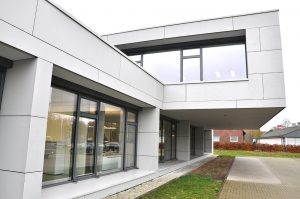 The com­pa­ny WE-EF exists alrea­dy for 70 years. It was foun­ded from an electri­cal instal­la­ti­on com­pa­ny. Mean­while the com­pa­ny from Bisping has dedi­ca­ted its­elf to the topic of out­door ligh­t­ing, whe­ther han­ging, on a pole or as a floor lamp. "We export world­wi­de and, in addi­ti­on to our local loca­ti­on, we have tra­ding offices in Mel­bourne, Pitts­burgh and Lyon, as well as a pro­duc­tion site in Thai­land. We have about 500 employees worldwide".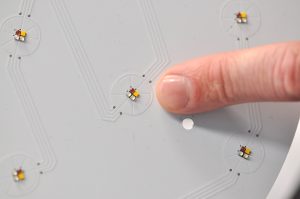 The suc­cess of the smart lights with archi­tects, light and spe­cia­li­zed plan­ners, in addi­ti­on, gar­den and land­s­cape gar­de­ners or experts in the public uti­li­ties does not come from coin­ci­dence.
Oetjens empha­ti­cal­ly descri­bes: "Thanks to the com­ple­te con­trol of our pro­duc­tion, we not only deli­ver very good qua­li­ty and a design that has won many awards. We are con­stant­ly making LEDs smar­ter, squee­zing the tech­no­lo­gy one twist further".
Modu­lar LED lens tech­no­lo­gy is a key disci­pli­ne of WE-EF. The indi­vi­du­al lamps are "fac­to­ry sea­led", i.e. they can­not be ope­ned by the cus­to­mer. Initi­al­ly this did not meet with gre­at enthu­si­asm, but today the­re is no alter­na­ti­ve. This is the only way to rea­li­ze the plug and play tech­no­lo­gy of modern out­door ligh­t­ing. "And com­p­laints, which would be due to incor­rect instal­la­ti­on of the lights, hard­ly ever occur anymore".
Elec­tro­nics from mast to lamp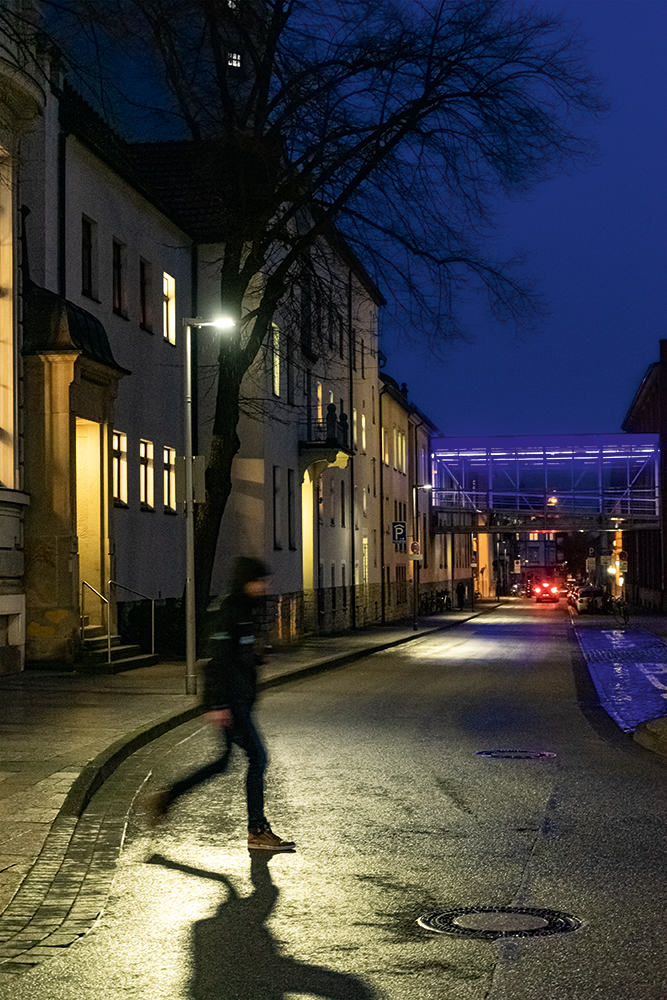 In addi­ti­on to the bal­last, WE-EF also inte­gra­tes a com­mu­ni­ca­ti­on modu­le for data trans­mis­si­on of the inte­gra­ted sen­sors in its new street lights. "For a pro­ject in Bie­le­feld we com­ple­te­ly rede­si­gned the so-cal­led build-up con­trol­ler", exp­lains Oetjens. "The elec­tro­nics should not be moun­ted on the pole but direct­ly on the lamp­sha­de." Sin­ce autumn 2019, this com­bi­na­ti­on of LED ligh­t­ing, bal­last, sen­sor tech­no­lo­gy and GPS com­mu­ni­ca­ti­on modu­le has been pro­vi­ding demand-ori­en­ted illu­mi­na­ti­on of the foot­path bet­ween the muni­ci­pal thea­ter and the par­king gara­ge on Brun­nen­stra­ße. From a height of six meters, the sen­sors regis­ter move­ments on the ground, and the respec­ti­ve lamp­sha­des regu­la­te their light inten­si­ty. The result is bet­ter visi­bi­li­ty, redu­ced ener­gy con­sump­ti­on and lower main­ten­an­ce cos­ts thanks to data collec­ted in the system.
The desi­gners at WE-EF sol­ved the power cab­ling of the lamp­sha­des with the Quick Instal­la­ti­on Sys­tem QPD from Phoe­nix Con­ta­ct. The advan­ta­ge of the user-friend­ly princip­le: Thanks to the pro­ven IDC quick con­nec­tion QUICKON, instal­lers can con­nect the cables on site without pre­pa­ra­ti­on or spe­cial tools. Smart also in handling.
For Peter Oetjens, howe­ver, demand-based ligh­t­ing con­trol is only the begin­ning of intel­li­gent ligh­t­ing. "Others can do hard­ware too. For us, the poten­ti­al lies abo­ve all in the ran­ge of func­tions and ser­vice," says the 53-year-old. "My visi­on: I want all our lights to be intel­li­gent and network-compatible.
Light spots in a smart city
"And we now think far bey­ond just hard­ware." The gra­dua­te pro­duc­tion tech­ni­ci­an and head of the labo­ra­to­ry for electri­cal engi­nee­ring allows a look into the design depart­ment. "We have long sin­ce ent­e­red the field of smart light and con­nec­ti­vi­ty. In the future, all of our lumin­aires should have net­work access.
But we are also thin­king ahead on the topic of light masts, and see clo­se links here to elec­tro­mo­bi­li­ty, char­ging e‑bikes or as a means of com­mu­ni­ca­ti­on, for examp­le equip­ped with SOS func­tions. Why should­n't dro­nes also be able to land here or a voice con­nec­tion to a medi­cal first aider be pos­si­ble? Com­mu­ni­ca­ti­on bet­ween road users and lights is also an inte­res­ting approach for us".
Smart Light has perspective
Oetjens is sure that WE-EF must also deal with new added value, no lon­ger just having the hard­ware under con­trol. But: "We are full of new ide­as and pro­ducts. Smart Light is a fasci­na­ting visi­on that has alrea­dy star­ted today".
This post is also avail­ab­le in:

Deutsch