When the automotive treasure is ordered underground and the systems of Klaus Multiparking are in play, then the end of the technical lifetime
is not reached. It is only parked in and away in a particularly refined way. So that goes well,
watch electronic components from Blomberg about weal and woe of vehicle and owner.
Space is a precious commodity. Whether in parking garages or private garages, on public roads or on home property – when the automobile is no longer meant to be mobile but parked, the dream made of sheet metal can become an annoying burden. This is exactly where the solutions of an innovative family-owned company from the Allgäu region come in.
In fact the Klaus family's entrepreneurial roots began with the exact opposite of their current activities. In the beginning, the focus was on mobility and not on standing still: In 1907, a wainwright's workshop was founded near Bad Tölz. In the 1930s, the commitment to mobility continued with the opening of a body store. Even a vehicle factory was founded. In the post-war period, the Allgäu company then manufactured commercial vehicle bodies, ventured into manufacturing of roundabouts and very successfully equipped the Unimog with excavator and loading crane systems until the 1980s.
Parking in style
So in-depth knowledge of body and steel construction, hydraulic and control systems, and manufacturing know-how were in plentiful supply. And since the first parking problems were already appearing in the 1960s, the engineers once again pulled out their pens and unleashed the first parking systems. Turning mobiles into immobiles without any problems: Since 1964, these systems have been built in an independent production facility about ten kilometers from the original company headquarters in Memmingen.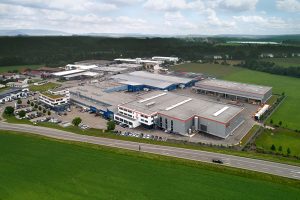 From these beginnings, a globally operating company with 230 employees and activities around the globe has grown in the meantime. The focus is on the development and manufacture of partially and fully automated parking systems. Since 1963, more than 25,000 projects have been realized, as Klaus Multiparking proudly reports. In Germany alone, this corresponds to around 450,000 parking spaces; worldwide, around 700,000 parking spaces have been created through the work of the family-owned company. Residential and commercial buildings, single and multi-family homes, office buildings, hotels, underground garages and parking garages – Klaus Multiparking is in demand everywhere where space is a rare commodity.
Production capacity at the main plant in Aitrach is utilized to capacity with 12,000 units per year. The steel elements, some of which are massive, are manufactured on highly automated CNC-controlled laser and bending machines and then transported directly to an automatic high rack. In addition to development, the assembly as well as the wiring and testing of the electronic components and control cabinets also take place in the neighboring rooms.
Up and down without any risk
In the parking systems, safeguards called chain monitors are used in the area of the height-adjustable levels to prevent danger to users in the event of a technical defect. Until now, the chain monitors were monitored by limit switches that shut down the system in the event of damage to the chain. But due to the interconnection of several parking system units, voltage losses occurred time and again, which meant that safe switching of the installed actuators was no longer possible. As a long-standing customer, the engineers around Daniel Schäftner, team leader for electrical engineering of automatic parking systems at Klaus Multiparking, were already familiar with numerous products from Phoenix Contact, such as power supplies from the Quint product family, terminal blocks, coupling relays, and PTFIX distribution blocks.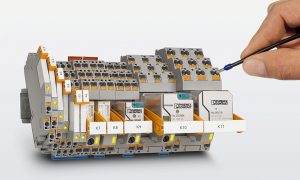 The installed limit switches were replaced with the relay modules from the Rifline complete product family, which are only 16 millimeters narrow. They are designed in such a way that the normally open and normally closed contacts of a relay are mechanically connected to each other. This positive guidance reliably prevents normally open and normally closed contacts from closing at the same time, resulting in dangerous opening faults.
In addition to these safety-relevant aspects, the employees in production
in Aitrach are also pleased about the possibility of being able to fall back on
push-in technology in addition to the classic screw connection. This allows solid and flexible conductors with ferrules to be plugged in without tools from a connection cross-section of 0.14 square millimeters. The pluggable jumper system reduces the wiring effort and therefore pleases both workers and controllers. Compared to conventional wire bridges, wiring activities decrease significantly, thus enabling simple and efficient potential distribution.
Due to the pluggable design of the modules, a problem-free and quick extension, for example with a time function, is possible.
This means that sinking below the earth's surface remains a space-saving and material-saving pleasure. Out of sight, but still completely in mind – even parking is fun!