When the auto­mo­ti­ve tre­a­su­re is orde­red under­ground and the sys­tems of Klaus Mul­ti­par­king are in play, then the end of the tech­ni­cal life­time
is not reached. It is only par­ked in and away in a par­ti­cu­lar­ly refi­ned way. So that goes well,
watch elec­tro­nic com­pon­ents from Blom­berg about weal and woe of vehi­cle and owner.
Space is a pre­cious com­mo­di­ty. Whe­ther in par­king gara­ges or pri­va­te gara­ges, on public roads or on home pro­per­ty – when the auto­mo­bi­le is no lon­ger meant to be mobi­le but par­ked, the dream made of sheet metal can beco­me an annoy­ing bur­den. This is exact­ly whe­re the solu­ti­ons of an inno­va­ti­ve fami­ly-owned com­pa­ny from the All­gäu regi­on come in.
In fact the Klaus family's entre­pre­neu­ri­al roots began with the exact oppo­si­te of their cur­rent acti­vi­ties. In the begin­ning, the focus was on mobi­li­ty and not on stan­ding still: In 1907, a wainwright's work­shop was foun­ded near Bad Tölz. In the 1930s, the com­mit­ment to mobi­li­ty con­ti­nued with the ope­ning of a body store. Even a vehi­cle fac­to­ry was foun­ded. In the post-war peri­od, the All­gäu com­pa­ny then manu­fac­tu­red com­mer­cial vehi­cle bodies, ven­tu­red into manu­fac­tu­ring of round­abouts and very suc­cess­ful­ly equip­ped the Uni­mog with exca­va­tor and loading cra­ne sys­tems until the 1980s.
Par­king in style
So in-depth know­ledge of body and steel con­struc­tion, hydrau­lic and con­trol sys­tems, and manu­fac­tu­ring know-how were in ple­nti­ful sup­ply. And sin­ce the first par­king pro­blems were alrea­dy appearing in the 1960s, the engi­neers once again pul­led out their pens and unleas­hed the first par­king sys­tems. Tur­ning mobi­les into immo­bi­les without any pro­blems: Sin­ce 1964, the­se sys­tems have been built in an inde­pen­dent pro­duc­tion faci­li­ty about ten kilo­me­ters from the ori­gi­nal com­pa­ny head­quar­ters in Memmingen.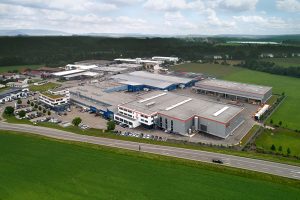 From the­se begin­nings, a glo­bal­ly ope­ra­ting com­pa­ny with 230 employees and acti­vi­ties around the glo­be has grown in the mean­ti­me. The focus is on the deve­lo­p­ment and manu­fac­tu­re of par­ti­al­ly and ful­ly auto­ma­ted par­king sys­tems. Sin­ce 1963, more than 25,000 pro­jects have been rea­li­zed, as Klaus Mul­ti­par­king proud­ly reports. In Ger­ma­ny alo­ne, this cor­re­sponds to around 450,000 par­king spaces; world­wi­de, around 700,000 par­king spaces have been crea­ted through the work of the fami­ly-owned com­pa­ny. Resi­den­ti­al and com­mer­cial buil­dings, sin­gle and mul­ti-fami­ly homes, office buil­dings, hotels, under­ground gara­ges and par­king gara­ges – Klaus Mul­ti­par­king is in demand ever­y­whe­re whe­re space is a rare commodity.
Pro­duc­tion capa­ci­ty at the main plant in Aitrach is uti­li­zed to capa­ci­ty with 12,000 units per year. The steel ele­ments, some of which are mas­si­ve, are manu­fac­tu­red on high­ly auto­ma­ted CNC-con­trol­led laser and ben­ding machi­nes and then trans­por­ted direct­ly to an auto­ma­tic high rack. In addi­ti­on to deve­lo­p­ment, the assem­bly as well as the wiring and tes­ting of the elec­tro­nic com­pon­ents and con­trol cabi­nets also take place in the neigh­bo­ring rooms.
Up and down without any risk
In the par­king sys­tems, safe­guards cal­led chain moni­tors are used in the area of the height-adjus­ta­ble levels to pre­vent dan­ger to users in the event of a tech­ni­cal defect. Until now, the chain moni­tors were moni­to­red by limit swit­ches that shut down the sys­tem in the event of dama­ge to the chain. But due to the inter­con­nec­tion of several par­king sys­tem units, vol­ta­ge los­ses occur­red time and again, which meant that safe swit­ching of the instal­led actua­tors was no lon­ger pos­si­ble. As a long-stan­ding cus­to­mer, the engi­neers around Dani­el Schäft­ner, team lea­der for electri­cal engi­nee­ring of auto­ma­tic par­king sys­tems at Klaus Mul­ti­par­king, were alrea­dy fami­li­ar with nume­rous pro­ducts from Phoe­nix Con­ta­ct, such as power sup­plies from the Quint pro­duct fami­ly, ter­mi­nal blocks, cou­pling relays, and PTFIX dis­tri­bu­ti­on blocks.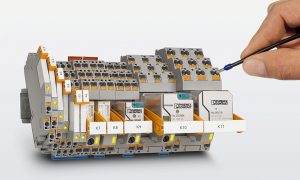 The instal­led limit swit­ches were repla­ced with the relay modu­les from the Rif­line com­ple­te pro­duct fami­ly, which are only 16 mil­li­me­ters nar­row. They are desi­gned in such a way that the nor­mal­ly open and nor­mal­ly clo­sed con­ta­cts of a relay are mecha­ni­cal­ly con­nec­ted to each other. This posi­ti­ve gui­d­ance reli­ab­ly pre­vents nor­mal­ly open and nor­mal­ly clo­sed con­ta­cts from clo­sing at the same time, resul­ting in dan­ge­rous ope­ning faults.
In addi­ti­on to the­se safe­ty-rele­vant aspects, the employees in pro­duc­tion
in Aitrach are also plea­sed about the pos­si­bi­li­ty of being able to fall back on
push-in tech­no­lo­gy in addi­ti­on to the clas­sic screw con­nec­tion. This allows solid and fle­xi­ble con­duc­tors with fer­ru­les to be plug­ged in without tools from a con­nec­tion cross-sec­tion of 0.14 squa­re mil­li­me­ters. The plugg­ab­le jum­per sys­tem redu­ces the wiring effort and the­re­fo­re plea­ses both workers and con­trol­lers. Com­pa­red to con­ven­tio­nal wire brid­ges, wiring acti­vi­ties decre­a­se signi­fi­cant­ly, thus enab­ling simp­le and effi­ci­ent poten­ti­al distribution.
Due to the plugg­ab­le design of the modu­les, a pro­blem-free and quick exten­si­on, for examp­le with a time func­tion, is possible.
This means that sin­king below the earth's sur­face remains a space-saving and mate­ri­al-saving plea­su­re. Out of sight, but still com­ple­te­ly in mind – even par­king is fun!
Klaus Mul­ti­par­king
Phoe­nix Con­ta­ct Rif­line Complete
This post is also avail­ab­le in:

Deutsch