Spring 2021 – no cable has yet been instal­led, no con­trol cabi­net has been fit­ted, and no con­trol sys­tem has been acti­va­ted. Nevertheless, the buil­ding auto­ma­ti­on experts from Phoe­nix Con­ta­ct are alrea­dy working inten­si­ve­ly on a new Ham­burg gem. A look into the exca­va­ti­on pit of Europe's lar­gest con­struc­tion site – the West­field Ham­burg - Süd­li­ches Über­see­quar­tier.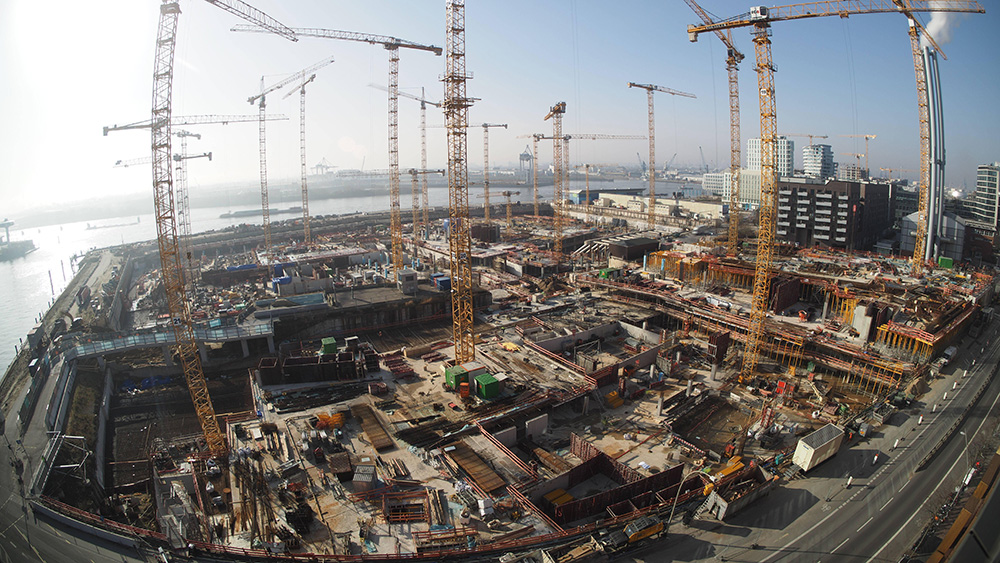 A few meters away, the waves of the Elbe hit the quay walls. The pres­su­re exer­ted by the river on the 15-meter-deep exca­va­ti­on pit is enor­mous. Rein­for­ced con­cre­te walls more than one meter thick defy the cur­rent. But what are buil­ding auto­ma­ti­on spe­cia­lists from East West­pha­lia doing at this ear­ly sta­ge of the shell construction?
To ans­wer this ques­ti­on, Micha­el Pri­or grab­bed his con­struc­tion hel­met and swap­ped his lea­ther shoes for stur­dy safe­ty boots. Sin­ce 2015, right from the start of acti­vi­ties on the mas­si­ve con­struc­tion site, the mecha­ni­cal engi­nee­ring gra­dua­te and expe­ri­en­ced pro­ject mana­ger has been acti­ve in the ser­vice of the world's lea­ding flagship desti­na­ti­on ope­ra­tor. A few steps sepa­ra­te the plan­ning office of Uni­bail-Rodam­co-West­field from the El Dora­do of 24 con­struc­tion cra­nes, tight­ly woven rebar and pum­ping con­cre­te lifts. Past the ent­ran­ce with atten­ti­ve gate­kee­pers who, in addi­ti­on to hel­mets and vests, make sure the workers are equip­ped with mouth-nose pro­tec­tion – pro­tec­ti­ve and hygie­nic con­cepts accom­pa­ny the 400 or so con­struc­tion workers on site.
Born in Dort­mund, he is an old hand when it comes to buil­ding tech­no­lo­gy and has alrea­dy auto­ma­ted all kinds of buil­dings. Sin­ce 2008, he has worked for Uni­bail-Rodam­co-West­field and its pre­de­ces­sor com­pa­nies as Head of Tech­no­lo­gy Ger­ma­ny, and in this role he has seen qui­te a few pro­per­ties come into being and put them on track tech­ni­cal­ly. "In 2017, I then set up my own office and advi­sed cli­ents on tech­no­lo­gy and pro­ject management."
Pri­or smi­les: "Well, short­ly after that, my old employ­er con­ta­c­ted me with the chal­len­ge of the Ham­burg pro­ject. And then I was and am right back in the thick of things, as if not­hing had changed.
The view into the abyss
Why the expe­ri­en­ced spe­cia­list is nee­ded can alrea­dy be seen at the edge of the exca­va­ti­on pit. The Süd­li­ches Über­see­quar­tier is a con­struc­tion site of extre­mes: One mil­li­on tons of earth have been moved sin­ce con­struc­tion began in 2017 to crea­te space for the three under­ground floo­rs with their under­ground gara­ges, deli­ve­ries, uti­li­ties and a bus ter­mi­nal. That would be enough to fill the Bin­nen­als­ter a good one-and-a-half times. Of this, 200,000 tons were remo­ved by ship. An ent­i­re sub­way line (the still new U4) was par­ti­al­ly unco­ve­r­ed in the pro­cess and spe­cial­ly equip­ped with sen­si­ti­ve sen­sor tech­no­lo­gy to avert struc­tu­ral dama­ge to the rein­for­ced con­cre­te tube. After all, 1,300 bored piles were dri­ven to a depth of up to 18 meters to pro­vi­de a secu­re foun­da­ti­on for the 14 buil­dings. You have to pre­pa­re ever­ything very pre­cise­ly so that the walls don't shake and cer­tain­ly not the tube," smi­les Micha­el Prior.
The nort­hern Über­see­quar­tier was offi­cial­ly ope­ned on Octo­ber 23, 2010. "We will fol­low with the West­field Ham­burg – Sou­thern Über­see­quar­tier in 2023," Pri­or says opti­misti­cal­ly in view of the impo­sing con­struc­tion pit. "In the sou­thern con­struc­tion field, the base­ment floo­rs are alrea­dy almost com­ple­te, and the shell buil­dings are now gro­wing upwards the­re. In the nort­hern con­struc­tion field, the shell has now reached the first floor and the upper floo­rs are slow­ly taking shape." Obvious­ly, public con­struc­tion pro­jects and tho­se in pri­va­te hands do not dif­fer in terms of dimen­si­ons, but they do in terms of plan­ning and exe­cu­ti­on, adhe­rence to sche­du­les and cost deve­lo­p­ment. With sig­hing thoughts of capi­tal city air­ports and sou­thern Ger­man under­ground train sta­ti­ons, we fol­low Micha­el Pri­or down one of the stair­ways into the still open under­ground level of Hamburg's new flagship.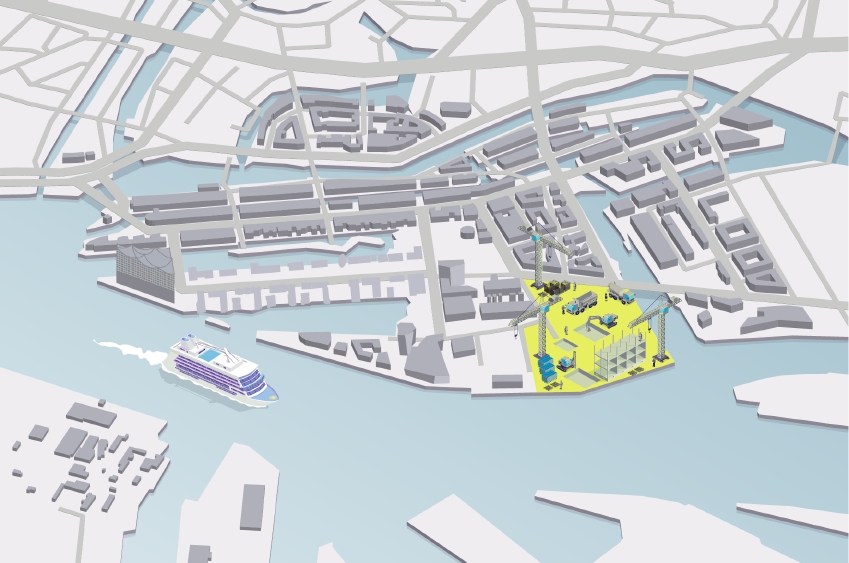 "The pro­ject is very important for Uni­bail-Rodam­co-West­field at the moment, not only becau­se of sheer size, but also becau­se of the mul­ti­ple dif­fe­rent types of uses that will form a vibrant urban neigh­bor­hood. This is also one of the light­house pro­jects for us world­wi­de," exp­lains the 57-year-old real esta­te expert. "We are once again incre­a­sing the attrac­ti­ve­ness of Hamburg's city cen­ter and enhan­cing the city's natio­nal and inter­na­tio­nal appeal."
New thin­king at the Elbe
With the ear­ly invol­ve­ment of Phoe­nix Con­ta­ct, Uni­bail-Rodam­co-West­field is brea­king com­ple­te­ly new ground. Micha­el Pri­or exp­lains: "Let's first look at the clas­sic way of working. As a pro­ject deve­lo­per, we hand­led pro­jects with the clas­sic indi­vi­du­al awar­ding of con­tracts. Plan­ning, ten­de­ring, bidding pro­cess, award of con­tract. That's how we'­ve been working for a good 15 years."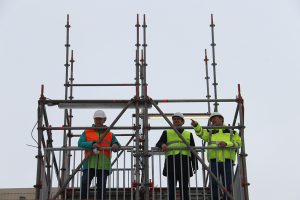 Loo­king over the huge con­struc­tion site, Micha­el Pri­or con­ti­nues: "We are not just buil­ding a shop­ping cen­ter here, but an area with very dif­fe­rent users and requi­re­ments. This must later beco­me a func­tio­n­ing tech­ni­cal unit, des­pi­te the com­ple­xi­ty of the dif­fe­rent tra­des and tech­no­lo­gies. Take ref­ri­gera­ti­on tech­no­lo­gy, for examp­le. We are buil­ding it for the retail sec­tor, not just for us. The hotels and the
cine­ma buil­ding will also be con­nec­ted to it. Or electri­ci­ty, which has to ser­ve very dif­fe­rent needs, depen­ding on use. The­re is also an over­ar­ching fire pro­tec­tion manage­ment sys­tem for the ent­i­re quar­ter. The­re are many other examp­les of such situa­tions. After inten­si­ve inter­nal dis­cus­sions, we rea­li­zed that we had to take a com­ple­te­ly new look at com­pre­hen­si­ve buil­ding automation.
And it was clear to us that we would not get any­whe­re here with a clas­sic plan­ner who would use stan­dard tech­no­lo­gy. Our requi­re­ments sim­ply went far bey­ond the norm. So it then came about that auto­ma­ti­on was remo­ved from the usu­al plan­ning pro­cess. We star­ted loo­king for a plan­ner who would also build after the plan­ning pha­se. In other words, they actual­ly plan with an under­stan­ding of how we do it, becau­se we our­sel­ves are also users of our plans later on. That was com­ple­te­ly new for the market.
Team­work alrea­dy at the exca­va­ti­on pit
And this is whe­re we beca­me awa­re of Phoe­nix Con­ta­ct. Their phi­lo­so­phy and self-image sim­ply matched our requi­re­ments. Becau­se Phoe­nix Con­ta­ct also thinks of auto­ma­ti­on dif­fer­ent­ly, sin­ce enor­mous expe­ri­ence from the field of indus­tri­al auto­ma­ti­on is avail­ab­le. Clo­se con­ta­ct was estab­lis­hed during the ten­der and quo­ta­ti­on pha­se, becau­se our requi­re­ments were also in flux and were adap­ted several times. Thus, a coope­ra­ti­on was estab­lis­hed at a very ear­ly sta­ge of the project."
Bern­hard Till­mans adds: "Of cour­se, this was and is not without dif­fi­cul­ty, becau­se much of what has long been stan­dard prac­ti­ce at Phoe­nix Con­ta­ct in terms of digi­tiz­a­ti­on and auto­ma­ti­on is com­ple­te­ly new to the con­struc­tion indus­try. That's whe­re cul­tures some­ti­mes col­li­de. We are plea­sed that Uni­bail-Rodam­co-West­field has just as pro­gres­si­ve and inno­va­ti­ve a mind­set as we do."
Fre­de­ric Bus­se, who is part of the Phoe­nix Con­ta­ct team of buil­ding auto­ma­ti­on spe­cia­lists, adds: "We loo­ked at many topics from the per­spec­ti­ve of Phoe­nix Con­ta­ct and con­tri­bu­t­ed them. That was also com­ple­te­ly new and very exci­ting for us. It was a gre­at boost for all of us, i.e. the ent­i­re team of plan­ners. And the­re are alrea­dy topics whe­re this new way of loo­king at things makes us tick dif­fer­ent­ly than in con­ven­tio­nal pro­jects, for examp­le in the area of ener­gy val­ves or meter manage­ment."
"So in the plan­ning pha­se we are alrea­dy working very clo­se­ly tog­e­ther. That's very posi­ti­ve when a manu­fac­tu­rer of auto­ma­ti­on solu­ti­ons cat­ches up with the plan­ning team and comes up with new ide­as and also thinks two years ahead, for examp­le in terms of IT secu­ri­ty. On the con­struc­tion site its­elf," Pri­or has to smi­le, "there's not­hing yet whe­re intel­li­gence has to be inte­gra­ted into the buil­ding, it's still a shell. But that's com­ing in leaps and bounds now, and will con­ti­nue quick­ly in the con­struc­tion phase."
The ope­ning in view
Pri­or points to ramps emer­ging from the base­ments and exp­lains the cur­rent sta­tus of con­struc­tion acti­vi­ties: "The design plan­ning has been com­ple­ted, the buil­ding per­mits are also the­re, and in the TGS area we are at the end of the imple­men­ta­ti­on plan­ning. The struc­tu­ral work is under­way. In par­al­lel, the tech­ni­cal buil­ding scaf­fol­ding is now being purcha­sed, and exe­cu­ting tech­ni­cal com­pa­nies will soon start assemb­ling. The Quar­ter will open in 2023. In the pha­se befo­re that, buil­ding auto­ma­ti­on is a key trade."
Bern­hard Till­mans adds: "Coor­di­na­ti­on on the con­struc­tion site is beco­m­ing more and more chal­len­ging as pro­gress is made, becau­se the tra­des must be clo­se­ly inter­lo­cked in their acti­vi­ties. Buil­ding auto­ma­ti­on is, after all, a lag­ging tra­de that is direct­ly depen­dent on other tra­des that have to pro­vi­de their ser­vices in advan­ce. The­re­fo­re, we are also the tra­de that can only be com­ple­ted last. During the actu­al con­struc­tion pha­se, this will cer­tain­ly mean one or two slee­p­less nights, becau­se we not only have to hand­le indi­vi­du­al auto­ma­ti­on tasks, but also map the ent­i­re buil­ding and its func­tio­n­a­li­ty. And if one of the tra­des is stuck, i.e. deli­vers late, the sche­du­le and/or exe­cu­ti­on will start to slip.
That's why it's very important for us to have the right part­ner com­pa­nies on board. This is then not always the com­pa­ny with the che­a­pest offer, but the most com­pe­tent. With M+P etwa we have been able to win a very expe­ri­en­ced plan­ning com­pa­ny as a part­ner in the cur­rent plan­ning pha­se. M+P brings exact­ly this exper­ti­se and the right mindset."
Micha­el Pri­or is visi­b­ly proud as we make our way back: "Next time we visit, this place will look com­ple­te­ly dif­fe­rent. And then we will alrea­dy be able to demons­tra­te the first tra­des imple­men­ting auto­ma­ti­on solu­ti­ons. That's a pro­mi­se!" Mr. Pri­or, we'll take you at your word and stay tuned.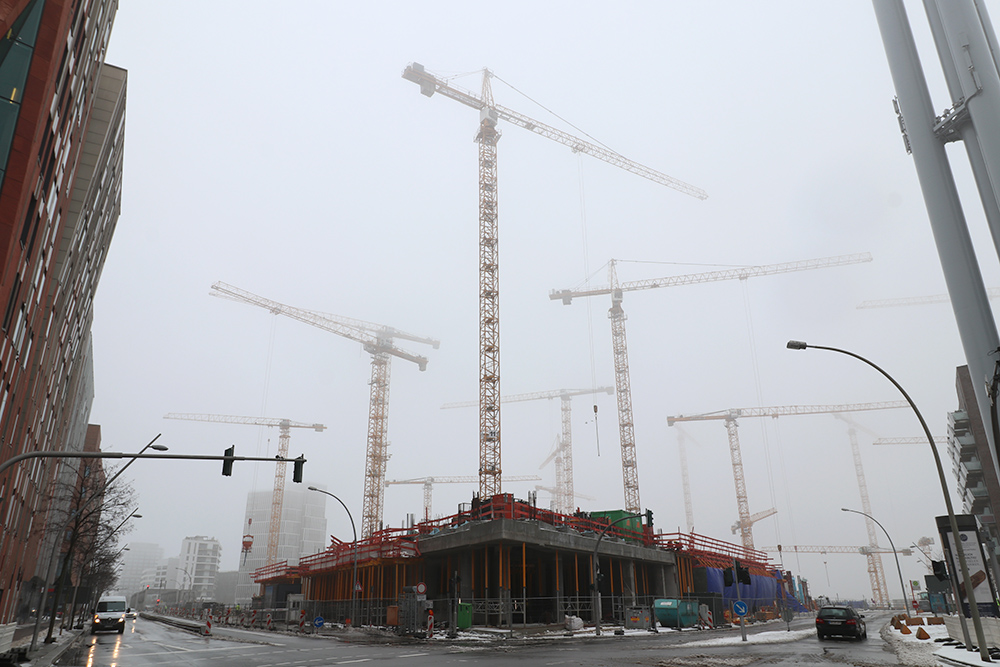 Phoe­nix Con­ta­ct Buil­ding Auto­ma­ti­on
West­field Ham­burg – Süd­li­ches Über­see­quar­tier
Der Gebäu­de­flüs­te­rer
This post is also avail­ab­le in:

Deutsch