A swim­ming pool in your own backy­ard – that's pro­bab­ly what even resi­dents of the smal­lest ren­tal apart­ments dream of. The Bel­gi­an manu­fac­tu­rer LPW Pools makes this wish come true with one-pie­ce pools made of com­po­si­te mate­ri­als. This requi­res covers, which are manu­fac­tu­red by sis­ter com­pa­ny Covrex. To keep the dream fun, the com­pa­ny uses pro­ducts from Phoe­nix Contact.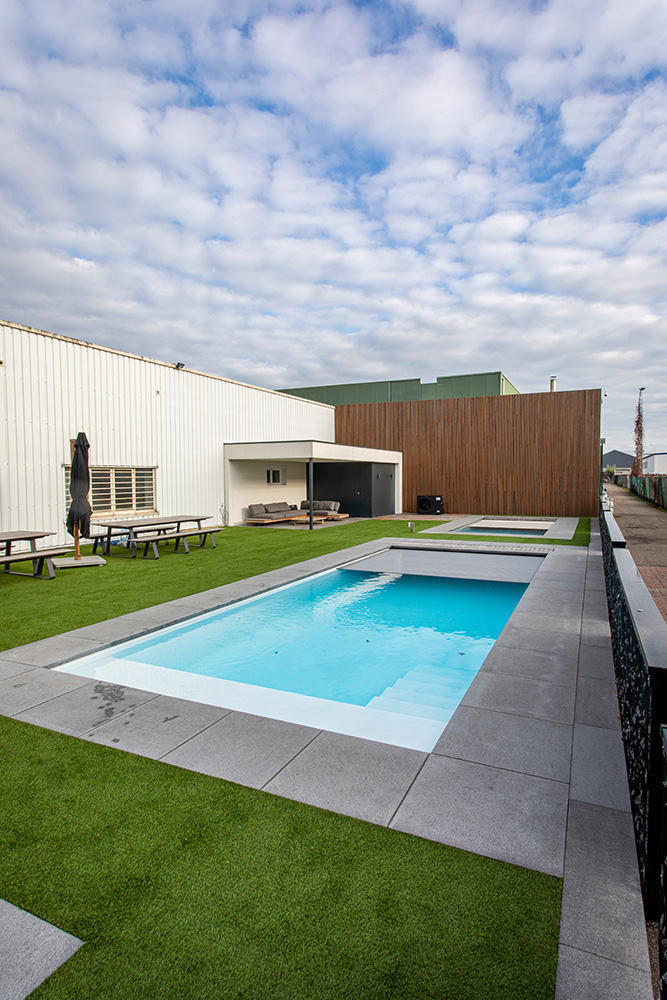 What do swim­ming pools have to do with ter­mi­nals, con­trol­lers and con­trol cabi­nets? "Qui­te a lot," exp­lains Raf Ola­erts of Covrex. The com­pa­ny, based in Aarscht near Brussels, manu­fac­tures auto­ma­tic pool covers and their cus­tom-fit dri­ve sys­tems. Tog­e­ther with pool manu­fac­tu­rer LPW Pools, which has a pre­sence in the Bene­lux and Ger­ma­ny, both com­pa­nies are part of the TSPH Group of Com­pa­nies (The Swim­ming Pool Hub).
Raf Ola­erts is respon­si­ble for auto­ma­ti­on at Covrex. And so right in the midd­le of deve­lo­ping the inno­va­ti­ve pro­ducts for which Covrex is known. Becau­se without a cover, a swim­ming pool quick­ly beco­mes a pro­blem. "More than 70 per­cent of all pool owners opt for a pool cover," Ola­erts reports in con­ver­sa­ti­on. "The rea­sons for this are first of all safe­ty and clean­li­ness, becau­se a pool without a cover can alrea­dy beco­me a risk, espe­cial­ly in a fami­ly house­hold. And without a cover, a pool quick­ly beco­mes a magnet for ever­ything that flies around in the air, from lea­ves and twigs to water­fowl and dust. Plus, in our lati­tu­des, don't for­get about tem­pe­ra­tures during the cool mon­ths. If the water body is unpro­tec­ted, it quick­ly loses its com­for­ta­ble tem­pe­ra­tu­re or even threa­tens to freeze."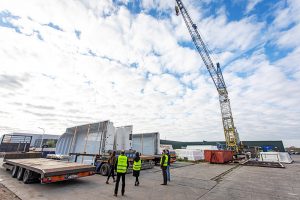 When it comes to hard­ware, Covrex the­re­fo­re reli­es on various pool enclo­sures with a clear-glass look, which turn the pool into a real swim­ming pool, and, in a less expen­si­ve vari­ant, on slat enclo­sures, whe­re Covrex has its own patents on its ful­ly foamed vari­ants. The­se ful­ly foamed lou­vers offer bet­ter ther­mal insu­la­ti­on and are more resistant to wea­ther con­di­ti­ons such as frost and hail. Cus­to­mers can choo­se from a varie­ty of shapes, colors and access­ories for their pool.
The elec­tro­nic lifeguard
To ensu­re that this hard­ware can also be used sen­si­b­ly, electri­cal hel­pers are essen­ti­al. Pumps and fil­ter sys­tems, hea­ting and ligh­t­ing, and the dri­ves for the motor-moved covers all requi­re expert instal­la­ti­on. Covrex's in-house-built con­trol cabi­nets are used, com­bi­ning all func­tions into a user-friend­ly con­trol sys­tem with remo­te con­trol. "Our pool con­trols are stan­dar­di­zed basic solu­ti­ons that can be adap­ted to the spe­ci­fic situa­ti­on on the customer's site," Raf Ola­erts exp­lains the approach.
High avai­la­bi­li­ty and low main­ten­an­ce were in the spe­ci­fi­ca­ti­ons for the deve­lo­p­ment of the pool con­trol cabi­net. The­re is still a spe­cial chal­len­ge with the auto­ma­tic pool cover, becau­se its dri­ve sys­tem is com­ple­te­ly sub­mer­ged. "The con­trol box the­re­fo­re has two sepa­ra­te power sup­plies," exp­lains Raf Ola­erts. "If a leak occurs and cau­ses a short cir­cuit in the motor, the rest of the sys­tem con­ti­nues to function."
Wrap­ped upsi­de down
Covrex sol­ves ano­t­her poten­ti­al pro­blem with a spe­cial power relay in the motor's power sup­ply: "The reel sys­tem is often instal­led in a niche at the bot­tom of the pool," exp­lains Raf Ola­erts. "Sin­ce the slats are ligh­ter than water, they coun­ter­act the pul­ling for­ces of the electric motor. When they unroll, they then vir­tual­ly turn the electric motor in the wrong direc­tion. Using the chan­geo­ver relay, we can slow down the motor and pre­vent it from acting as a gene­ra­tor in the direc­tion of the power grid as a result. Also, the speed has to be con­trol­led to make sure the pool cover is cor­rect­ly on the surface."
Jim­my De Sit­ter has been the con­ta­ct per­son at Phoe­nix Con­ta­ct for many years. He adds, "The ELR modu­le has built-in over­vol­ta­ge pro­tec­tion and can con­trol the speed of the motor via pul­se width modu­la­ti­on (PWM). For app­li­ca­ti­ons like this, whe­re a DC motor needs to be rever­sed and dece­le­ra­ted, it's an effi­ci­ent solu­ti­on becau­se the modu­le con­trols ever­ything electronically."
"One of the rea­sons we like working with Phoe­nix Con­ta­ct is that they are always thin­king about the­se kinds of solu­ti­ons with us," says Raf Ola­erts. "When we have a ques­ti­on, we don't just get a quick ans­wer. Our part­ners at Phoe­nix Con­ta­ct have ide­as, then think ahead with us." The col­la­bo­ra­ti­on bet­ween the two com­pa­nies began many years ago in the area of pro­duc­tion and over time shifted more and more direct­ly into Covrex's pro­ducts as well.
Com­ple­te assemblies
In addi­ti­on to power sup­plies and the ELR modu­le, ter­mi­nal blocks from Phoe­nix Con­ta­ct are used, inclu­ding spe­cial ter­mi­nal blocks for poten­ti­al dis­tri­bu­ti­on that enab­le smooth and effi­ci­ent assem­bly. Mean­while, Covrex also makes use of the Value Added Cen­ter from Phoe­nix Con­ta­ct for the sup­ply of com­ple­te assem­bly strips. The­se are cus­to­mer-spe­ci­fic DIN rails on which all the desi­red com­pon­ents are alrea­dy moun­ted, with the necessa­ry labe­ling and bridges.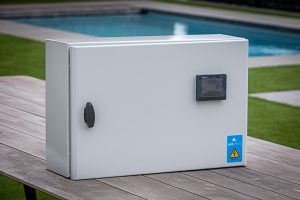 Busi­ness with the pri­va­te swim­ming pool in the gar­den is boo­m­ing. And thanks to the coope­ra­ti­on with Phoe­nix Con­ta­ct, Raf Ola­erts and his team can devo­te them­sel­ves to the fur­ther deve­lo­p­ment of their inno­va­ti­ve pro­ducts. So that the dream of a pool does­n't beco­me a tech­no­lo­gi­cal bellyflop.
This post is also avail­ab­le in:

Deutsch