INGO is small, rect­an­gu­lar and very red. And it is use­ful. Becau­se rene­wa­ble ener­gies can be so exhaus­ting. They make com­ple­te­ly new deman­ds on the finely balan­ced sys­tem of the power grids. In Kaden­bach in the Wes­ter­wald, a joint pro­ject is now ensu­ring cla­ri­ty in the feed-in jungle.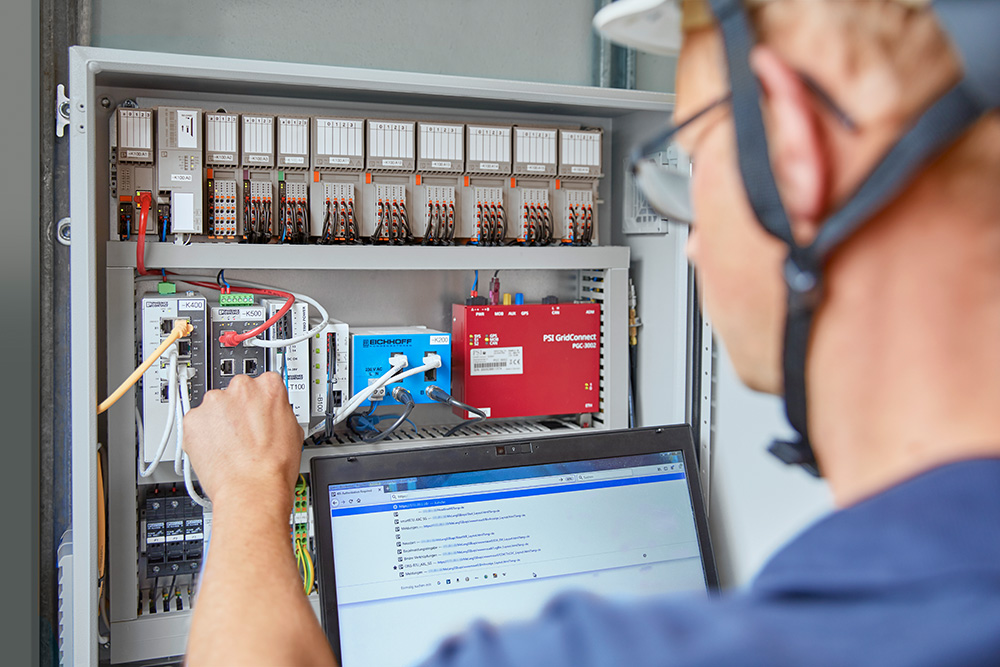 Lar­ge power sta­ti­ons have been hum­ming and buz­zing for deca­des, regard­less of whe­ther they are powe­red by coal, gas, oil, or nuclear power. Year in, year out, they deli­ver their power into the power grids with an even sta­bi­li­ty. From high to medi­um vol­ta­ge and final­ly through to the house con­nec­tion – just how power and grid ope­ra­tors like it.
This is becau­se count­less electri­cal devices need a sta­ble vol­ta­ge, which they con­vert into music, clean laund­ry, or cell­p­ho­ne char­ges. Almost not­hing works in our world any­mo­re without electri­ci­ty. It would be fan­tastic if this electri­ci­ty was gene­ra­ted using wind, water, or the sun ins­tead of having to burn fos­sil fuels.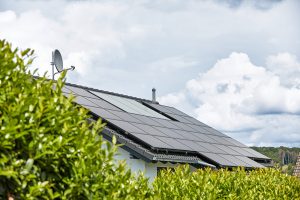 But this is whe­re the chal­len­ges begin. Decen­tral genera­ti­on plants such as wind tur­bi­ne gene­ra­tors or solar parks ope­ra­te irre­gu­lar­ly, thus bur­de­ning the high- and medi­um-vol­ta­ge grids with fluc­tua­ting yield loads.
Onco­m­ing traf­fic on the electri­ci­ty highway
Rising cli­ma­te awa­reness and public fun­ding have led to a steadi­ly incre­a­sing num­ber of solar sys­tems on house­hold roofs. They feed their solar ener­gy into the public grid. In this way, the con­su­mer beco­mes the pro­du­cer. Howe­ver, the power grids are not desi­gned for this. Deca­des of one-way streets have sud­den­ly beco­me a traf­fic arte­ry with onco­m­ing traf­fic. In the worst case, this feed-in pro­du­ces so much electri­ci­ty on the "wrong side of the road" that the grid vio­la­tes its vol­ta­ge ran­ge. Most of the electri­cal con­su­mers do not like this at all and eit­her climb out or beco­me damaged.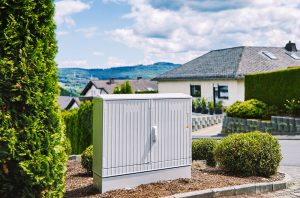 Kaden­bach is a place at the gates of Koblenz. Sun­ny sou­thern expo­sure, many new buil­dings, solar panels on the roof, one or the other electri­ci­an in the gara­ge. To date, 27 house buil­ders with their roof­top sys­tems feed around 190 kilo­watts more electri­ci­ty into the low-vol­ta­ge grid on sun­ny days than the appro­xi­mate­ly 188 resi­den­ti­al units con­su­me. Kaden­bach is thus vir­tual­ly beco­m­ing a power sta­ti­on. The local ener­gy sup­plier, Ener­gie­net­ze Mit­tel­rhein, natu­ral­ly knows exact­ly what is hap­pe­ning in its net­work from the lar­ge power plant via the lines into the town to the dis­tri­bu­ti­on sta­ti­ons. But now the­re is sud­den­ly move­ment in the low vol­ta­ge area.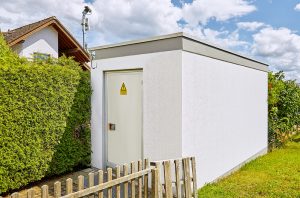 The ener­gy flows which flow back into the trans­for­mer sta­ti­ons of the medi­um vol­ta­ge sup­ply can­not be moni­to­red. The task is urgent: Mea­su­red values must be obtai­ned that ensu­re trans­pa­ren­cy. The­se mea­su­red values must be used to auto­ma­ti­cal­ly adjust the vol­ta­ge levels in order to exclu­de mains fluctuations.
The grid beco­mes smarter
So Phoe­nix Con­ta­ct and the >a href="https://www.jeanmueller.de/de/" target="_blank" aria-label=" Jean Mül­ler GmbH (opens in a new tab)" rel="noreferrer noope­ner" class="ek-link"> Jean Mül­ler GmbH and the soft­ware manu­fac­tu­rer PSI Grid­con­nect with the Ener­gie­net­zen Mit­tel­rhein and deve­lo­ped a smart solu­ti­on: the "Ener­gy Con­trol Inter­face". This inter­face collects the values of the instal­led mea­su­ring sen­sors, pro­ces­ses them and for­wards them to the local net­work sta­ti­on via a spe­cial telecon­trol protocol.
The power sup­ply and fuses are loca­ted in the inter­face. The hard­ware solu­ti­on for the digi­ta­liz­a­ti­on of low-vol­ta­ge out­puts can the­re­fo­re be instal­led via plug-and-play. If the remo­te con­trol unit can­not be set up on site, this can also be done using an off­line tool or remo­te­ly via FTP data transfer.
"In Asset Manage­ment, we would like to look to the future in terms of grid expan­si­on and iden­ti­fy cri­ti­cal grid points at an ear­ly sta­ge befo­re they ari­se," exp­lains Peter Wia­cker, Head of Asset Manage­ment at Ener­gie­net­ze Mit­tel­rhein, who is also respon­si­ble for the power grids in this role. "For this pur­po­se, it is impe­ra­ti­ve that we acqui­re mea­su­red values from the grid are­as that have not yet been digi­ta­li­zed. This is the only way we can deter­mi­ne the effects of, for examp­le, the con­si­derable expan­si­on of pho­to­vol­taics and how the power grid is influ­en­ced by the incre­a­sing num­ber of public and pri­va­te char­ging points and smart loads."
INGO

is red

The mea­su­ring sen­sors are instal­led in two cable dis­tri­bu­ti­on cabi­nets in the bright yel­low fuse switch­boards PLPla­no from Jean Mül­ler. They are con­nec­ted to the Ener­gy Con­trol Inter­face. All mea­su­red values are pas­sed on to the cloud-based smart grid plat­form. This plat­form has the nice name "PSIn­go", short INGO. The red box requi­red for this is also instal­led on the bus­bar in the local net­work dis­tri­bu­tor. This plat­form was deve­lo­ped by PSI Grid­con­nect.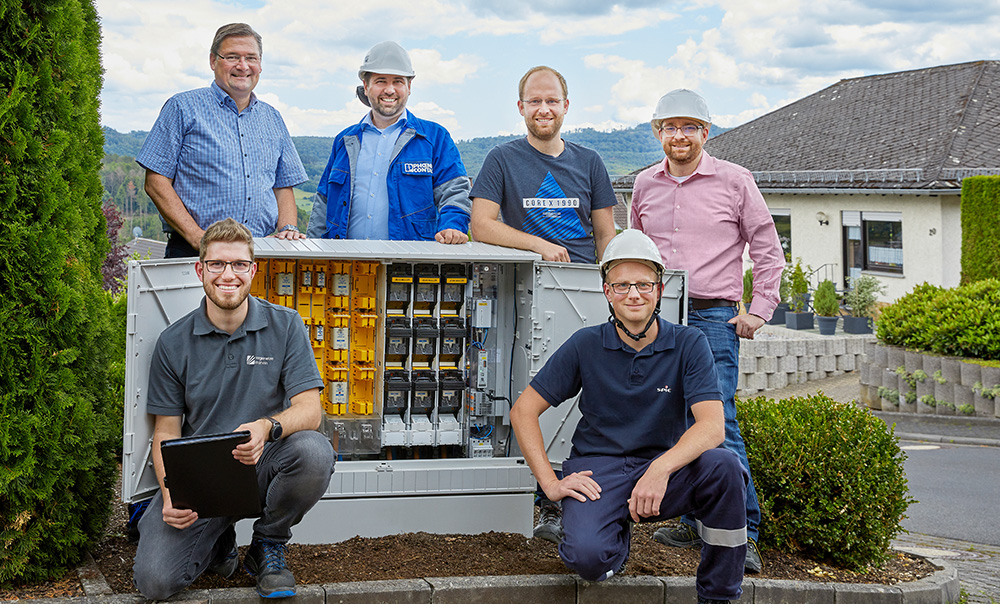 If grid nodes can­not be mea­su­red direct­ly, PSIn­GO cal­cu­la­tes them using an algo­rithm deve­lo­ped by PSI Grid­con­nect. In this way, the grid con­di­ti­ons in Kaden­bach are made trans­pa­rent to the grid manage­ment sys­tem. The cal­cu­la­ti­on of the step posi­ti­on of the con­troll­ab­le local grid trans­for­mer is car­ri­ed out local­ly by PSIn­GO and is imple­men­ted by a PLCnext con­trol device from Phoe­nix Contact.
If a limit value is excee­ded, the sys­tem sends noti­fi­ca­ti­ons to the respon­si­ble ener­gy net­works Mit­tel­rhein employees, who can inter­vene manu­al­ly if necessa­ry. Nor­mal­ly, howe­ver, the adjus­t­ment of the vol­ta­ge levels is com­ple­te­ly auto­ma­tic. "Smart solu­ti­ons such as the con­troll­ab­le local trans­for­mer sta­ti­on with wide-ran­ge con­trol instal­led in Kaden­bach enab­le us to mas­ter the chal­len­ges of the ongo­ing ener­gy tur­naround," exp­lains Dr. Andre­as Hoff­knecht, Mana­ging Direc­tor of Ener­gie­net­ze Mit­tel­rhein. "The ful­ly auto­ma­tic com­pen­sa­ti­on of vol­ta­ge fluc­tua­tions ensu­res a reli­able sup­ply of ener­gy to the popu­la­ti­on in the future."
This post is also avail­ab­le in:

Deutsch