Visi­tors to this year's Wind Power Tech­no­lo­gy Con­gress were fasci­na­ted by Jörg Spitzner's visi­on of a wind tur­bi­ne that not only gene­ra­tes elec­tri­ci­ty, but also extrac­ts CO2 from the air.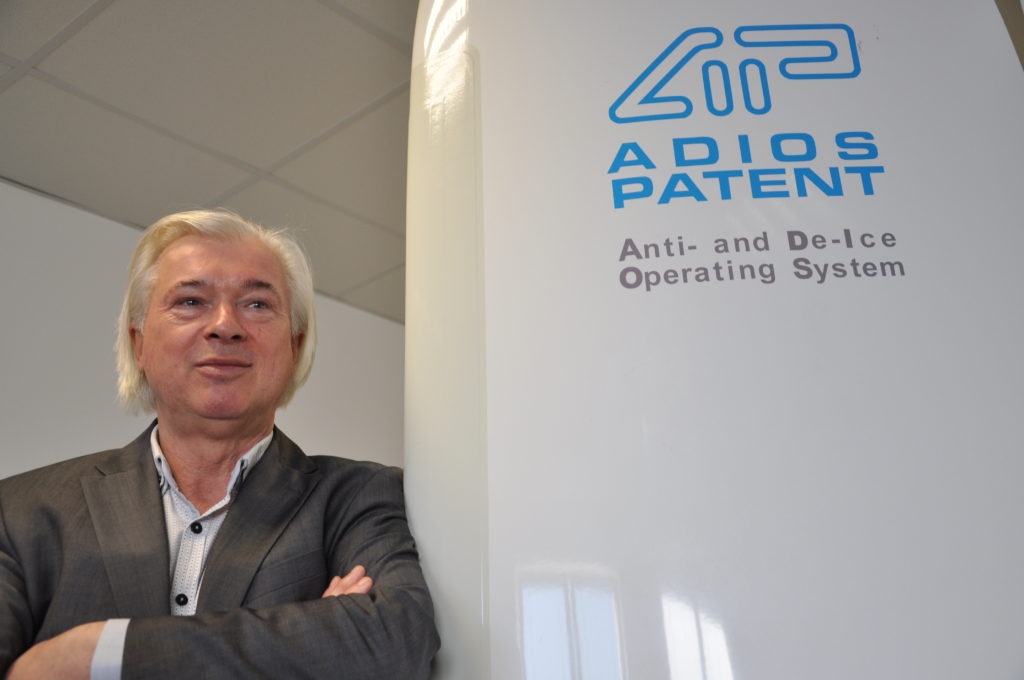 The third Phoe­nix Con­tact Wind Power Tech­no­lo­gy Con­gress was held in Blom­berg in Febru­a­ry 2019. The sub­jec­ts were ent­hral­ling, the speakers top-class.
One pre­sen­ta­ti­on, howe­ver, was so visio­na­ry that the aut­hor of this arti­cle deci­ded, after con­sul­ta­ti­on with the spe­cia­list col­leagues ("Is he cra­zy, or is this to be taken serious­ly?"), to find out more about "Blan­cair" and the CO2 vacu­um clea­ner on the wind tur­bi­ne by going to the site in Ham­burg Fin­ken­wer­der to talk to the per­son behind this visi­on.
Award-win­ning rest­less spi­rit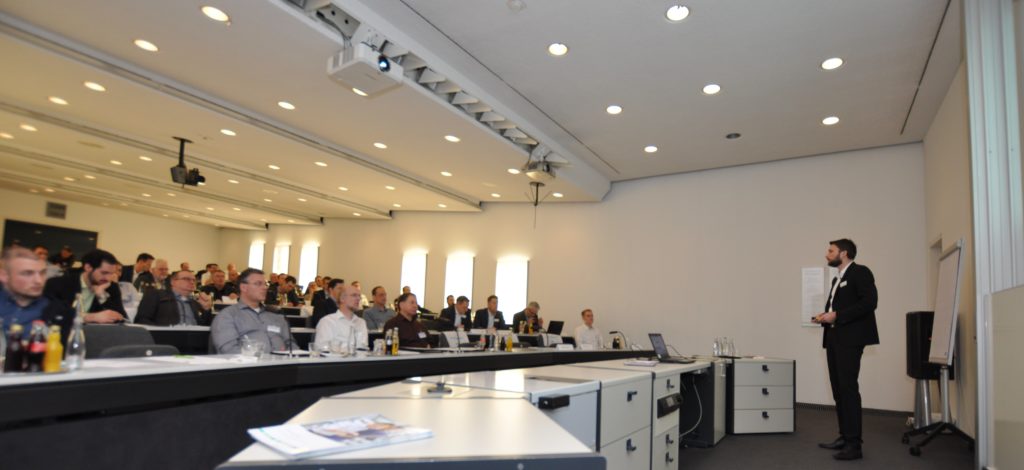 If you were to call any­bo­dy Gyro Gear­loo­se, the Walt Dis­ney cha­rac­ter, then Jörg Spitz­ner would be right at the top of the list. And qui­te liter­al­ly, becau­se he tru­ly is an expert in gears, gyros, injec­tors, and aero­dy­na­mics. After all, Spitz­ner worked for the air­craft manu­fac­tu­rer Air­bus for many years. But at some point, he found the cor­po­ra­te cons­traints too much for his ambi­tious free spi­rit – and foun­ded his own engi­nee­ring firm, Spitz­ner Engi­neers, in 2007. The main custo­mer: his for­mer employ­er, who is based just round the cor­ner here in Fin­ken­wer­der.
From wings to rotor bla­des
It is, howe­ver, not very safe to stand on just one leg. Jörg Spitz­ner and his team are accom­plished aero­dy­na­mic engi­neers. The­re is not a gre­at deal of dif­fe­rence bet­ween the wings of an Air­bus and the rotor bla­des of a wind tur­bi­ne. Spitz­ner dar­ed to bridge the gap. "We have been app­ly­ing the tech­no­lo­gy of air­craft manu­fac­tu­ring to the wind indus­try sin­ce then", exp­lains the 56 year-old engi­neer.
In 2009, Spitz­ner Engi­neers deve­lo­ped the princip­le of airstream con­trol on rotor bla­des. "We open the tip of the rotor bla­de and, by dril­ling small holes on the root of the bla­de, ensu­re opti­mi­zed aero­dy­na­mics. The rota­tio­nal ener­gy alo­ne crea­tes an airstream that signi­fi­cant­ly increa­ses the ener­gy yield of wind tur­bi­ne gene­ra­tors with the­se modi­fi­ca­ti­ons." As a part of the pro­ject, they also equip­ped the rotor bla­des with winglets and a saw­tooth-like rear edge.
During the next deve­lop­ment pro­ject, an inno­va­ti­ve de-icing sys­tem for rotor bla­des, Spitz­ner found the right part­ner in Phoe­nix Con­tact. "The idea, cal­cu­la­ti­ons, and com­mis­sio­ning came from us. But we aren't elec­tro­nics engi­neers – this is whe­re your col­leagues at Phoe­nix Con­tact came in." The "Anti- and De-Ice Ope­ra­ting Sys­tem" (ADIOS) is now almost rea­dy for series pro­duc­tion. The first test sys­tems with elec­tri­cal­ly hea­ta­ble coa­ting have been set up.
The
CO2

vacu­um clea­ner
The latest deve­lop­ment in the field of wind power ori­gi­na­tes from the expe­ri­ence gai­ned in rotor­blade opti­mi­za­ti­on. "When you open up the bla­de tips (1), the air which is initi­al­ly still flows out­wards when moti­on is app­lied (2). The power gene­ra­ted is enor­mous. We then wan­ted to find out what the effect of ope­ning up the root through to the hub of the wind tur­bi­ne (3) would be. From this, we dis­co­ve­r­ed that the cir­cu­la­ti­on gene­ra­ted would be per­fect for dry­ing the air (4). Inde­ed, con­den­sa­ti­on is a huge pro­blem, espe­ci­al­ly in the off­shore sec­tor."
But Spitz­ner and his col­leagues were thin­king one step fur­ther. "If the airstream gene­ra­tes such power, then we should also be able to fil­ter it (5). This ensu­res addi­tio­nal dry­ing in the sys­tem. And – now we come to our Blan­cair approach – we could also fil­ter CO2 out of the air (6)."
The back­ground to the idea was that despi­te all cli­ma­te pro­tec­tion mea­su­res, far too much CO2 is emit­ted into the atmo­s­phe­re world­wi­de. "This is pre­cise­ly whe­re we star­ted. With 'Blan­cair', we have so much ener­gy avail­ab­le that we can draw air in and fil­ter it. In this pro­cess, we can sepa­ra­te and collect the CO2, and make it pro­cess­able as e‑fuel – or dis­po­se of it."
This is a win-win situa­ti­on!
Jörg Spitz­ner is a visio­na­ry, but not a fan­ta­sist: "Natu­ral­ly, in the begin­ning we also asked our­sel­ves whe­ther this was even pos­si­ble. How sort of size does a retro­fit­t­a­ble sys­tem of this kind have to be? Would it fit in a nacel­le?" Today, Spitz­ner is abso­lute­ly cer­tain. "It's a win-win situa­ti­on. The idea tru­ly breaks the mold. And has now been paten­ted."
In respon­se to the ques­ti­on of whe­ther Spitz­ner sees him­s­elf more as an engi­neer or a cli­ma­te saver, he smi­les. "Both are true. Above all, we have inge­nious ide­as. But we also have a soci­al respon­si­bi­li­ty. For examp­le, we reject any orders from the defen­se indus­try."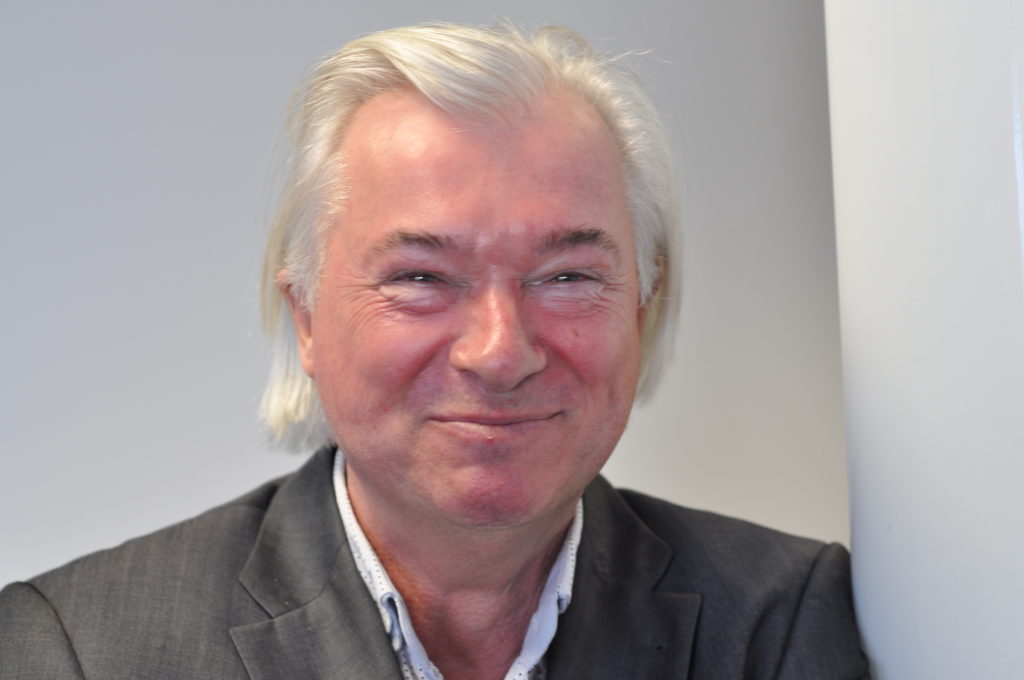 Any­bo­dy who gets to know Jörg Spitz­ner will quick­ly cot­ton on to the fact that one or ano­t­her of his and his team's ide­as is rea­dy and wai­ting for the next pre­sen­ta­ti­on – perhaps at the 2020 Wind Power Tech­no­lo­gy Con­gress in Blom­berg…
This post is also avail­ab­le in:

Deutsch