A cold day in May, near Pader­born – on-site visit to the field. In icy wind and hail, we take the oppor­tu­ni­ty to visit a pro­ject that is uni­que in Ger­ma­ny so far. But is the struc­tu­re a solar power plant? Or a greenhouse?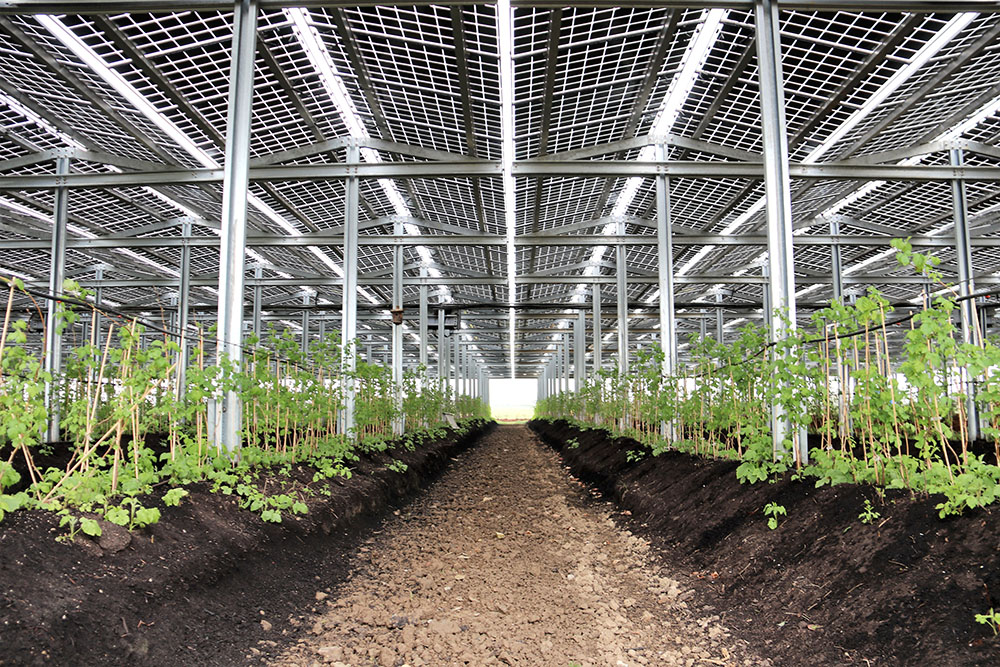 The ber­ries that far­mer and electri­cal engi­neer Fabi­an Kart­haus grows in Büren in eas­tern West­pha­lia don't care about the­se dis­cus­sions. Earth, blu­e­ber­ry and raspber­ry bus­hes obvious­ly feel right at home under the 4,200 squa­re meters of solar roof, as their owner tells us with some pri­de: "We had a real­ly good har­vest in the very first year with fruit that was abo­ve average in terms of both size and taste.
4,200 squa­re meters of solar sur­face, 800,000 kWh annu­al output
But for the buil­ding per­mit and pro­fi­ta­bi­li­ty of what Fabi­an Kart­haus calls Germany's first and lar­gest food-vol­taic plant, the­se defi­ni­ti­ons are qui­te cru­cial. "This is not an ele­va­ted pho­to­vol­taic sys­tem, it's a green­house," empha­si­zes Burk­hard Hes­se. The owner of a han­di­c­raft com­pa­ny spe­cia­li­zing in pho­to­vol­taics in neigh­bo­ring Gese­ke is the desi­gner and buil­der of the ener­gy-rich struc­tu­re. "It pri­ma­ri­ly pro­vi­des pro­tec­tion for the plants from hail and pre­ci­pi­ta­ti­on. As a result, the­re are fewer pro­blems with mold and dise­a­se. We'­ve also mea­su­red a tem­pe­ra­tu­re incre­a­se of up to three degrees here during the cold sea­son, so we'­re frost-free for much longer."
The plan­ta­ti­on under the solar modu­les is so cle­ver­ly desi­gned that rain­wa­ter is collec­ted via a drai­na­ge sys­tem. And this without drip­ping water from abo­ve fal­ling on the flower or fruit, which can cau­se dama­ge. The peat beds, laid out in long rows, pro­vi­de the right pH for the ber­ries. "Ber­ries need very aci­dic soils," exp­lains far­mer Kart­haus. "The natu­re of the sys­tem not only makes us self-suf­fi­ci­ent in ener­gy, but we did­n't have to use sup­ple­men­tal irri­ga­ti­on even during the extre­me­ly dry last sum­mer." For the orga­nic idea behind this plan­ta­ti­on, an important foundation.
"We would not have got­ten a solar farm appro­ved here. And when the buil­ding aut­ho­ri­ty was on site, we were cer­ti­fied that this was not a buil­ding and had to be dis­mant­led. But during a site visit short­ly after­wards, our sta­te buil­ding minis­ter sta­ted that the plant was very much a buil­ding and the­re­fo­re had to be appro­ved. So now it is a buil­ding, name­ly a green­house," Burk­hard Hes­se smi­les. And adds: "We could build foil tun­nel green­houses here until the hori­zon, which have to be dis­po­sed of after two years. But a long-las­ting solar plant seems pro­ble­ma­tic to the authorities."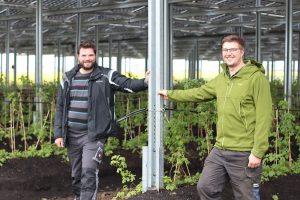 The electri­ci­ty yield of a good 800,000 kW/h per year easi­ly covers the plant's ope­ra­tio­nal requi­re­ments, with the rema­in­der being fed into the public grid. Ope­ra­tio­nal demand? Fabi­an Kart­haus points to the hall in the back­ground: "We have such high yiel­ds that we can't get rid of the ber­ries in direct sales on the farm alo­ne. So we deci­ded to free­ze-dry the sur­plus ber­ries. The plant requi­red for this is very ener­gy-inten­si­ve, but with the solar yiel­ds from the "green­house roof" this is not a pro­blem – we still don't pol­lu­te the environment."
From waist high over the trac­tor roof
The basis of the solar green­house is a ground-moun­ted sys­tem, which was set hig­her. The modu­les are ele­va­ted on stan­dard pile-dri­ven pro­files in a rein­for­ced ver­si­on that extend 170 cm into the ground. Con­struc­tion time for the ent­i­re plant was only about one mon­th. Hes­se points to the top: "The solar modu­les are a cus­tom-made pro­duct from the Solar­fa­brik in Wie­sen, Fran­co­nia. They do not have an inte­gra­ted UV fil­ter, and they have a resi­du­al light trans­mis­si­on of about ten per­cent. That's easi­ly enough for the plants."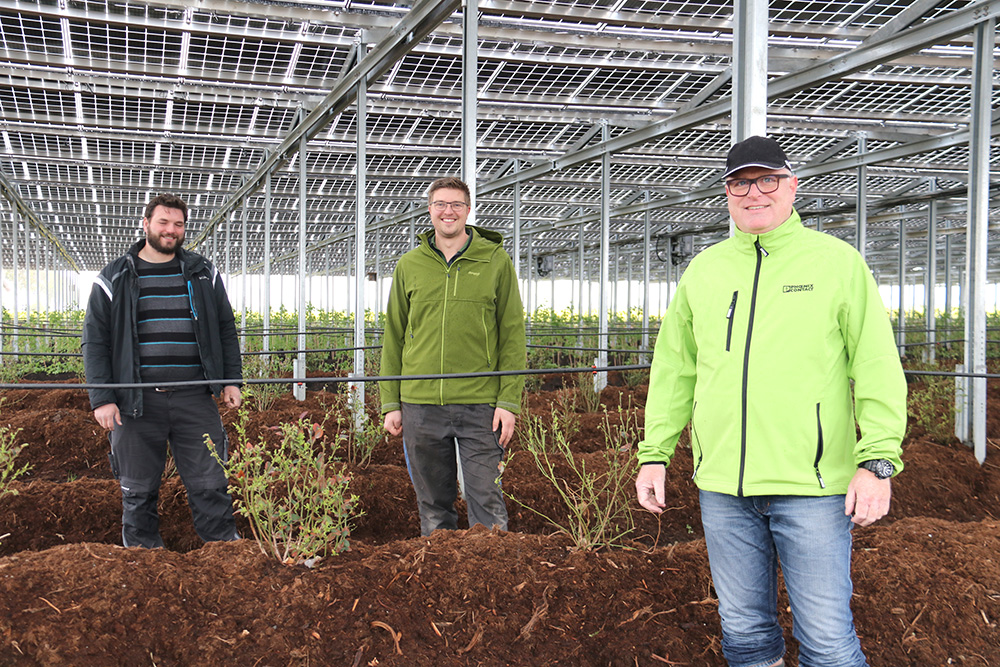 Cur­r­ent­ly, the Fraun­ho­fer-ISE-Insti­tut Frei­burg has asked if they can pro­vi­de sci­en­ti­fic sup­port for the plant. "Agri­cul­tu­ral pho­to­vol­taics is a new and very exci­ting topic that is also being dis­cus­sed in the sci­en­ti­fic com­mu­ni­ty worldwide."
Regu­la­ti­on with let­ter and seal
The sys­tem is regu­la­ted by the new EZA con­trol­ler from Phoe­nix Con­ta­ct. The PLCnext con­trol­ler inte­gra­ted in it not only takes over the record­ing of the cur­rent quan­ti­ties, but also recei­ves sen­sor data, for examp­le from the solar radia­ti­on. Pro­gramming and adap­t­ati­on of the con­trol­ler to the plant were car­ri­ed out by Burk­hard Hes­se and his team. "You could still run the irri­ga­ti­on con­trol on the same con­trol­ler, for examp­le." Hes­se is enthu­si­astic about the con­trol sys­tem: "The­re is still a lot of poten­ti­al in the tech­no­lo­gy. Espe­cial­ly when it comes to the requi­re­ments of net­work ope­ra­tors, which will con­ti­nue to incre­a­se in the future. And the con­trol sys­tem is cer­ti­fied, which also takes a lot of work off our hands."
The com­ple­xi­ty of the plant, its eco­lo­gi­cal balan­ce thanks to dual use, and the for­ward-loo­king tech­no­lo­gy should bring tears of joy to the eyes of the ope­ra­tors every time they take a tour, should­n't they? Fabi­an Kart­haus puts on a wry smi­le: "Well. Due to the new ener­gy feed-in amend­ment, the reve­nue from the electri­ci­ty we feed into the public grid is so low that the pure solar plant is not eco­no­mi­c­al­ly via­ble at the moment. And tra­di­tio­nal fruit and vege­ta­ble gro­wers rely on clas­sic greenhouses."
When it comes to self-con­sump­ti­on, the smart farmer's face brigh­tens again. "And when it comes to social accep­t­ance, of cour­se, we are right at the front. That arou­ses enthu­si­asm in every visi­tor." Hes­se adds with a broad smi­le, "And the ber­ries are of cour­se the hit, they'­re snat­ched out of our hands here."
Hes­se OHG
Phoe­nix Con­ta­ct Lösun­gen für Solarenergie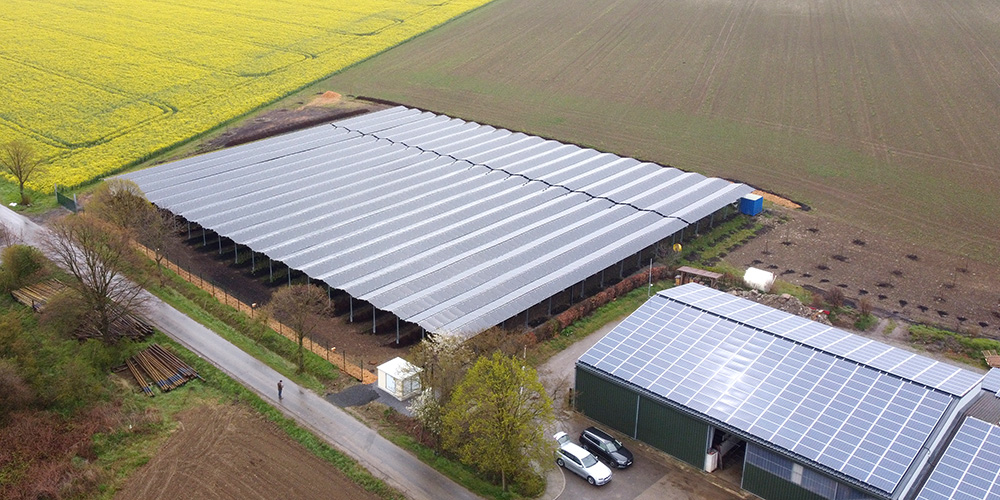 This post is also avail­ab­le in:

Deutsch