A cold day in May, near Paderborn – on-site visit to the field. In icy wind and hail, we take the opportunity to visit a project that is unique in Germany so far. But is the structure a solar power plant? Or a greenhouse?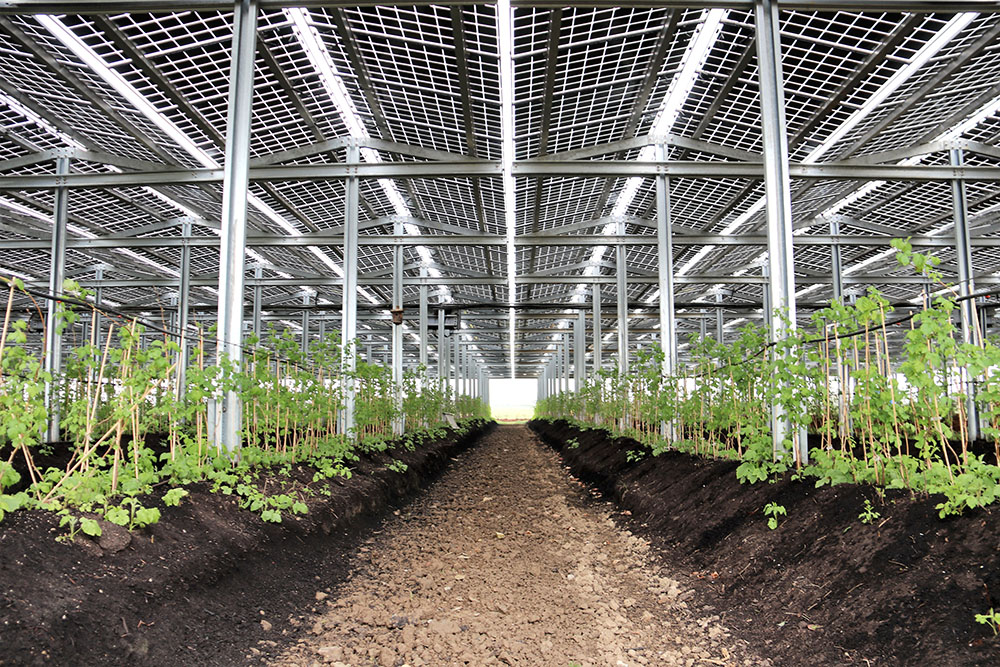 The berries that farmer and electrical engineer Fabian Karthaus grows in Büren in eastern Westphalia don't care about these discussions. Earth, blueberry and raspberry bushes obviously feel right at home under the 4,200 square meters of solar roof, as their owner tells us with some pride: "We had a really good harvest in the very first year with fruit that was above average in terms of both size and taste.
4,200 square meters of solar surface, 800,000 kWh annual output
But for the building permit and profitability of what Fabian Karthaus calls Germany's first and largest food-voltaic plant, these definitions are quite crucial. "This is not an elevated photovoltaic system, it's a greenhouse," emphasizes Burkhard Hesse. The owner of a handicraft company specializing in photovoltaics in neighboring Geseke is the designer and builder of the energy-rich structure. "It primarily provides protection for the plants from hail and precipitation. As a result, there are fewer problems with mold and disease. We've also measured a temperature increase of up to three degrees here during the cold season, so we're frost-free for much longer."
The plantation under the solar modules is so cleverly designed that rainwater is collected via a drainage system. And this without dripping water from above falling on the flower or fruit, which can cause damage. The peat beds, laid out in long rows, provide the right pH for the berries. "Berries need very acidic soils," explains farmer Karthaus. "The nature of the system not only makes us self-sufficient in energy, but we didn't have to use supplemental irrigation even during the extremely dry last summer." For the organic idea behind this plantation, an important foundation.
"We would not have gotten a solar farm approved here. And when the building authority was on site, we were certified that this was not a building and had to be dismantled. But during a site visit shortly afterwards, our state building minister stated that the plant was very much a building and therefore had to be approved. So now it is a building, namely a greenhouse," Burkhard Hesse smiles. And adds: "We could build foil tunnel greenhouses here until the horizon, which have to be disposed of after two years. But a long-lasting solar plant seems problematic to the authorities."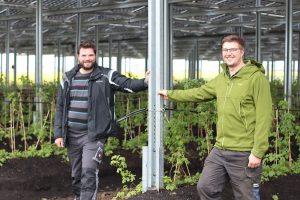 The electricity yield of a good 800,000 kW/h per year easily covers the plant's operational requirements, with the remainder being fed into the public grid. Operational demand? Fabian Karthaus points to the hall in the background: "We have such high yields that we can't get rid of the berries in direct sales on the farm alone. So we decided to freeze-dry the surplus berries. The plant required for this is very energy-intensive, but with the solar yields from the "greenhouse roof" this is not a problem – we still don't pollute the environment."
From waist high over the tractor roof
The basis of the solar greenhouse is a ground-mounted system, which was set higher. The modules are elevated on standard pile-driven profiles in a reinforced version that extend 170 cm into the ground. Construction time for the entire plant was only about one month. Hesse points to the top: "The solar modules are a custom-made product from the Solarfabrik in Wiesen, Franconia. They do not have an integrated UV filter, and they have a residual light transmission of about ten percent. That's easily enough for the plants."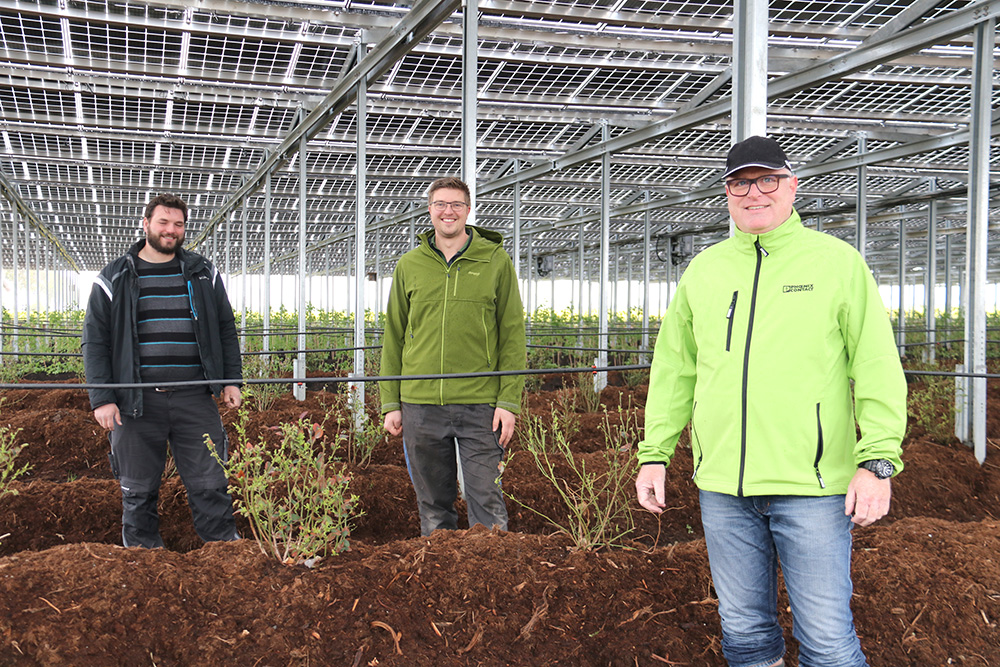 Currently, the Fraunhofer-ISE-Institut Freiburg has asked if they can provide scientific support for the plant. "Agricultural photovoltaics is a new and very exciting topic that is also being discussed in the scientific community worldwide."
Regulation with letter and seal
The system is regulated by the new EZA controller from Phoenix Contact. The PLCnext controller integrated in it not only takes over the recording of the current quantities, but also receives sensor data, for example from the solar radiation. Programming and adaptation of the controller to the plant were carried out by Burkhard Hesse and his team. "You could still run the irrigation control on the same controller, for example." Hesse is enthusiastic about the control system: "There is still a lot of potential in the technology. Especially when it comes to the requirements of network operators, which will continue to increase in the future. And the control system is certified, which also takes a lot of work off our hands."
The complexity of the plant, its ecological balance thanks to dual use, and the forward-looking technology should bring tears of joy to the eyes of the operators every time they take a tour, shouldn't they? Fabian Karthaus puts on a wry smile: "Well. Due to the new energy feed-in amendment, the revenue from the electricity we feed into the public grid is so low that the pure solar plant is not economically viable at the moment. And traditional fruit and vegetable growers rely on classic greenhouses."
When it comes to self-consumption, the smart farmer's face brightens again. "And when it comes to social acceptance, of course, we are right at the front. That arouses enthusiasm in every visitor." Hesse adds with a broad smile, "And the berries are of course the hit, they're snatched out of our hands here."
Hesse OHG
Phoenix Contact Lösungen für Solarenergie