The Süd­link (south link) trunk line is going ahead. The aim of the pro­ject is to bring rege­ne­ra­ti­ve electri­ci­ty to the south of Ger­ma­ny. In the north, it's not just the wind that blows. Tech­no­lo­gies also con­ver­ge to form an exci­ting pro­ject. So, we went to have a look …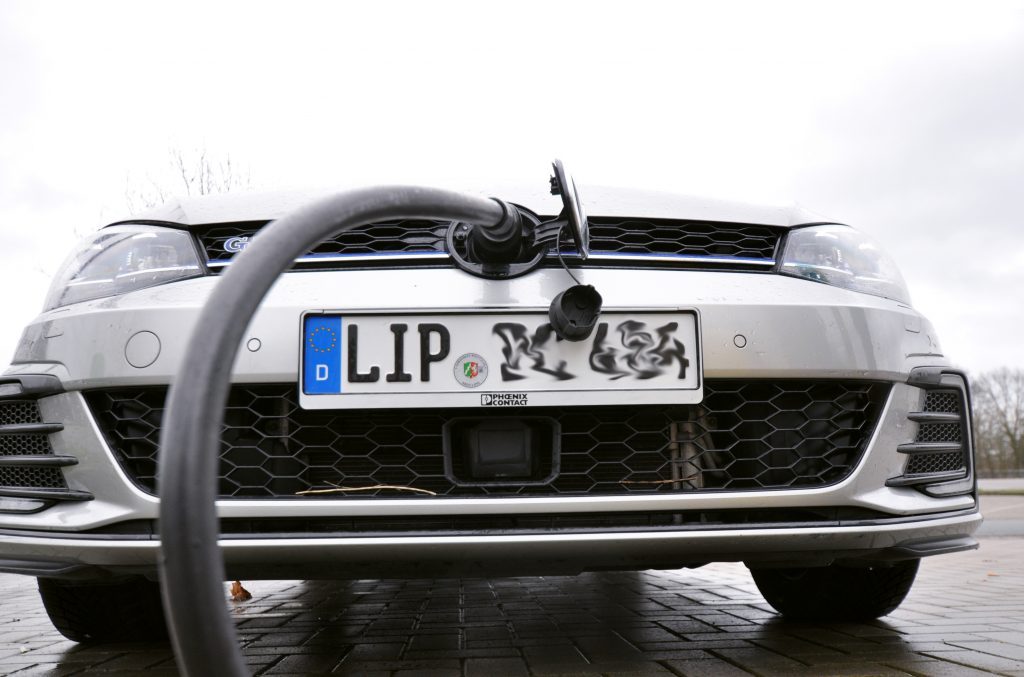 My col­league says things like "The peop­le at Ener­con think dif­fer­ent­ly to most in the indus­try", and Björn should know. Becau­se Björn knows Ener­con. This should­n't come as a sur­pri­se, becau­se Björn has alrea­dy been mana­ging the East Fri­sian regi­on for six years.
We are cur­r­ent­ly spee­ding silent­ly through Blom­berg, which is bathed in morning light. Silent­ly, becau­se the electric dri­ve of the vehi­cle, a Golf GTE, that we have orga­ni­zed for our trip north to the wind Eldo­ra­do pro­vi­des enough ener­gy for around 45 pure e‑kilometers. This is befit­ting of our jour­ney. At least, that is, until the hybrid vehi­cle runs out of char­ged ener­gy and swit­ches over to petrol. Alt­hough this is perhaps not ide­al when it comes to a report about elec­tro­mo­bi­li­ty and the avo­id­ance of fos­sil-fuel-dri­ven loco­mo­ti­on, but it is necessa­ry to be able to com­ple­te today's round trip of appro­xi­mate­ly 560 kilometers.
To the north
We are Björn Bül­ter and Lutz Ode­wald. Björn is not just an electri­cal engi­neer – he is also a Phoe­nix Con­ta­ct Key Account Mana­ger. He has also been acti­ve in the wind indus­try for a good 20 years – from manu­fac­tu­ring to ser­vice ("I can also car­ry out main­ten­an­ce on a tur­bi­ne"), through to cus­to­mer sup­port. At the last Wind tra­de fair in Ham­burg, he exp­lai­ned that Ener­con would now also be deve­lo­ping char­ging stations.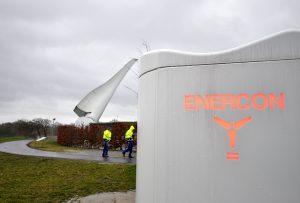 This promp­ted me to ask whe­ther we would be able to take an even clo­ser look. After all, as a jour­na­list respon­si­ble for the UPDATE maga­zi­ne, I have been unit­ing the inte­rests of the rene­wa­ble ener­gies and auto­mo­bi­le sec­tors for a long time now with enthu­si­asm and commitment.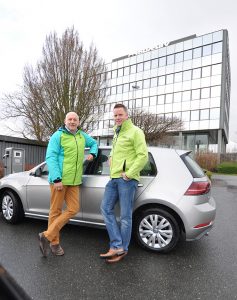 A cou­p­le of tele­pho­ne calls and e‑mails, and a few weeks later we are sit­ting in the E‑Golf, on our way to meet one of the most inte­res­ting play­ers in the glo­bal wind busi­ness. What is dri­ving ener­gy plant manu­fac­tu­rers and ener­gy gene­ra­tors to beco­me actively invol­ved in electromobility?
Ener­con is the lar­gest wind tur­bi­ne buil­der in Ger­ma­ny and, as the fifth lar­gest onshore manu­fac­tu­rer in the world, is very well posi­tio­ned. The com­pa­ny is head­quar­te­red in Aurich in East Fries­land. This is a stro­ke of luck for the regi­on, becau­se befo­re the wind ener­gy titan beca­me estab­lis­hed the­re, Aurich was most­ly flat, green, and qui­te far from the bea­ten track. Typi­cal East Fries­land, in other words.
Foul wea­ther
While Björn is impar­ting his know­ledge, high winds are whip­ping up the rain clouds. The wind farm ope­ra­tors wel­co­me this type of wea­ther – a full load is on the cards. This is typi­cal North Ger­man wea­ther any­way, so it's qui­te fitting.
The Golf has deple­ted the small amount of ener­gy stored in the electric dri­ve by the time we reach the free­way. From now on, petrol is our source of power. Even though I am not a fan of com­bi­ned pro­pul­si­on sys­tems – both the bat­te­ry and the fuel tank are small to ensu­re that the com­bi­ned weight of the ener­gy sources is not too high – no dri­ving bans are going to get in the way of this vehicle.
The first rays of hope
The North Ger­man low­lands extend far across the hori­zon. The sky is low, rain is pel­ting against the winds­creen. Exact­ly the right wea­ther to learn more about Ener­con from Björn. "Ener­con has always embraced new are­as of busi­ness ear­ly on. For examp­le, the com­pa­ny rea­li­zed that it could set its­elf apart from the com­pe­ti­ti­on in the area of ser­vice. And did so much ear­lier than any­bo­dy else. The ver­ti­cal ran­ge of manu­fac­tu­re at the com­pa­ny is also uni­que world­wi­de. With its nume­rous sub­si­dia­ries, the East Fries­land com­pa­ny pro­du­ces gene­ra­tors, nacel­les, con­cre­te and steel tubu­lar towers, rotor bla­des, con­trol­lers, power elec­tro­nics, and a part of the cast com­pon­ents in its own factories.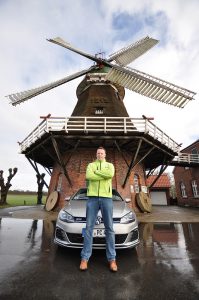 Short­ly befo­re reaching Aurich, we dri­ve past one of the few sur­vi­ving old grain wind­mills. The electri­ci­ty genera­ting wind­mill also has a long histo­ry. As ear­ly as 1887, the Scots­man James Bly­th built one of the first sys­tems to sup­ply ener­gy to what at the time was his holi­day home. At the same time, Charles Fran­cis Brush built an electri­ci­ty wind­mill in Ohio which was equip­ped with a two-sta­ge gear­box. The 20 meter high sys­tem dro­ve a 12 kW generator.
The city of chieftains
We final­ly pass the city limits of Aurich, the old chief­tain town of the Fri­sians. That's right, the Fri­sians were led by chief­tains right up until the midd­le ages. For a long time, they were even elec­ted. This inde­pen­dent and head­strong folk are still con­si­de­red reni­tent today when it comes to intro­du­cing new things and the unknown. It is the­re­fo­re all the more sur­pri­sing that the electri­cal engi­neer Aloys Wob­ben estab­lis­hed his com­pa­ny head­quar­ters here, as far back as 1984. He began with three employees. Today, the com­pa­ny is a glo­bal play­er with world­wi­de pro­duc­tion faci­li­ties and sys­tems in more than 45 countries.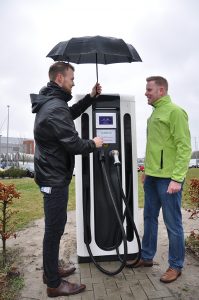 As we dri­ve up to the "E‑Charger 600", Tobi­as Trau­er­nicht is alrea­dy wai­t­ing for us. The per­son­ab­le engi­neer arri­ved in the in-house E‑Golf, becau­se our hybrid is not com­pa­ti­ble with "fast" DC char­ging. The sun has long gone, and the wind is dri­ving the rain hori­zont­al­ly through the air.
8 minu­tes for 400 kilometers
This does­n't affect the 350 kW fast char­ging sta­ti­on at all. "This is still a pro­to­ty­pe, but Ener­con is plan­ning to start seri­es pro­duc­tion in 2019", enthu­ses Trau­er­nicht, unfa­zed by the thra­shing rain. "With the right vehi­cle, enough ener­gy for 400 kilo­me­ters can be char­ged in just eight minu­tes." He glan­ces slight­ly sym­pa­the­ti­cal­ly at our hybrid, which can only dream of char­ging rates such as this.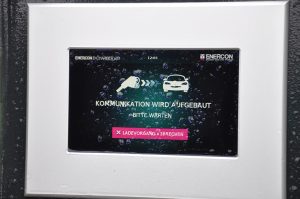 Natu­ral­ly, we are plea­sed to see on first glance the Phoe­nix Con­ta­ct char­ging con­nec­tor, which is also capa­ble of trans­por­ting signi­fi­cant­ly hig­her cur­r­ents thanks to acti­ve coo­ling. The char­ging con­nec­tor, howe­ver, is not the only part to ori­gi­na­te from East West­pha­lia. "Ener­con and Phoe­nix Con­ta­ct have ent­e­red into a deve­lo­p­ment coope­ra­ti­on here and are also taking a decisi­ve step for­ward tog­e­ther in rela­ti­on to the sub­ject of char­ging sta­ti­ons. For Ener­con, this is a signi­fi­cant deve­lo­p­ment, becau­se tog­e­ther we are ope­ning up an ent­i­re­ly new field of busi­ness. We are facing up to struc­tu­ral chan­ges, not only in the area of rege­ne­ra­ti­ve ener­gy, but also mobility."
Con­se­quent­ly, what is alrea­dy being lived and brea­thed as a cor­po­ra­te phi­lo­so­phy at Phoe­nix Con­ta­ct is also beco­m­ing an inte­gral part of our col­la­bo­ra­ti­on in Aurich. If elec­tro­mo­bi­li­ty and rege­ne­ra­ti­ve ener­gies are con­si­de­red as parts of a who­le, this would appe­ar to be a logi­cal development.
Char­ging pole paradoxon
Not logi­cal, but typi­cal: the rain just does not stop. Nevertheless, we stop off on the return jour­ney at a high­way ser­vice area – a pic­to­gram with char­ging sta­ti­on beck­ons us and our e‑runabout. It's almost need­less to say that here too we are also gree­ted by a Phoe­nix Con­ta­ct char­ging connector …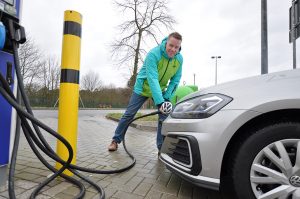 The fact that we are not able to char­ge due to mis­sing cards just goes to show that the Süd­link power line is not the only pro­ject that has a long way to go.
But that's ano­t­her story.