The Südlink (south link) trunk line is going ahead. The aim of the project is to bring regenerative electricity to the south of Germany. In the north, it's not just the wind that blows. Technologies also converge to form an exciting project. So, we went to have a look …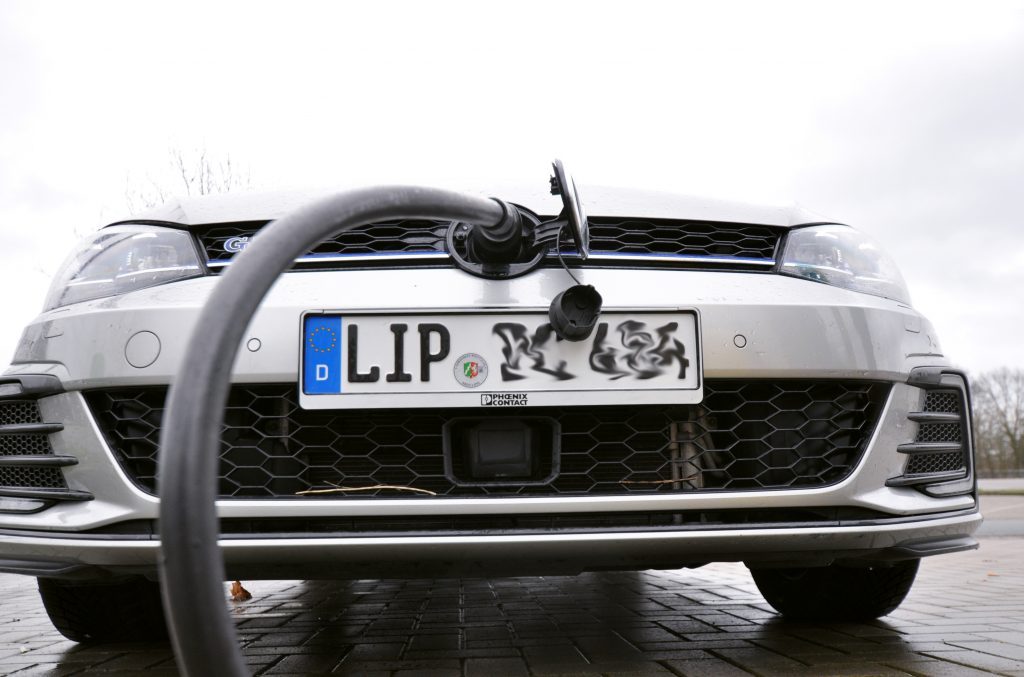 My colleague says things like "The people at Enercon think differently to most in the industry", and Björn should know. Because Björn knows Enercon. This shouldn't come as a surprise, because Björn has already been managing the East Frisian region for six years.
We are currently speeding silently through Blomberg, which is bathed in morning light. Silently, because the electric drive of the vehicle, a Golf GTE, that we have organized for our trip north to the wind Eldorado provides enough energy for around 45 pure e-kilometers. This is befitting of our journey. At least, that is, until the hybrid vehicle runs out of charged energy and switches over to petrol. Although this is perhaps not ideal when it comes to a report about electromobility and the avoidance of fossil-fuel-driven locomotion, but it is necessary to be able to complete today's round trip of approximately 560 kilometers.
To the north
We are Björn Bülter and Lutz Odewald. Björn is not just an electrical engineer – he is also a Phoenix Contact Key Account Manager. He has also been active in the wind industry for a good 20 years – from manufacturing to service ("I can also carry out maintenance on a turbine"), through to customer support. At the last Wind trade fair in Hamburg, he explained that Enercon would now also be developing charging stations.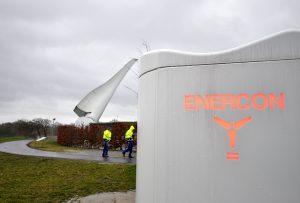 This prompted me to ask whether we would be able to take an even closer look. After all, as a journalist responsible for the UPDATE magazine, I have been uniting the interests of the renewable energies and automobile sectors for a long time now with enthusiasm and commitment.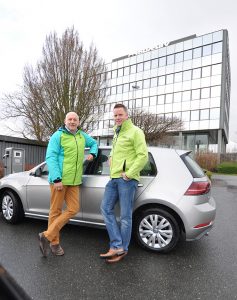 A couple of telephone calls and e-mails, and a few weeks later we are sitting in the E-Golf, on our way to meet one of the most interesting players in the global wind business. What is driving energy plant manufacturers and energy generators to become actively involved in electromobility?
Enercon is the largest wind turbine builder in Germany and, as the fifth largest onshore manufacturer in the world, is very well positioned. The company is headquartered in Aurich in East Friesland. This is a stroke of luck for the region, because before the wind energy titan became established there, Aurich was mostly flat, green, and quite far from the beaten track. Typical East Friesland, in other words.
Foul weather
While Björn is imparting his knowledge, high winds are whipping up the rain clouds. The wind farm operators welcome this type of weather – a full load is on the cards. This is typical North German weather anyway, so it's quite fitting.
The Golf has depleted the small amount of energy stored in the electric drive by the time we reach the freeway. From now on, petrol is our source of power. Even though I am not a fan of combined propulsion systems – both the battery and the fuel tank are small to ensure that the combined weight of the energy sources is not too high – no driving bans are going to get in the way of this vehicle.
The first rays of hope
The North German lowlands extend far across the horizon. The sky is low, rain is pelting against the windscreen. Exactly the right weather to learn more about Enercon from Björn. "Enercon has always embraced new areas of business early on. For example, the company realized that it could set itself apart from the competition in the area of service. And did so much earlier than anybody else. The vertical range of manufacture at the company is also unique worldwide. With its numerous subsidiaries, the East Friesland company produces generators, nacelles, concrete and steel tubular towers, rotor blades, controllers, power electronics, and a part of the cast components in its own factories.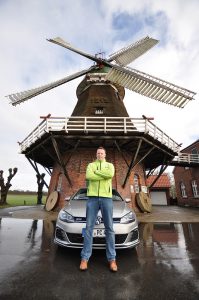 Shortly before reaching Aurich, we drive past one of the few surviving old grain windmills. The electricity generating windmill also has a long history. As early as 1887, the Scotsman James Blyth built one of the first systems to supply energy to what at the time was his holiday home. At the same time, Charles Francis Brush built an electricity windmill in Ohio which was equipped with a two-stage gearbox. The 20 meter high system drove a 12 kW generator.
The city of chieftains
We finally pass the city limits of Aurich, the old chieftain town of the Frisians. That's right, the Frisians were led by chieftains right up until the middle ages. For a long time, they were even elected. This independent and headstrong folk are still considered renitent today when it comes to introducing new things and the unknown. It is therefore all the more surprising that the electrical engineer Aloys Wobben established his company headquarters here, as far back as 1984. He began with three employees. Today, the company is a global player with worldwide production facilities and systems in more than 45 countries.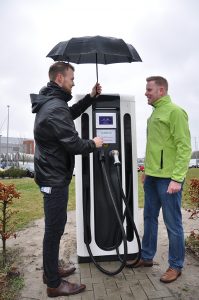 As we drive up to the "E-Charger 600", Tobias Trauernicht is already waiting for us. The personable engineer arrived in the in-house E-Golf, because our hybrid is not compatible with "fast" DC charging. The sun has long gone, and the wind is driving the rain horizontally through the air.
8 minutes for 400 kilometers
This doesn't affect the 350 kW fast charging station at all. "This is still a prototype, but Enercon is planning to start series production in 2019", enthuses Trauernicht, unfazed by the thrashing rain. "With the right vehicle, enough energy for 400 kilometers can be charged in just eight minutes." He glances slightly sympathetically at our hybrid, which can only dream of charging rates such as this.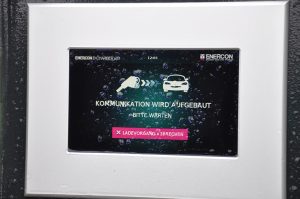 Naturally, we are pleased to see on first glance the Phoenix Contact charging connector, which is also capable of transporting significantly higher currents thanks to active cooling. The charging connector, however, is not the only part to originate from East Westphalia. "Enercon and Phoenix Contact have entered into a development cooperation here and are also taking a decisive step forward together in relation to the subject of charging stations. For Enercon, this is a significant development, because together we are opening up an entirely new field of business. We are facing up to structural changes, not only in the area of regenerative energy, but also mobility."
Consequently, what is already being lived and breathed as a corporate philosophy at Phoenix Contact is also becoming an integral part of our collaboration in Aurich. If electromobility and regenerative energies are considered as parts of a whole, this would appear to be a logical development.
Charging pole paradoxon
Not logical, but typical: the rain just does not stop. Nevertheless, we stop off on the return journey at a highway service area – a pictogram with charging station beckons us and our e-runabout. It's almost needless to say that here too we are also greeted by a Phoenix Contact charging connector …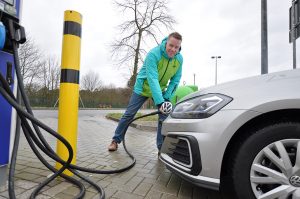 The fact that we are not able to charge due to missing cards just goes to show that the Südlink power line is not the only project that has a long way to go.
But that's another story.