When the only com­pres­sed air ener­gy sto­rage and gas tur­bi­ne power sta­ti­on in Euro­pe went into ope­ra­ti­on in Hun­torf, Ger­ma­ny, in 1978, an ener­gy revo­lu­ti­on towards rene­wa­bles had not even been thought of. But today, this uni­que tech­no­lo­gy could beco­me an important buil­ding block for the All Electric Society.
During off-peak peri­ods at night, the base-load electri­ci­ty gene­ra­ted by lar­ge power plants should be stored and deli­ve­r­ed during the day, at peak load times. This was the task of the com­pres­sed air sto­rage power plant Hun­torf, built in 1978. In addi­ti­on, the com­pres­sed air sto­rage faci­li­ty should sup­ply neigh­bo­ring power plants with emer­gen­cy power in the event of power grid fail­u­res, sin­ce the­se too requi­re start-up assi­s­tance in such situa­tions. Today, com­ple­te­ly new tasks await the old­ti­mer of power stations.
Pres­su­re down below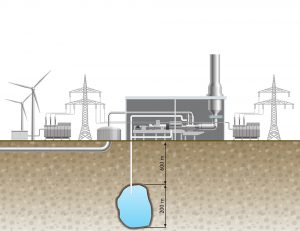 Com­pres­sed air ener­gy sto­rage sounds a litt­le mun­da­ne. A litt­le like com­pres­sed air cylin­ders. Pres­su­re ves­sels of mana­ge­ab­le dimen­si­ons. Tho­se used in diving or as an air pres­su­re dis­pen­ser at the gas sta­ti­on. But the sca­le on which the power sta­ti­on ope­ra­tors in Hun­torf think has not­hing to do with the­se small things. "To crea­te the­se caverns, two salt domes were leached – that is to say, flus­hed out – from a depth of 650 to 800 meters," exp­lains Phil­ip Eiben. It's no won­der that the Sta­te Office for Mining, Ener­gy, and Geo­lo­gy (LBEG) of Lower Sax­o­ny is respon­si­ble for the offi­cial super­vi­si­on of the salt caverns.
And that holds up? After all, air is com­pres­sed up to 72 bar here. "The­re is still at least 600 meters of earth and rock bet­ween us and the caverns," Eiben reas­su­res us. The elec­tro­nics tech­ni­ci­an for indus­tri­al engi­nee­ring knows "his" plant insi­de out; after all, he has been working on it for seven years to ensu­re its smooth ope­ra­ti­on. "This sto­rage tech­no­lo­gy has been tried and tes­ted for deca­des. Next door the­re are depo­sits of natu­ral gas, also in salt dome caverns. They are abso­lute­ly tight." Eiben points to a plant that can be seen in the distance. "We recei­ve our natu­ral gas, which we need for ener­gy pro­duc­tion, from there."
Gigan­tic air pump
World­wi­de, the­re is only one com­pa­ra­ble power plant in acti­ve use, and an expe­ri­men­tal power plant in the Gott­hard Base Tun­nel. The princip­le of the pres­su­re accu­mu­la­tor is very simp­le: If you have ener­gy left over, it is used to dri­ve a huge com­pres­sor, a kind of over­si­zed air pump. This pumps air into the hol­lo­wed out salt dome. Up to 23,000 tons of air find room in the dark cave in the bel­ly of the earth. If ener­gy is now nee­ded, this com­pres­sed air is allo­wed to rise again in a con­trol­led man­ner to dri­ve a gas turbine.
Becau­se the air is humid and cools down as it expands, it would cau­se any sys­tem to free­ze up. Natu­ral gas is the­re­fo­re sup­plied via a gas pipe­line. This air-gas mix­tu­re is fed into a gas tur­bi­ne and bur­ned. Electri­cal ener­gy is pro­du­ced by a cou­pled gene­ra­tor. The pro­por­ti­on of natu­ral gas in the air-gas mix­tu­re is around just three percent.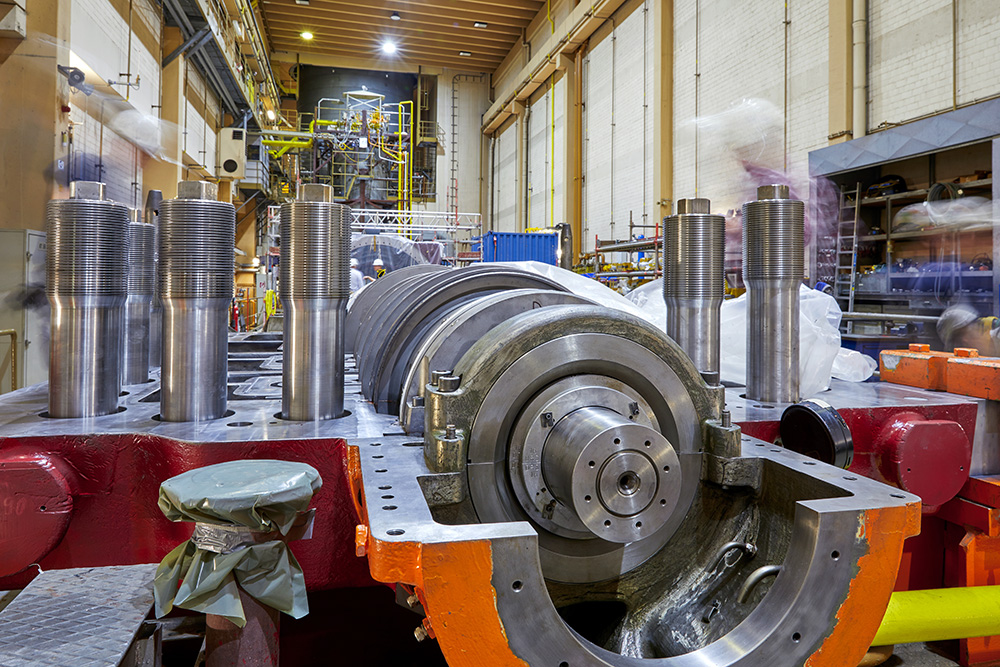 The effi­ci­en­cy, at more than 42 per­cent, is high com­pa­red to con­ven­tio­nal gas tur­bi­nes due to the natu­ral gas and com­pres­sed air sup­ply nee­ded. "The balan­ce will be even bet­ter if wind farms would other­wi­se have to be shut down becau­se you don't know what to do with the ener­gy gene­ra­ted," Eiben exp­lains, con­vin­ced of the impor­t­ance of his power station.
Black-start capa­ble
The power plant can deli­ver the full capa­ci­ty of 321 mega­watts for three hours. For a fur­ther five hours, the plant will then ope­ra­te at decre­a­sing capa­ci­ty in line with the fal­ling com­pres­sed air pres­su­re. This out­put is cal­led up by remo­te con­trol from the Düs­sel­dorf con­trol cen­ter by Uni­per, the power plant ope­ra­tor. This is whe­re dis­patchers are loca­ted who per­ma­nent­ly keep an eye on the electri­ci­ty mar­ket and call up the ener­gy from Hun­torf when con­di­ti­ons are favorable.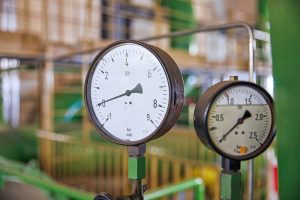 This is also the eco­no­mic task of the ener­gy sto­rage power sta­ti­on. This is becau­se Hun­torf can only be ope­ra­ted pro­fi­ta­b­ly if the electri­ci­ty is sold at times when pri­ces are high and stored when genera­ti­on pri­ces are low.
Cur­r­ent­ly, the ener­gy sto­rage faci­li­ty is on stand­by for most of the year. A huge advan­ta­ge of the ener­gy sto­rage power sta­ti­on is that it can be star­ted very quick­ly. Wit­hin just three minu­tes, Hun­torf is up and run­ning at 50 per­cent, reaching full out­put after just seven minu­tes. And the sys­tem is "black-start capa­ble"; that is to say, it can start up auto­no­mous­ly in the event of a total power fail­u­re and ensu­re that grid ope­ra­ti­ons are restored.
Star­s­hip Enterprise
The con­trol sys­tem and the tech­ni­cal equip­ment instal­led here are as old as the power sta­ti­on its­elf – the con­trol room is like a throw­back to Star­s­hip Enter­pri­se. Des­pi­te regu­lar main­ten­an­ce, it was clear that the equip­ment would not be able to meet future challenges.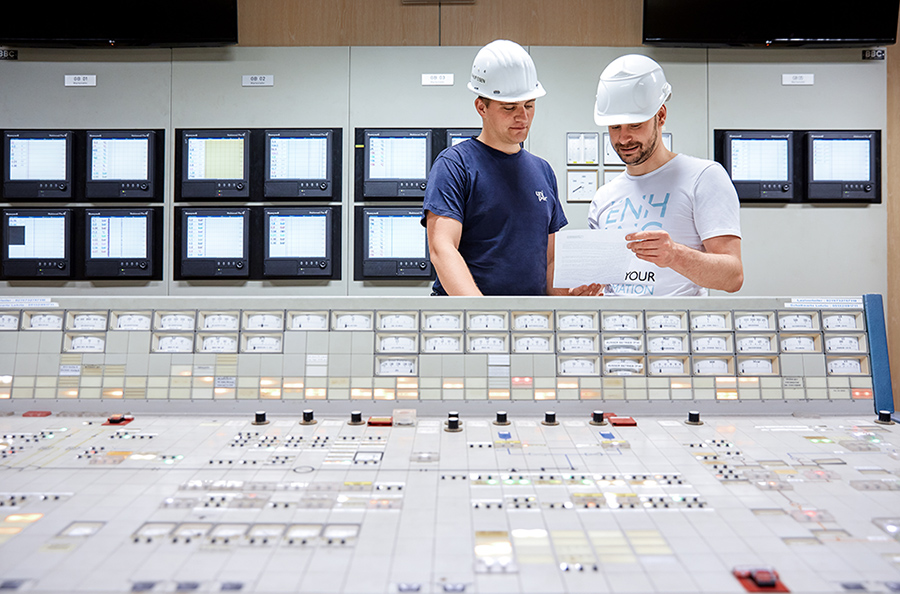 One rea­son is that as part of the plant's initi­al expan­si­on, key ope­ra­ting data has to be read from the exis­ting power sta­ti­on con­trol­ler via the Modbus/TCP fiel­dbus pro­to­col and dis­play­ed via web-based visua­liz­a­ti­on. To ensu­re that the ope­ra­ting per­son­nel can respond quick­ly to any mal­func­tions, rele­vant alert messages are sent to their smart­pho­nes. Fur­ther­mo­re, all ope­ra­ting data must be made avail­ab­le to the hig­her-level super­vi­so­ry con­trol room loca­ted at the Uni­per power sta­ti­on in Wilhelmshaven.
The requi­re­ments of the ope­ra­tor make it clear that com­pa­ti­bi­li­ty bet­ween the new tech­ni­cal sys­tem and the exis­ting con­trol engi­nee­ring is cru­cial. At the same time, the solu­ti­on should sup­port future tech­no­lo­gies. This is why, when it came to imple­men­ting the plant expan­si­on pro­ject, Uni­per cho­se PLCnext Tech­no­lo­gy from Phoe­nix Contact.
Pro­tec­tion for cri­ti­cal infrastructure
PLCnext Con­trol is a com­po­nent part of this eco­sys­tem. It is an open con­trol plat­form based on a Linux ope­ra­ting sys­tem. In the Hun­torf power sta­ti­on, the PLCnext Con­trol device reads the key ope­ra­ting data from the exis­ting power sta­ti­on con­trol­ler and for­wards it to the local web visua­liz­a­ti­on, which can be acces­sed using a stan­dard browser.
Power sta­ti­ons are part of the cri­ti­cal infra­st­ruc­tu­re. They the­re­fo­re requi­re spe­cial pro­tec­tion when it comes to IT secu­ri­ty so that atta­ckers do not have an easy time. A ful­ly and deeply inte­gra­ted secu­ri­ty stra­te­gy is the basis for com­pre­hen­si­ve pro­tec­tion. To ensu­re the inte­gri­ty, avai­la­bi­li­ty, and abo­ve all con­fi­den­tia­li­ty of all data, PLCnext Tech­no­lo­gy offers secu­ri­ty by design. The hard­ware and soft­ware are the­re­fo­re alrea­dy deve­lo­ped to be as robust and imper­vious to cyber attacks as possible.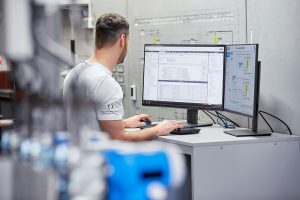 "The PLCnext Con­trol device is the ide­al solu­ti­on for con­nec­ting the Hun­torf sto­rage power sta­ti­on to the exis­ting con­trol sys­tem as well as for rea­ding and for­war­ding the data," reports Uwe Krü­ger, Head of Ope­ra­ti­ons Power Plant Group Wil­helms­ha­ven. "The open con­trol plat­form enab­les us to fle­xi­b­ly com­bi­ne the older exis­ting com­mu­ni­ca­ti­on paths with new solu­ti­ons. This allows us to expand the power sta­ti­on without a gre­at deal of effort and expen­se, ensu­ring that it is fit to hand­le future challenges."
This post is also avail­ab­le in:

Deutsch