Until now, wind tur­bi­nes have been con­si­de­red a rock-solid affair. Ancho­red unsha­ka­b­ly in the ground, the tower, the mova­ble nacel­le and the three rotor bla­des defy the for­ces of wind and wea­ther. Until now. Becau­se Sön­ke Sieg­fried­sen wants to unleash them from this earth-bound state.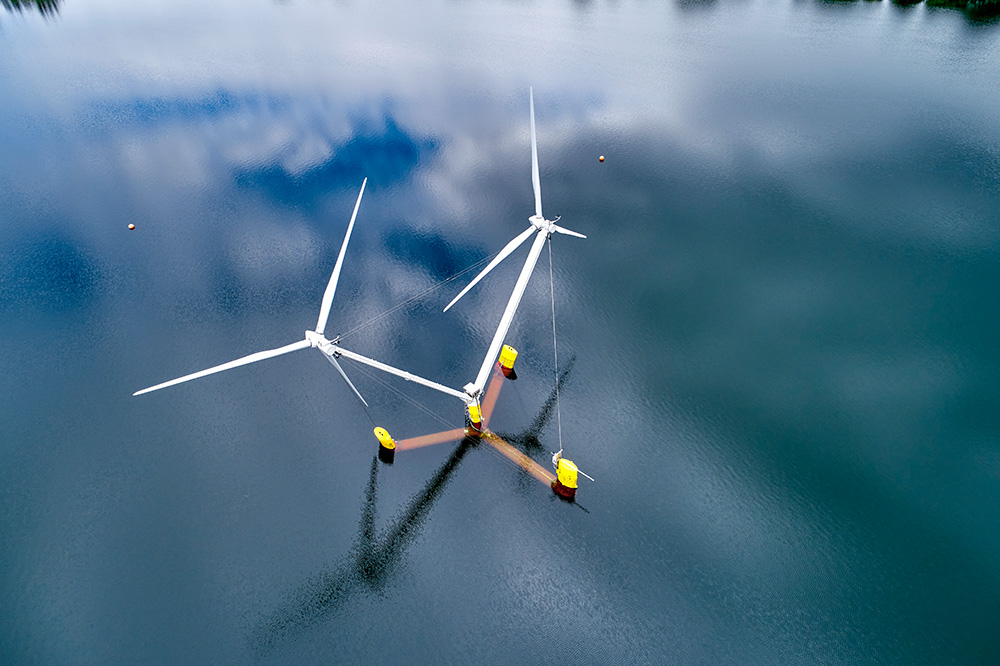 The man is a true pioneer in the wind power indus­try. A suc­cess­ful entre­pre­neur. A tech­ni­ci­an. And a visio­na­ry and glo­be­trot­ter. Second home Chi­na – not only for someo­ne with head­quar­ters in Rends­burg a big leap. With his Nez­zy2 Sön­ke Sieg­fried­sen even lea­ves the solid ground. Becau­se he and his team teach the wind tur­bi­ne how to swim.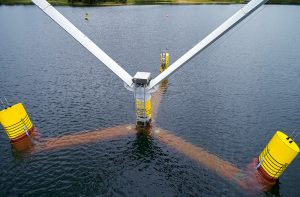 Floa­ter is the name of this floa­ting ener­gy pro­vi­der in the indus­try. And they enjoy a high level of atten­ti­on. Becau­se floaters could beco­me an important ele­ment of glo­bal ener­gy pro­duc­tion. This is due to the limits that are pou­red into the con­cre­te feet of the sta­tio­na­ry plants. Name­ly, the need to balan­ce the for­ces that pull on the ent­i­re plant 200 meters abo­ve it by means of a solid foun­da­ti­on.
The seabed must not be deeper than about 60 meters, becau­se bey­ond that the mas­si­ve con­cre­te foun­da­ti­ons can­not be laid in the seabed.
The solu­ti­on lies in the chain
Sön­ke Sieg­fried­sen is a North Ger­man lad strai­ght out of a sto­ry­book. Alrea­dy com­for­ta­ble on a sailboat by the age of three, he lear­ned to sail at seven, and com­pe­ted at age 14 in the Opti­mist ding­hy world cham­pions­hips. Sin­ce stu­dy­ing phy­sics in Lübeck, he has been addic­ted to ener­gy and its pro­duc­tion. And sin­ce visi­t­ing a pionee­ring wind tur­bi­ne in Den­mark in 1978, he has been awa­re that wind will not only have an affect in his sai­ling world.
He built his first wind tur­bi­ne on the roof of the Uni­ver­si­ty of App­lied Sci­en­ces in Lübeck in 1979. Sin­ce then, 50 patent fami­lies and 27 com­ple­te wind tur­bi­ne gene­ra­tors have grown out of the­se ear­ly begin­nings. "Over 50,000 tur­bi­nes are in ope­ra­ti­on in Chi­na based on our design, our deve­lo­p­ment," says the head of aero­dyn engi­nee­ring gmbh proudly.
And he points casual­ly over his shoul­der with his thumb. "And this is our latest esca­pa­de." We are sit­ting on the shore of a quar­ry lake bet­ween Cux­ha­ven and Bre­mer­ha­ven in Ger­ma­ny. The sun is shi­ning and the clouds are play­ing mer­ry-go-round in the sky. A dou­ble-hea­ded mons­ter floats on the mir­ror-smooth lake, stret­ching a total of six rotor bla­des up to 18 meters in height. If its inven­tor has his way, the solu­ti­on for the off­shore wind indus­try is floa­ting right here.
Sta­ble thanks to tension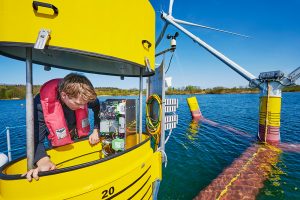 "The sys­tem weighs around six tons," says Sieg­fried­sen, describ­ing the dimen­si­ons of the floa­ting wind tur­bi­ne gene­ra­tor. Con­cre­te weights are instal­led on the seabed to hold the hull of the wind tur­bi­ne gene­ra­tor – a sub­mer­si­ble buoy – in place using six anchor chains. This buoy is the floa­ting foun­da­ti­on of the wind tur­bi­ne gene­ra­tor. It is made up of pre-stres­sed, pre­cast con­cre­te ele­ments, which come tog­e­ther in a hori­zon­tal Y shape. This floa­ting foun­da­ti­on aligns its­elf auto­no­mous­ly using the wind cur­rent. In con­trast to sys­tems on land, it is not the sin­gle nacel­les that rota­te, but rather the ent­i­re abo­ve-water system.
The two towers, which are set up at an ang­le and con­nec­ted to each other and to the foun­da­ti­on by ancho­ring cables, are built on this foun­da­ti­on. At the moment, three-bla­ded rotors are tur­ning, but alter­na­ti­ve two-bla­ded rotors are alrea­dy wai­t­ing to be tes­ted. The sys­tem is com­ple­ted by lar­ge yel­low floats, which are inten­ded to ensu­re the sta­ble floa­ting posi­ti­on of the wind tur­bi­ne on the water surface.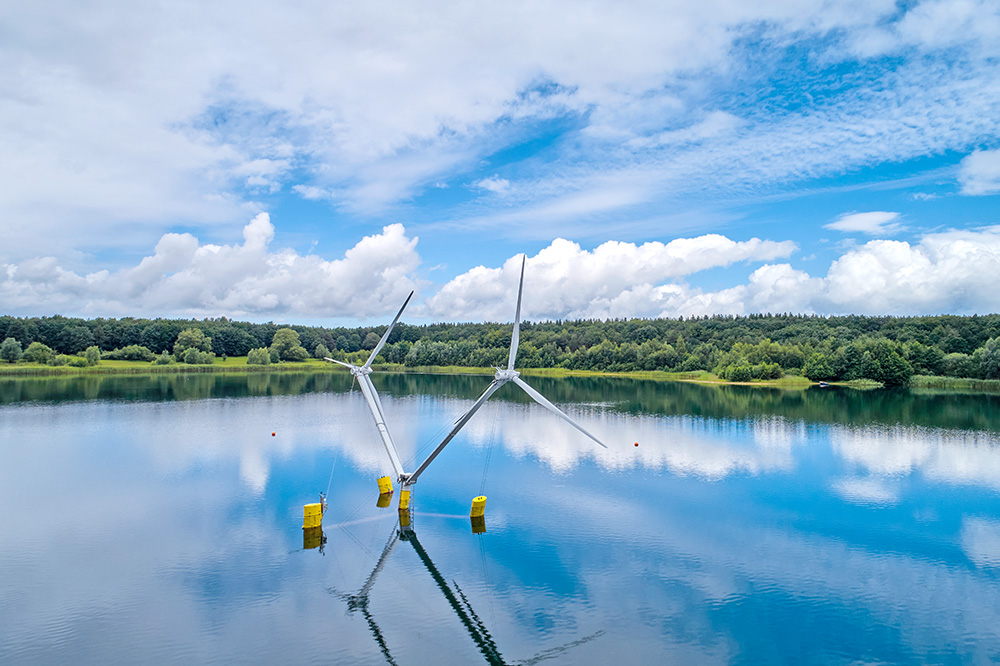 Tes­ting – that is the mot­to. Nez­zy2 is a rese­arch faci­li­ty. A data collec­tor. More than four mil­li­on data are collec­ted in 10 minu­tes. Every 10 minu­tes. Timo Kos­nie­cz­ki, Key Account Mana­ger of the wind team at Phoe­nix Con­ta­ct, exp­lains: "We were alrea­dy invol­ved in the pre­de­ces­sor Nez­zy 1, which was tes­ted in the Sea of Japan".
Safe­ly through the cyclone
The dou­ble-hea­ded sys­tem is sta­ble thanks to its inno­va­ti­ve clam­ping tech­no­lo­gy. Moni­to­ring during ope­ra­ti­on is also very important. What hap­pens if a rotor fails? Or high waves set the anchor chains in moti­on or a hur­ri­ca­ne sweeps over the plant? Real-time data, high degree of auto­ma­ti­on, extre­me relia­bi­li­ty – without cut­ting-edge tech­no­lo­gy, Nez­zy beco­mes a mons­ter. With Nez­zy2, the PLCnext Engi­neer pro­gram was alrea­dy used during the deve­lo­p­ment pha­se. From the pitch sys­tems to the main switch cabi­net, a total of six PLCnext con­trol­lers are used in the sys­tem. They record the sen­sor data, per­form cal­cu­la­ti­ons and take over the cor­rect con­trol of the com­pon­ents. The con­trol and syn­chro­ni­ci­ty of the two tur­bi­nes is of cour­se extre­me­ly important.
No won­der that the col­leagues of the wind team from Phoe­nix Con­ta­ct are also fasci­na­ted. "For us it was the first time that we worked on and with a two-tur­bi­ne sys­tem. That is very exci­ting. In order to add new func­tions and opti­mi­ze the tasks of our auto­ma­ti­on tech­no­lo­gy, we exch­an­ged new soft­ware packa­ges with the col­leagues from Reca­se almost every day," says App­li­ca­ti­on Engi­neer Lukas Christ, describ­ing the pionee­ring work. Reca­se is the com­pa­ny that plan­ned and com­mis­sio­ned the electri­cal engi­nee­ring of Nez­zy2. Timo Kos­nie­cz­ky is visi­b­ly impres­sed by the dou­ble-hea­ded mons­ter: "This is tru­ly pionee­ring work. And we are part­ners in real basic rese­arch. We are actively deve­lo­ping the pro­gramming of the con­trol sys­tem in coope­ra­ti­on with Recase".
And will all of this real­ly hold tog­e­ther, even away from the quiet North Ger­man quar­ry lake and in dimen­si­ons ten times grea­ter? "Of cour­se," Sön­ke Sieg­fried­sen says with cer­tain­ty. "The sys­tem of floa­ting work plat­forms is not new; the oil pro­duc­tion indus­try has been using this con­cept for a long time. And wind tur­bi­nes have also been taught how to swim. But the spe­cial thing about our sys­tem here is the con­cept of the two towers. This is the only way to ensu­re that the addi­tio­nal design work will pay off. Qui­te sim­ply, the sys­tem can sim­ply cap­tu­re twice as much wind power."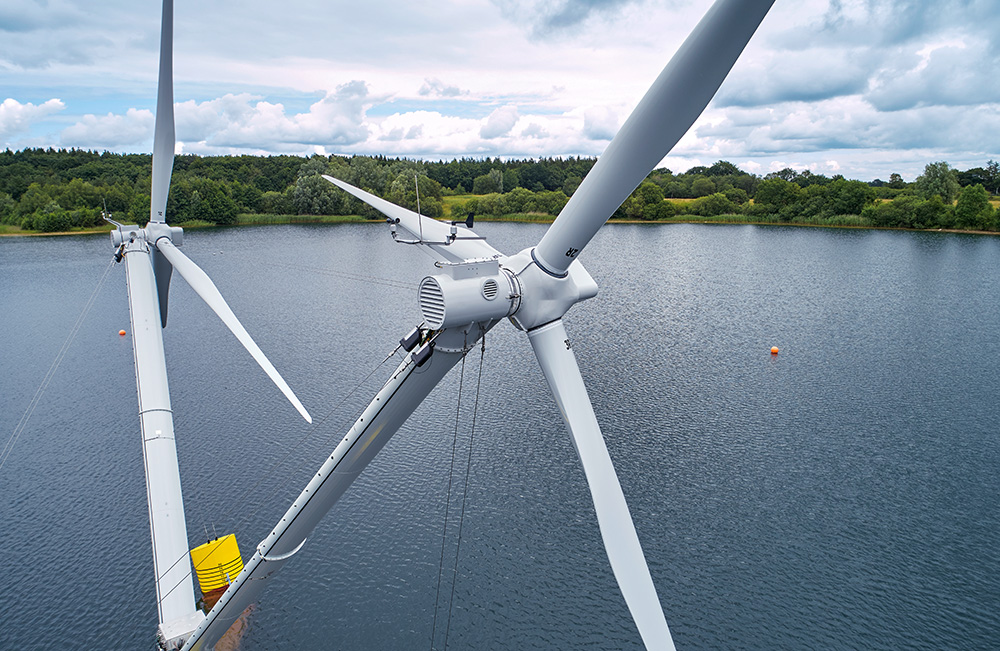 The real wind and waves will start to blow in Octo­ber, when Nezzy2 is sche­du­led to move. Out of the lake, into the Greifs­wal­der Bod­den, into the Bal­tic Sea, which will then alrea­dy be win­dy. How will the floa­ting dou­ble head per­form in cur­rent, strong wind and waves? If all the tests are suc­cess­ful, the who­le world will be wai­t­ing for Nez­zy – the con­struc­tion of a real lar­ge-sca­le plant is to take place on China's coast. Then the sen­sa­tio­nal wind tur­bi­ne will stretch its two hubs into the wind at a height of 180 meters ins­tead of 18. But in Chi­na you have expe­ri­ence with kites. So Nez­zy2 can come quietly.
Aero­dyn Ener­gie­sys­te­me
Reca­se Rege­ne­ra­ti­ve Ener­gien
Phoe­nix Con­ta­ct Windenergie
Addi­ti­on
Some­ti­mes rea­li­ty over­ta­kes you. Just a moment ago we were sit­ting on the shore of a dred­ging lake in Bre­mer­ha­ven, Lower Sax­o­ny, inter­viewing wind ener­gy pioneer Sön­ke Sieg­fried­sen, and his uni­que power plant pre­sen­ted here is alrea­dy swim­ming in the Bal­tic Sea.
The 18 meter high wind tur­bi­ne on a sca­le of 1:10 has mean­while moved from the dred­ging lake to the Greifs­wald Bod­den, off the Ger­man Bal­tic coast. Here it is expo­sed to the har­sh rea­li­ty of wind and waves. Howe­ver, electri­ci­ty is not yet being gene­ra­ted in this test pha­se, the buil­ders and their part­ners around the ener­gy pro­vi­der EnBW reveal.
This post is also avail­ab­le in:

Deutsch