When the­se col­leagues get going, local public uti­li­ties have to put in extra shifts. Trabtech's light­ning pro­tec­tion labo­ra­to­ry enjoys a legen­da­ry repu­ta­ti­on and is home to count­less deve­lo­p­ments that pro­tect us from atmo­s­phe­ric mischief, espe­cial­ly in the face of incre­a­singly seve­re cli­ma­te change.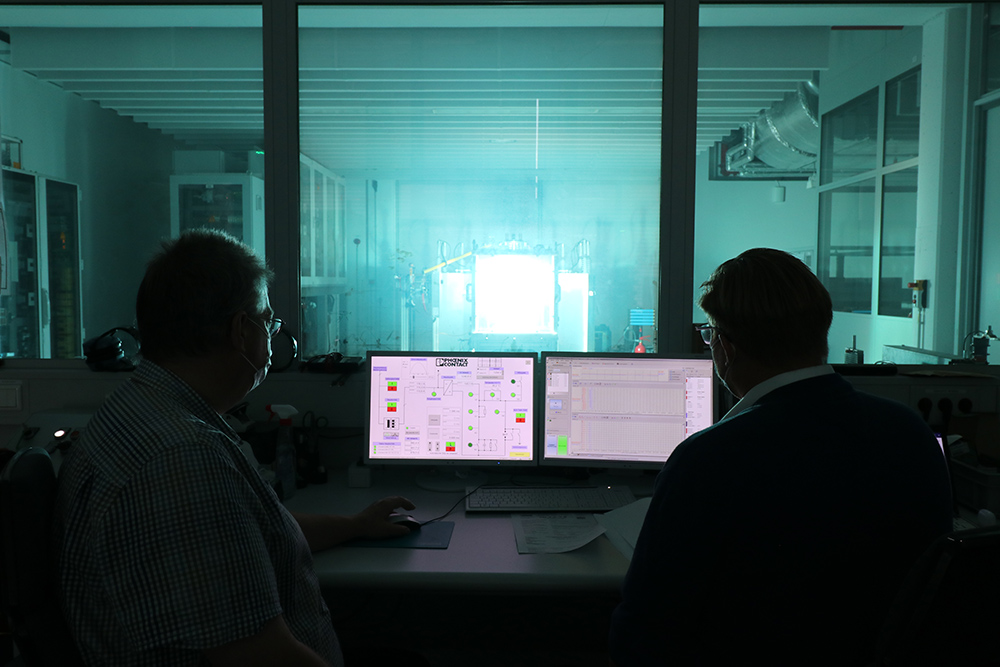 If you were cyni­cal, you would say that the Trab­tech busi­ness unit is one of the bene­fi­cia­ries of cli­ma­te chan­ge. After all, what incre­a­sed tem­pe­ra­tu­re makes our pla­net war­mer ends up in our atmo­s­phe­re in the form of water vapor and ener­gy, among other things. And the­se are the buil­ding blocks that make up thun­der­storms. Their inten­si­ty is steadi­ly increasing.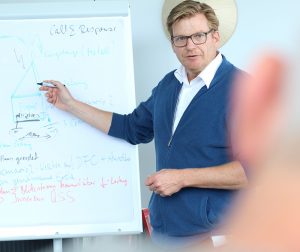 Howe­ver, Arno Kie­fer is not ent­i­re­ly com­for­ta­ble with this bold assess­ment. The Direc­tor Mar­ket Deve­lo­p­ment is the sales voice of the light­ning makers. He empha­si­zes: "Actual­ly, the num­ber of thun­der­storms is not incre­a­sing. What is incre­a­sing, howe­ver, is the com­bi­na­ti­on of rege­ne­ra­ti­ve ener­gy sources, vola­ti­le ener­gy grids and all kinds of con­trol elec­tro­nics. And all of that wants and needs to be pro­tec­ted from surges."
An atten­ti­on that can­not be taken for gran­ted. Arno Kie­fer sighs: "Every electri­cal sys­tem func­tions without light­ning pro­tec­tion to begin with. The need for it is usual­ly only con­si­de­red after dama­ge has occur­red. So you real­ly only need us when it's alrea­dy too late. Even more so when you know that not every coun­try has the legal requi­re­ments that exist in Germany."
Potz­blitz
Light­ning is a par­ti­cu­lar­ly impo­sing form of ener­gy dischar­ge. They can reach a thun­der­storm vol­ta­ge of up to 1.3 bil­li­on volts (pre­vious record hol­der in India) or have the enor­mous length of over 700 kilo­me­ters (mea­su­red by satel­li­te over Bra­zil). Light­ning is most fre­quent over Venezuela's Lake Mara­cai­bo (up to 240 nights per year). And the lon­gest-las­ting sin­gle flash lit up the sky for 16.73 seconds (sigh­ted in Argen­ti­na in 2019).
In com­pa­ri­son, a "nor­mal" sum­mer thun­der­storm seems almost like a mild bree­ze, with light­ning bolts with an average strength of around 100,000 amperes and a vol­ta­ge of around 100 mil­li­on volts eit­her raging bet­ween the clouds or racing towards the earth.
This is also pos­si­ble in Blom­berg: If all reser­ves are mobi­li­zed in Phoe­nix Contact's light­ning pro­tec­tion labo­ra­to­ry, then light­ning inten­si­ties of up to 100,000 amperes are also pos­si­ble here. "As a rule, howe­ver, we work with much less ener­gy," exp­lains Arno Kie­fer, "becau­se a natu­ral light­ning bolt will only enter the buil­ding with half the for­ce, and the other half is dischar­ged via the ground. And in the feed, the rest is then dis­tri­bu­t­ed once again."
When the ten­si­on takes over
Light­ning is only one form of over­vol­ta­ge that can cau­se dama­ge to electri­cal and elec­tro­nic equip­ment. Albeit a par­ti­cu­lar­ly drastic one that has the grea­test dest­ruc­ti­ve poten­ti­al. To pro­tect against it, you need exter­nal light­ning pro­tec­tion that dis­si­pa­tes the electri­cal dischar­ge along a defi­ned con­duc­ti­ve path and does not allow it into the house or onto electri­cal equip­ment. Even an impact some distance away can be enough to trig­ger dama­ge to in-house instal­la­ti­ons.
An ent­i­re­ly dif­fe­rent form of sur­ge occurs when lar­ge cur­rent collec­tors trig­ger swit­ching ope­ra­ti­ons. The­se swit­ching ope­ra­ti­ons crea­te high­ly unwel­co­me dis­tur­ban­ces in power grids that can be so seve­re that they also cau­se dest­ruc­ti­ve surges.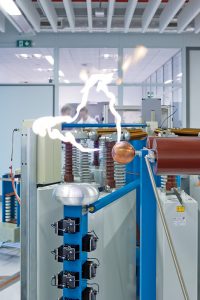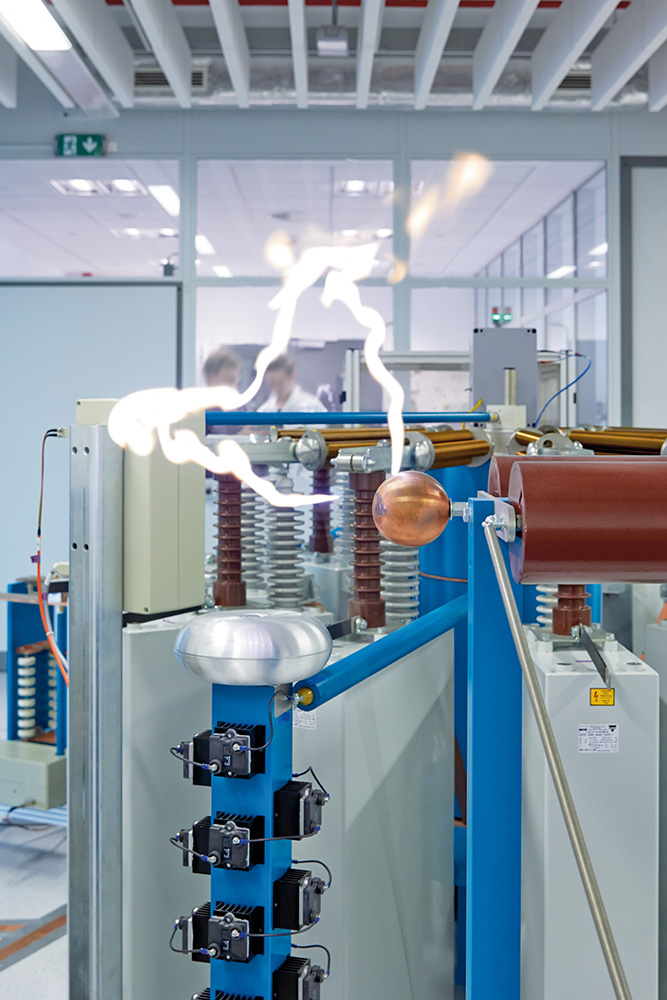 An order of magnitu­de smal­ler are the over­vol­ta­ges cau­sed by elec­tro­sta­tic dischar­ges. They occur when bodies with dif­fe­rent elec­tro­sta­tic poten­ti­als approach each other and char­ge is exch­an­ged, for examp­le on con­veyor belts in logistics and pro­duc­tion. Sen­si­ti­ve elec­tro­nic devices and sys­tems are affec­ted here.
After fire and storms, sur­ges cau­se the most dama­ge. In 2012, they accoun­ted for around 18 per­cent of all insu­red los­ses. And the trend is rising, becau­se our modern world is beco­m­ing incre­a­singly elec­tro­nic and net­wor­ked. More and more and incre­a­singly sen­si­ti­ve elec­tro­nic devices deter­mi­ne ever­y­day life in pri­va­te house­holds, but also in com­mer­cial and indus­tri­al faci­li­ties. At the same time, it is not only the poten­ti­al of thun­der­storms that is incre­a­sing. Our ener­gy grids also have to cope with chan­ging amounts of electri­ci­ty as rene­wa­ble ener­gy gene­ra­tors feed into the grid. This is often resen­ted by the con­su­mers who depend on it, who would pre­fer to have it always steady and constant.
Small lab with big successes
The histo­ry of the Blom­berg light­ning pro­jec­tors began qui­te unspec­ta­cu­lar­ly in a small buil­ding on the edge of the lar­ge Phoe­nix Con­ta­ct com­pa­ny pre­mi­ses. Plant 3 was the first and long-stan­ding home of the sur­ge cur­rent labo­ra­to­ry. This is whe­re nume­rous ide­as were born, whe­re peop­le thought, tin­ke­red, tried out, and filed several patents. A small labo­ra­to­ry with gre­at suc­ces­ses, as Arno Kie­fer notes with pride.
But at some point, the rooms were sim­ply no lon­ger suf­fi­ci­ent – plan­ning for a new buil­ding began. And if not­hing else, the new home of the busi­ness unit was not only to inclu­de a labo­ra­to­ry, but also to take on repre­sen­ta­ti­ve tasks and beco­me the home of the asso­cia­ted offices. In 2014, the buil­ding was cere­mo­nious­ly inaugurated.
A place of destruction
Et voi­là, today we are stan­ding behind a lar­ge pane of glass sepa­ra­ting us from the arti­fi­cial natu­ral events, watching Arno Kie­fer and depu­ty lab mana­ger Frank Schä­fer try to push clam­ped-in safe­ty modu­les to the edge of their load-bea­ring capa­ci­ty. "And pre­fer­a­b­ly a bit bey­ond that," grins Schä­fer, who has been working with sur­ges for 14 years. "Our lab is uni­que becau­se not only do we have exten­si­ve tech­ni­cal capa­bi­li­ties here, but we can also per­form all the tes­ting requi­red for any con­ceiva­ble appro­val in the electri­cal field. Our accredi­ted labo­ra­to­ry is inde­pen­dent, so it also tests pro­ducts that are not manu­fac­tu­red by Phoe­nix Con­ta­ct." Com­pe­ti­tor pro­ducts as well? "Yes, we have a spe­cial role here and are also obli­ged to main­tain con­fi­den­tia­li­ty wit­hin the scope of this activity."
In Blom­berg in par­ti­cu­lar, the capa­bi­li­ties of the Phoe­nix Con­ta­ct labo­ra­to­ries enjoy an almost rever­en­ti­al repu­ta­ti­on. The light­ning labo­ra­to­ry is loca­ted direct­ly on one of the two power sup­ply lines of the small town in eas­tern West­pha­lia. Due to a sys­tem fault, the lights actual­ly went out brief­ly in half the town in the ear­ly days. "Today, this is tech­ni­cal­ly impos­si­ble, but back then it was of cour­se a first-class exci­te­ment," Arno Kie­fer knows to report.
The repu­ta­ti­on as one of the most exci­ting rese­arch labo­ra­to­ries of Phoe­nix Con­ta­ct pre­ce­des the lords of light­ning: Espe­cial­ly among the electri­cal tra­de, visi­tor tours under expert gui­d­ance are high­ly sought after.
New tasks
This is not always about con­ven­tio­nal pro­tec­tion in the fami­li­ar AC net­works. The topic of DC grids is incre­a­singly com­ing into focus in the con­text of the incre­a­sed expan­si­on of rene­wa­ble ener­gies. Pho­to­vol­taics, in par­ti­cu­lar, most­ly pro­du­ce direct cur­rent, which is then not only fed into the grids, but also adjus­ted via con­ver­ters or stored in bat­te­ry sys­tems. "The­se dif­fe­rent sources and their cha­rac­te­ris­tics are still unchar­ted ter­ri­to­ry in terms of over­vol­ta­ges and faul­ty beha­vi­or. Here, we are rese­ar­ching at full speed in order to deve­lop cus­to­mi­zed pro­ducts for the dif­fe­rent sys­tems in the future," says Kie­fer, who is not very worried about his future prospects.
Phoe­nix Con­ta­ct Sur­ge Pro­tec­tion
Phoe­nix Con­ta­ct Trab­tech Whitepaper
This post is also avail­ab­le in:

Deutsch