When wal­king through the plant, the­re is a con­stant crack­ling noi­se abo­ve. And the warnings are still rin­ging in our ears: Always take small steps. Do not rai­se your arms too high and plea­se do not wave an umbrel­la around. Theo­re­ti­cal­ly, the bus­bar is far enough away. Theoretically…
Crime sce­ne Remp­ten­dorf in one of the most beau­ti­ful cor­ners of Thu­rin­gia, far in the south of the federal sta­te. A visit to a trans­for­mer sta­ti­on, which in its dimen­si­ons and arran­ge­ment has more of a sta­di­um cha­rac­ter. "This is whe­re power lines of all three vol­ta­ge levels meet, i.e. 110 kilo­volt (kV), 220 and 380 kV. And not only in terms of ener­gy, but also topo­gra­phi­cal­ly," Mahs­um Kar descri­bes the plant and points to the various ter­races whe­re the trans­for­mer sta­ti­on is located.
The 31-year-old electri­cal engi­nee­ring gra­dua­te gives us ano­t­her tip. "You can also see the dif­fe­ren­ces on the masts. One insu­la­tor is used for 110 kV, two for the 220 kV grid, and three on the 380 kV line." Kar is a nati­ve Thu­rin­gi­an who has pre­vious­ly worked as a pro­ject mana­ger for remo­te con­trol tech­no­lo­gy in the field of rene­wa­ble ener­gies and medi­um-vol­ta­ge grids.
Reichs­sam­mel­schie­ne of the 30's
So he is not only right here in Remp­ten­dorf, but also in the team of Ener­gy Auto­ma­ti­on from Phoe­nix Con­ta­ct. Becau­se the experts from Gera are acti­ve on site here to install a new genera­ti­on of sta­ti­on con­trol tech­no­lo­gy. Tho­mas Ehr­hardt, team and pro­ject mana­ger, exp­lains: "Remp­ten­dorf is a his­to­ri­cal plant, which was alrea­dy one of the hubs of the all-Ger­man power sup­ply sys­tem at the time of the Reichs­sam­mel­schie­ne at the end of the 1930s.
Over the deca­des, the plant has been repeated­ly adap­ted to the requi­re­ments, becau­se even if the electri­ci­ty has not chan­ged, new deman­ds on the tech­no­lo­gy for trans­port and secu­ri­ty of sup­ply have con­ti­nu­al­ly been intro­du­ced and expan­ded." For examp­le, it was not until 1991 that a 380 kV line was con­nec­ted in Remp­ten­dorf, ther­eby put­ting ano­t­her "electri­ci­ty high­way" into operation.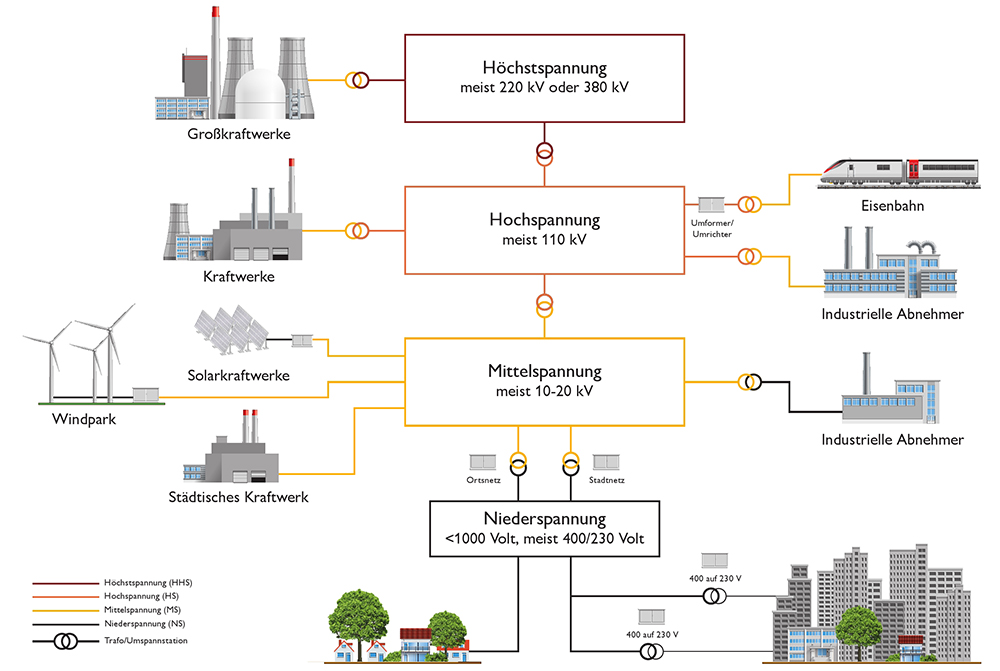 In an incre­a­singly elec­tri­fied world, the trans­port of the ener­gy sup­plier electri­ci­ty is beco­m­ing more and more important. A dis­tinc­tion is made bet­ween four vol­ta­ge levels. The low vol­ta­ge is avail­ab­le in the house­hold. The medi­um vol­ta­ge of 1 to 50 kV sup­plies local net­works. The expert speaks of high vol­ta­ge at a vol­ta­ge of 110 kV, which also powers rail­roads. In Remp­ten­dorf, for examp­le, the power plant of the Blei­loch­tal­sper­re feeds into the grid at this vol­ta­ge. At 220 and 380 kV we speak of extra high voltage.
Con­trol from a distance
In trans­for­mer sta­ti­ons such as Remp­ten­dorf, the dif­fe­rent vol­ta­ge levels come tog­e­ther and are chan­ged (trans­for­med) by trans­for­mers to the appro­pria­te ran­ge for the respec­ti­ve consumers.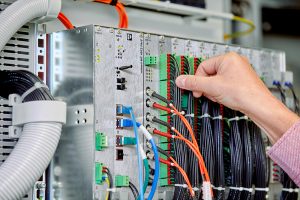 Tho­mas Ehr­hardt exp­lains. "Electri­ci­ty net­work ope­ra­tors dis­tin­guish bet­ween sta­ti­on con­trol and remo­te con­trol tech­no­lo­gy. The first term refers to the safe con­trol of the pri­ma­ry tech­ni­cal com­pon­ents; in other words, main­ly dis­con­nec­tors, cir­cuit brea­kers, and trans­for­mers. The remo­te con­trol tech­no­lo­gy moni­tors the plant for faults and makes remo­te con­trol, i.e. ope­ra­ti­on from a distance, possible."
50Hertz Trans­mis­si­on GmbH, one of the four major electri­ci­ty net­work ope­ra­tors in Ger­ma­ny, has its head­quar­ters in Ber­lin. The Remp­ten­dorf sub­sta­ti­on is usual­ly also con­trol­led from here. On site, the pre­mi­ses are only used for main­ten­an­ce and con­ver­si­on work. As is cur­r­ent­ly the case.
Time jump in the con­trol room
Wal­king through the most­ly deser­ted com­pa­ny buil­dings, we are remin­ded of the charm of past deca­des. Fasci­na­ted, we stand in a con­trol room that loo­ks as if we have taken a step back in time into the pre­vious cen­tu­ry. Vol­ker Flei­scher, the third mem­ber of the Phoe­nix Con­ta­ct team, smi­les at the enthu­si­asm for old mate­ri­al. "I have been with the com­pa­ny for 27 years and still remem­ber this room when it was in acti­ve ope­ra­ti­on." Flei­scher is an expert for the visua­liz­a­ti­on of sta­ti­on con­trol technology.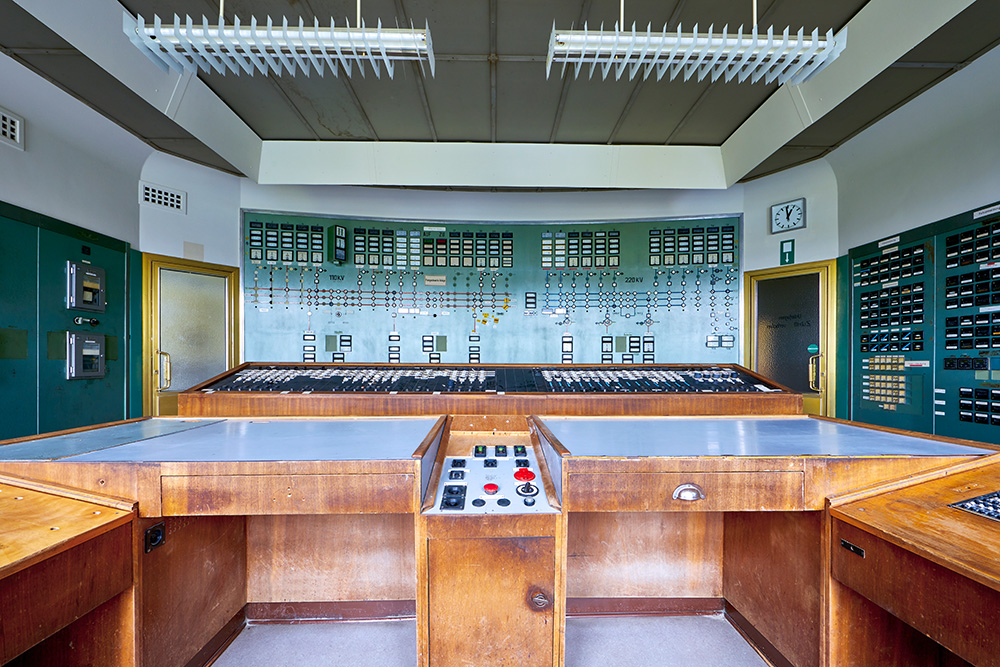 The actu­al task of the three engi­neers is to replace the more than ten-year-old con­trol tech­no­lo­gy with modern com­pon­ents from Phoe­nix Con­ta­ct. Never chan­ge a run­ning sys­tem – does that not app­ly here? "Qui­te sim­ply, the requi­re­ments have incre­a­sed signi­fi­cant­ly," exp­lains Flei­scher. "Fiber­glass and Ether­net con­nec­tions were alrea­dy the stan­dard 15 years ago. But now, the who­le issue of secu­ri­ty has been added. And of cour­se we have also impro­ved and deve­lo­ped our modu­les fur­ther, with incre­a­sing pro­ces­sing power. The­re­fo­re, renewing the tech­ni­cal com­pon­ents here in Remp­ten­dorf is of the utmost importance."
Ehr­hardt adds, "In gene­ral, the rest­ruc­tu­ring of the power grids is pla­cing an ever-grea­ter bur­den on the grid ope­ra­tors. And also at the extra-high vol­ta­ge level. The old one-way street princip­le is no lon­ger suf­fi­ci­ent in times of fluc­tua­ting ener­gy feed-in from rene­wa­ble ener­gies. Lar­ge off­shore sys­tems or future ener­gy sto­rage power sta­ti­ons make it necessa­ry for ope­ra­tors to keep their grids under con­trol at all times and in real time using the latest remo­te con­trol tech­no­lo­gy. And of cour­se, the sys­tems have to run sta­b­ly 24/7 and have a ser­vice life of at least ten years."
Jum­ping through the high grass
The­re is no lack of work for the Ener­gy Auto­ma­ti­on team of experts, becau­se the 50Hertz power grid covers the ent­i­re eas­tern part of Ger­ma­ny, inclu­ding the con­nec­tion of off­shore wind farms. In addi­ti­on, the team also accepts orders from Ten­net, ano­t­her grid ope­ra­tor. And the rest of the Repu­blic? "It is loo­ked after by col­leagues from Vel­bert, whe­re the Ener­gy Com­pe­tence Cen­ter of the Phoe­nix Con­ta­ct Group is loca­ted." While twel­ve spe­cia­lists in Gera take care of the crack­ling high vol­ta­ge, the team in Vel­bert, North Rhi­ne-West­pha­lia, with around 90 experts ensu­res that it does­n't get dark in Germany.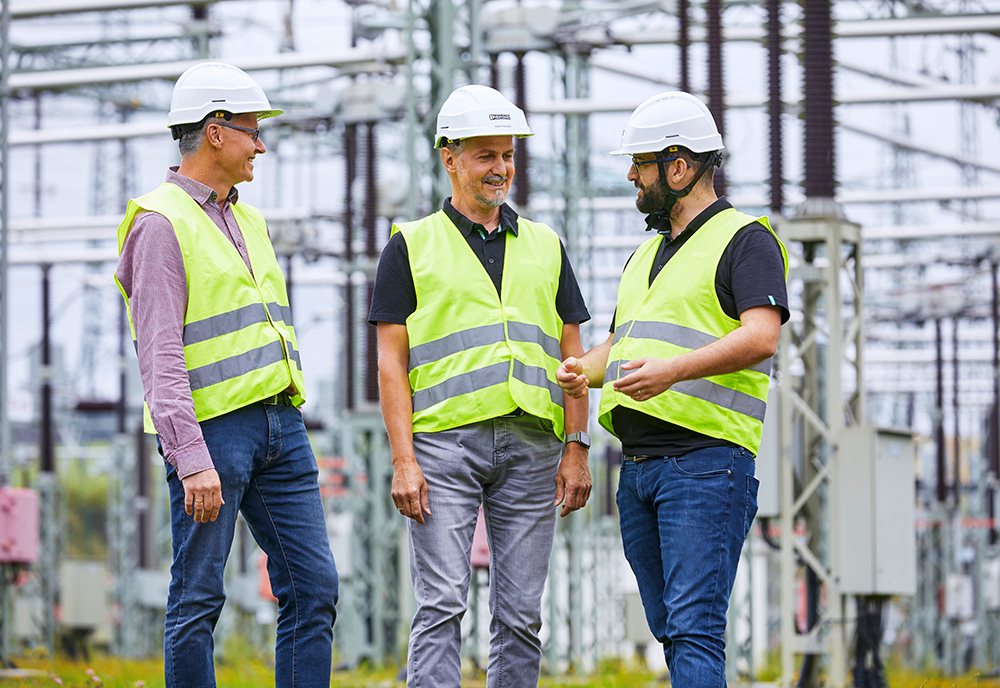 The only thing that remains con­stant is the cur­rent its­elf. With a broad grin, the 50Hertz employee accom­pany­ing us tells us about sum­mer tours for stu­dent groups. "When they walk bet­ween the sys­tems in thin san­dals across the damp grass, they real­ly start jum­ping around." Our Phoe­nix Con­ta­ct col­leagues from Gera do not jump around when wal­king through the impres­si­ve sys­tem. Stur­dy foot­we­ar and a pro­found know­ledge base make dealing with extra-high vol­ta­ge a tech­no­lo­gi­cal chal­len­ge, but not a life-threa­tening undertaking.
Phoe­nix Con­ta­ct Ener­gy Auto­ma­ti­on
50hertz

This post is also avail­ab­le in:

Deutsch