The sun is shi­ning when Chris­toph Wer­litz opens the gates to the Men­tero­da solar park. It's wea­ther that's appro­pria­te for a visit to a plant that pro­du­ces clean ener­gy in the nort­hern Thu­rin­gi­an muni­ci­pa­li­ty at the foot of the Harz Moun­tains in Ger­ma­ny. And in which an inno­va­ti­ve PLCnext con­trol sys­tem hel­ps to bring more disci­pli­ne to the fluc­tua­tions of the natu­ral ener­gy source.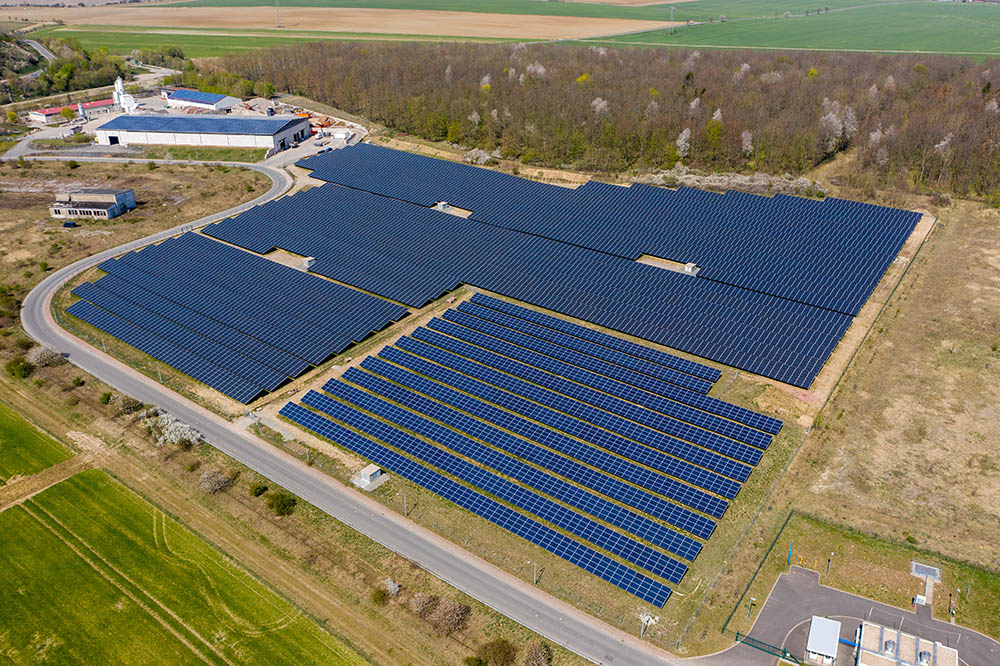 The Gemein­de Men­tero­da is actual­ly known for its potash mining, which star­ted here at the begin­ning of the 20th cen­tu­ry and shaped the regi­on for deca­des. But the mines are no lon­ger acti­ve, the huge over­bur­den is rena­tu­ra­li­zed and the mining is only a memo­ry, which is com­me­mo­ra­ted with a small muse­um. Today, the beau­ties of the World Heri­ta­ge Wart­burg-Hai­nich attract visi­tors to the regi­on – medi­eval towns, migh­ty cast­les and abo­ve all a lot of nature.
Rege­ne­ra­ti­ve mix
Howe­ver, all of this is suf­fe­ring mas­si­ve­ly from cli­ma­te chan­ge. The exten­si­ve coni­fe­rous forests can­not tole­ra­te the incre­a­sing droughts of recent years, the "woo­den gold" of the fores­try sec­tor is being des­troy­ed the by bark beet­le – the dyna­mics of this deve­lo­p­ment is par­ti­cu­lar­ly evi­dent in the low moun­tain ranges.
No won­der that, here in par­ti­cu­lar, the­re is a gre­at accep­t­ance for rene­wa­ble ener­gies. ASG Engi­nee­ring GmbH from Sax­o­ny-Anhalt ope­ra­tes the 6.05 MWp solar power plant Men­tero­da 2. A roof­top sys­tem and a lar­ge open space make up the over­all power plant. The roof­top sys­tem was erec­ted on a hall of the local recy­cling sor­ting com­pa­ny. Here, trash is sor­ted and the orga­nic was­te is fed into a bio­gas plant, which is loca­ted in the immedia­te vicinity.
To com­ple­te the jigsaw of rege­ne­ra­ti­ve ener­gies, our gaze wan­ders towards the hori­zon past various wind tur­bi­ne gene­ra­tors aimed at uti­li­zing the ener­gies of the moving atmo­s­phe­re. But the three visi­tors are not here to see tho­se today. The ent­i­re Men­tero­da solar park was con­nec­ted to the grid in Febru­a­ry 2020. The older part, Men­tero­da 1, has been in exis­tence sin­ce the begin­ning of 2019. Chris­toph Wer­litz is the con­ta­ct per­son on site and is respon­si­ble for Men­tero­da 2 engi­nee­ring. He is accom­pa­nied by René Woll­mer­städt, the Gene­ral Mana­ger of ASG Solar.
ASG Solar was estab­lis­hed by Jan Wecke and René Woll­mer­städt in 2007. Sin­ce then, the com­pa­ny has plan­ned, constructed,and ope­ra­ted plants. Woll­mer­städt is respon­si­ble for the tech­ni­cal side of the "Genera­ting ener­gy from the sun" busi­ness model. Today's third mem­ber of the group is Burk­hard Ditt­mann, who works on the sales ser­vice side for Phoe­nix Con­ta­ct and who is an expert in the ener­gy sec­tor and in inte­gra­ting rene­wa­ble energies.
Help for self-help
Chris­toph Wer­litz exp­lains, "Men­tero­da was not just plan­ned and imple­men­ted by ASG Solar, it is also ope­ra­ted by the com­pa­ny. While we still had to draw upon exter­nal ser­vices for Men­tero­da 1, we plan­ned Men­tero­da 2 and put it into ope­ra­ti­on ourselves."
Woll­mer­städt adds, "This was plan­ned and imple­men­ted by our sub­si­dia­ry, ASG Engi­nee­ring." Wer­litz proud­ly adds, "I manu­fac­tu­red the con­trol cabi­nets for Men­tero­da 2 mys­elf. With this approach, we are always kept ful­ly up-to-date about the con­di­ti­on of the plant and can act lar­ge­ly inde­pendent­ly, without out­side help."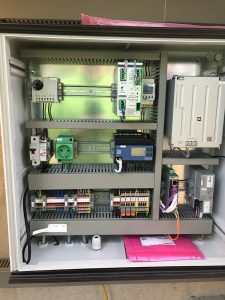 During the plan­ning pha­se, Chris­toph Wer­litz atten­ded a tech­ni­cal trai­ning cour­se con­duc­ted by Phoe­nix Con­ta­ct. "The then-brand-new PGS con­trol­lers were intro­du­ced the­re. The­se genera­ti­on sys­tem con­trol­lers are indis­pensable in the field of rene­wa­ble ener­gies. They make it pos­si­ble to regu­la­te the stron­gly fluc­tua­ting feeds into the power grid in such a way that the­re are no inter­fe­ring peaks, for examp­le when the sun is shi­ning as inten­se­ly as it is today."
Engi­neer Ditt­mann points towards a bright blue sky. "The chal­len­ge of making the power grids of the future as bi-direc­tio­n­al as pos­si­ble is the cur­se and bles­sing of rene­wa­bles. While in clas­si­cal power genera­ti­on with coal, gas, or nuclear ener­gy finely tun­ed and long-plan­n­ab­le feed-ins into the power grids take place con­ti­nuous­ly, the acti­vi­ty of sun or wind is not line­ar and can­not be plan­ned. So we need smart grids that are able to cope with stron­gly fluc­tua­ting feed-ins."
Stan­dar­di­zed and certified
The three experts lea­ve the ele­va­ted solar panels behind them and dri­ve to the grid con­nec­tion point. Burk­hard Ditt­mann has tech­ni­ci­ans from Wer­litz show him the PGS con­trol­lers used and exp­lains, "The spe­cial thing about our con­trol­lers is their abi­li­ty to be adap­ted to very dif­fe­rent para­me­ters. The heart of the con­trol­ler, which is cer­ti­fied in accordance with the VDE AR N 4110/4120 stan­dard, is our PLCnext indus­tri­al con­trol­ler. Its abi­li­ty to pro­cess dif­fe­rent soft­ware pro­to­cols was par­ti­cu­lar­ly important here.
ASG Solar defi­ned gui­de­li­nes on how the solar power plant should ope­ra­te. And Chris­toph Wer­litz was then able to down­load the appro­pria­te PGS con­trol­ler soft­ware from PLCnext's own app store and adjust the para­me­ters. The func­tio­n­a­li­ty for the con­trol­ler was loa­ded into PLCnext and thus a solu­ti­on was found that is pre­cise­ly tailo­red to the situa­ti­on here on site."
Chris­toph Wer­litz adds, "It was par­ti­cu­lar­ly important to us that the con­trol­ler could be adap­ted. With this capa­bi­li­ty we do not lose any of the func­tio­n­a­li­ties of the clas­sic con­trol tech­no­lo­gy but, on the con­tra­ry, we can use the­se con­trol­lers in other areas,such as wind tur­bi­ne gene­ra­tors or com­bi­ned heat and power plants. This means that a sin­gle tech­no­lo­gy can hand­le a wide ran­ge of ener­gy mixes. This will incre­a­singly be the chal­len­ge of the future – the electri­ci­ty grids will be incre­a­singly bur­den­ed by chan­ging fee­ders and sto­rage tech­no­lo­gies. With the PGS con­trol­ler from Phoe­nix Con­ta­ct we are rea­dy for the future."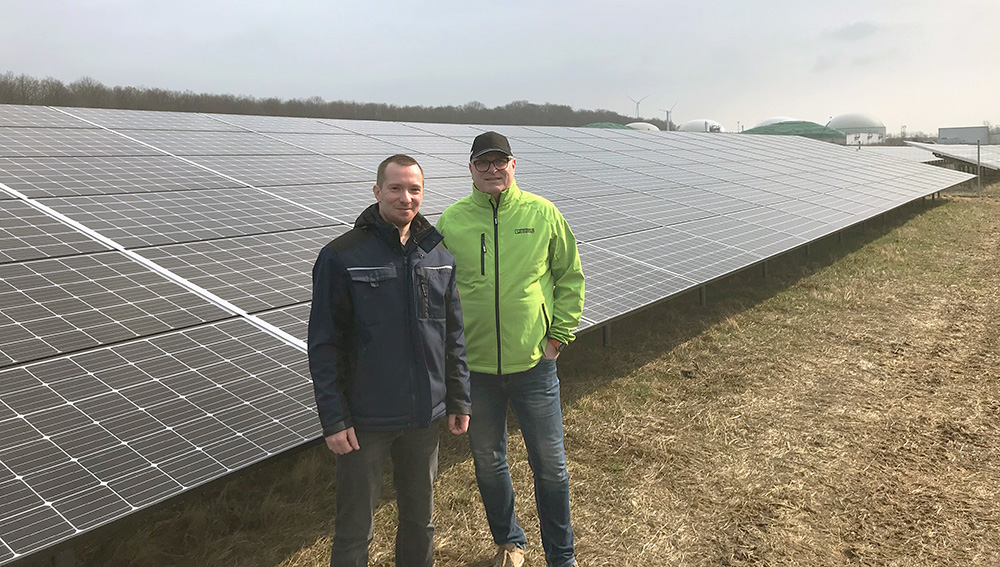 The Men­tero­da 2 plant is one of the first plants to use the new PGS con­trol­ler, becau­se the tech­no­lo­gi­cal work of art was only gran­ted the necessa­ry cer­ti­fi­ca­ti­on short­ly befo­re instal­la­ti­on and com­mis­sio­ning. And so the small town at the foot of the Harz Moun­tains may soon gain a name in the field of rege­ne­ra­ti­ve ener­gy pro­duc­tion that sounds just as good as it did in the days of potash mining.
ASG Solar
Phoe­nix Con­ta­ct PLCnext
This post is also avail­ab­le in:

Deutsch