Phoe­nix Con­tact laun­ched the next evo­lu­tio­na­ry sta­ge of PLCnext Tech­no­lo­gy at the SPS IPC Dri­ves in Nur­em­burg. Now with its own soft­ware store, the open plat­form is beco­m­ing even more dyna­mic.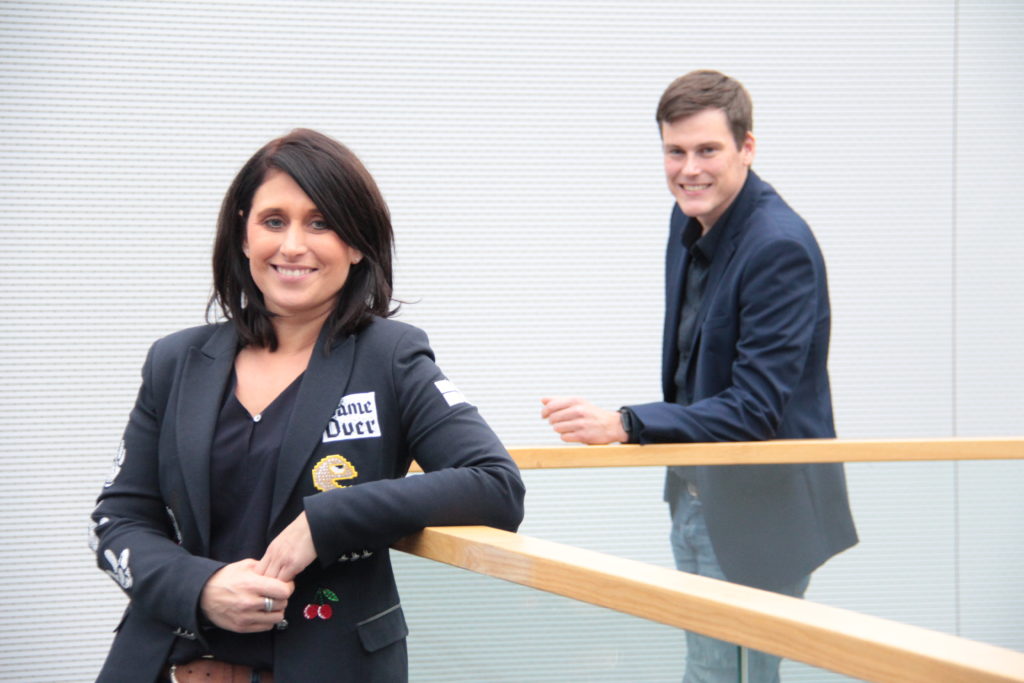 With the PLCnext Store, we are roun­ding out our stra­te­gy for an open con­trol plat­form for the auto-
mati­on world." They both wax lyri­cal when tal­king about "their baby". The baby has qui­te a few par­ents in fact, star­ting with Ulrich Lei­de­cker.
The Pre­si­dent of the Busi­ness Area Indus­try Manage­ment and Auto­ma­ti­on (IMA) once asked the others during a break whe­ther they had ever thought about a store for apps. This break had con­se­quen­ces.
Innovation with great potential
"That was the initi­al spark", exp­lains Ben­ja­min Homuth. The 36 year-old mar­ke­ting expert belongs to the team which is whol­ly dedi­ca­ted to the open auto­ma­ti­on sys­tem. "PLCnext Tech­no­lo­gy also requi­res us to embrace a who­le new way of thin­king." Jen­ni­fer Köl­ler, respon­si­ble for all aspec­ts of mar­ke­ting for the revo­lu­tio­na­ry con­trol plat­form goes on to say, "This is whe­re auto­ma­ti­on meets the IT world. It is now pos­si­ble to work with high-level lan­guages along with clas­sic PLC pro­gramming, and to inte­gra­te free­ly avail­ab­le code, that is to say open source, into the PLC and to exchan­ge it wit­hin dedi­ca­ted com­mu­nities."
But this rai­ses the ques­ti­on of "how do the new app­li­ca­ti­ons reach the con­trol­ler?" The team soon rea­li­zed that having a dedi­ca­ted store would be the solu­ti­on. One examp­le is the smart­pho­ne, whe­re apps from various sources that make the mini­com­pu­ter real­ly exci­ting are avail­ab­le in the stores.
"Our PLCnext Store works in exac­t­ly the same way", exp­lains Homuth. This is a huge step for the auto­ma­ti­on indus­try, becau­se users are no lon­ger limi­te d by the tech­ni­cal capa­bi­li­ties of the hard­ware that they are buy­ing. "Our custo­mers are able to crea­te tailor-made auto­ma­ti­on con­trol­lers
them­sel­ves."
Interdisciplinary team
The store deve­lo­ped just as rapidly as the pos­si­bi­li­ties of the con­trol­ler. After the memo­r­able cof­fee break, an offi­ci­al order was issued to set up a core team con­sis­ting of five mem­bers from very dif­fe­rent disci­pli­nes, and to which Homuth and Köl­ler belon­ged from the begin­ning. "In Janu­a­ry 2018, we orga­ni­zed a 'Design Sprint' tog­e­ther with an IT ser­vice pro­vi­der spe­cia­li­zing in soft­ware deve­lop­ment." In deve­lo­per cir­cles, this is a com­mon approach towards nur­tu­ring new pro­duc­ts
with inno­va­ti­on and crea­ti­vi­ty.
What was real­ly nee­ded beca­me clear very quick­ly. "The easy usa­bi­li­ty is the key ele­ment for such a digi­tal mar­ket place." The approach to laun­ching the store was also quick­ly deci­ded upon. "We estab­lished the essen­ti­al princi­ples our store sim­ply had to have in the deve­lop­ment pha­se. The rest
was deve­lo­ped in rea­li­ty, that is to say in real life," Jen­ni­fer Köl­ler exp­lains about the approach. "For Phoe­nix Con­tact, this is a tru­ly his­to­ric pro­cess, becau­se for the first time we are no lon­ger working direc­t­ly on the pro­duct – we are merely pro­vi­ding the mar­ket place. Others are then able to do the buy­ing and sel­ling."

Ben­ja­min Homuth descri­bes just how quick­ly the deve­lop­ment pro­cee­ded. "We had an initi­al click dum­my in May. We then got the go-ahead from cor­po­ra­te manage­ment. The store its­elf was then deve­lo­ped, and on the other side, the exten­si­on of PLCnext Tech­no­lo­gy. The first true store envi­ron­ment was avail­ab­le at the end of Sep­tem­ber. And, becau­se we didn't want to launch an empty store, we deve­lo­ped in-house apps from the end of Octo­ber."
This was a sprint with a pre­cisi­on lan­ding. The offi­ci­al launch of the PLCnext Store was held at the world's lea­ding tra­de fair for auto­ma­ti­on in Nur­em­berg at 9 a.m. on Novem­ber 27, 2018 – the birth of a new genera­ti­on of pos­si­bi­li­ties. (lo)